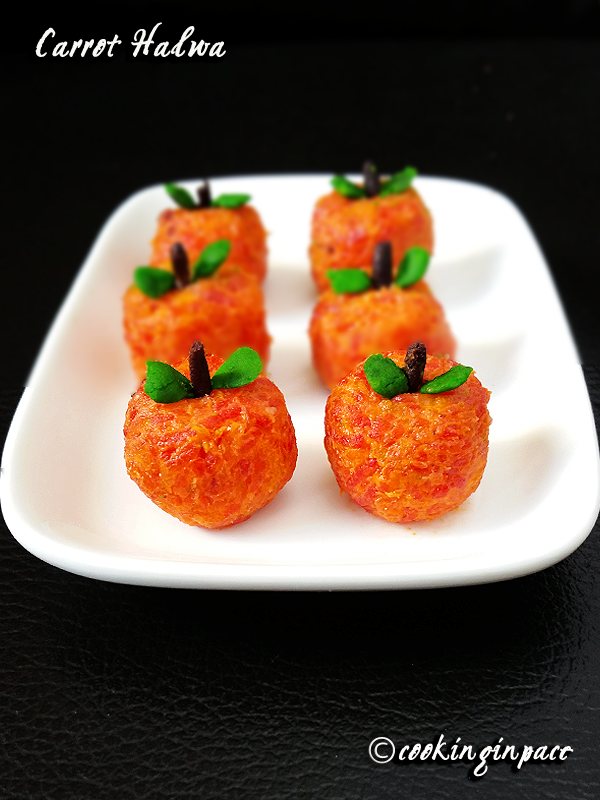 Any Guess!!!! Its Carrot halwa in disguise 🙂
I always feel the carrot halwa just slips through without much triturate, unless the cashews show their presence.
For this display I have used Khoa/Mawa as the filling.
After halwa reached the room temperature, I placed the halwa in refrigerator for 3 hrs so that it would be easy to handle while rolling/flattening.
I rolled a small portion of halwa into balls, then flattened and added small chunk of Khoa as we do for stuffed chappathi. Again rolled to a smooth balls. For the leaves and stalk, I have added Khoa with green and brown food colour and arranged on the top of the balls… Hope the presentation was palatable .. My daughter loved the presentation 🙂
This recipe might be a common recipe, but twenty three years ago this was a big deal to have a recipe which isn't much into local kitchen. My room mate gave this recipe and in fact gave demo for me during my college days. We had a small electric stove and few utensils for our own experiment when ever we were bored with hostel mess meals. It all started in our second year stay in hostel, I needed Tea , if needed to stay awake for night study. That made me to think about an alternative 🙂 Had a small kitchen step in the corner of our room. My room mate who was a good cook 🙂 cooked delicious food for me. Its more than 25 years we got acquainted, to till date we get updated with the happenings at each other's end. When I was working in Chennai, we met frequently and made trips to each other's home. An Electronics Communication Engineer working in Telecommunication, happily settled with her family in Coimbatore. Planning to visit in my next visit 🙂 Her mother introduced many recipes right from Kollu Rasam to Pesarettu. Her Kollu Rasam preparation is quite different, will register in the site some time later.
Well, got deviated from the Carrot halwa. On a New Year day, my friend surprised me with this halwa. Usually I don't like to have any sweet or kheer prepared with milk. But this was exceptional, I didn't want to disappoint her, so that was the start of my sweet with milk intake. Nostalgic Memories..
My version of Carrot Halwa.
Serving : 4
Time : 30 minutes
¼ kg Carrot
1/3 Cup Condensed milk
¼ cup Milk
2tbsp Melted Ghee
Cashews for garnishing
Method
1. In a pan add 1tsp ghee and add grated carrots. Keep stirring for 2 mins.
2. Now add Milk and half cooked carrots will get cooked completely in this process.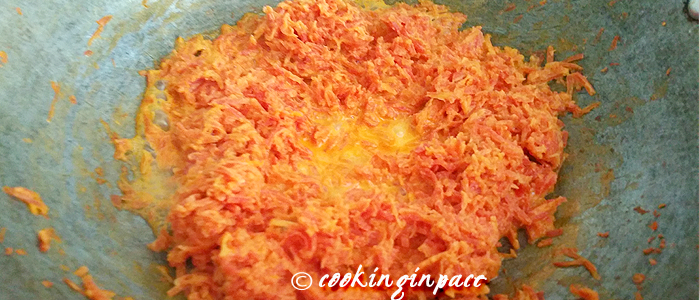 3. When the milk gets evaporated, now add condensed milk and give a stir. On a medium flame allow the condensed milk to form into a thick consisitency, this takes not more than 5 mins.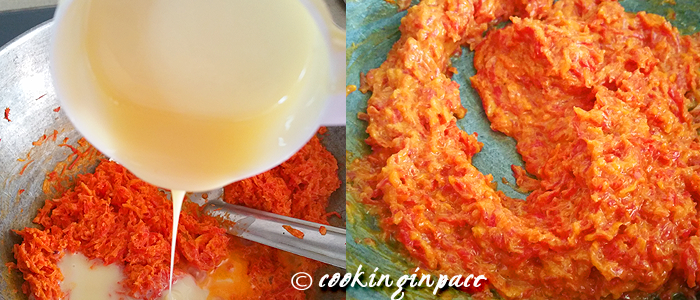 4. Now add the remaining ghee and garnish with ghee roasted cashews.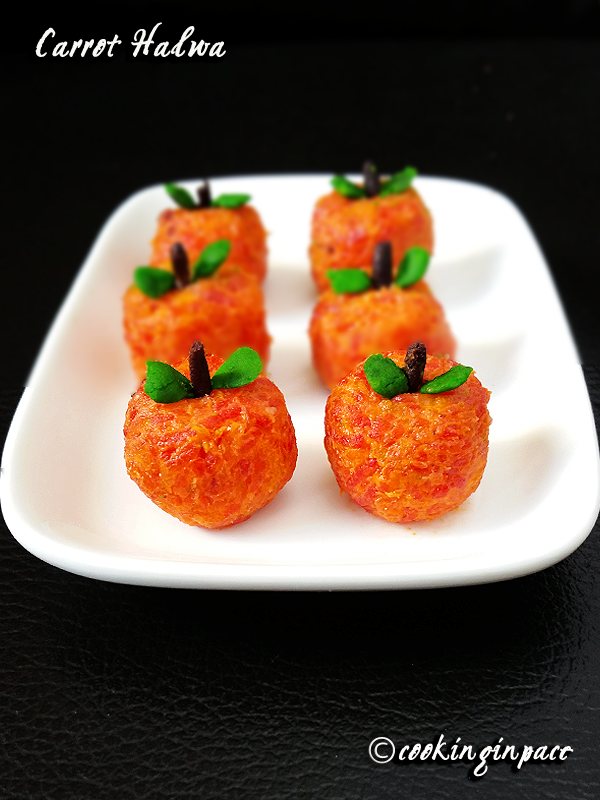 Jotting
If you use sweetened Khoa adjust the quantity of condensed milk for sweetness. You can use Milk for this recipe, additional you need to add sugar for sweetness.