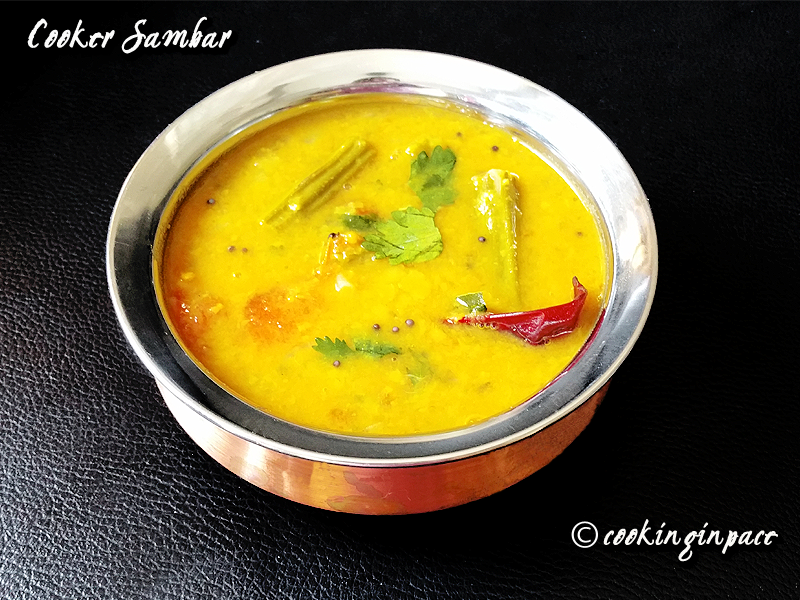 Cooker Sambar, As the name suggests, the sambar is prepared in a cooker, well That's too obvious!!! what else new in this recipe?? Well, this can be done in a jiffy and tastes good 🙂
Sambar is a curry made with yellow lentils. The lentils are cooked and added to vegetables and spices. Tamarind and tomatoes are a must ingredient in the sambar.
There are various versions of cooking sambar, nothing is authentic as every version is authentic to family and region. The sambar is done traditionally across Tamilnadu in different regions either by altering the ingredients or change in cooking style.People in the southern tip add coconut paste and temper with coconut oil, while in the North, coconut isn't in a normal sambar recipe and tempering done in refined oil.
My Mother-In-law, base of Trichy adds ground coconut paste to sambar and does the tempering only with Sesame Oil. Its her basic kitchen rule of cooking to use Sesame Oil for cooking apart from frying Appalams and Vadams. Of course the home produce Sesame Oil has a distinct colour, smell and taste which I would love to add for Idly Podi.
Sambar has evovled through ages and got its names by the regions, Ingredients and the procedure. Udipi sambar being known by its place of origin where ingredients are ground and jaggery gets added at the last. More or less its known as araichivitta sambar, translated to ground sambar. Idly sambar, Drumstick sambar, Brijal samabar to name few…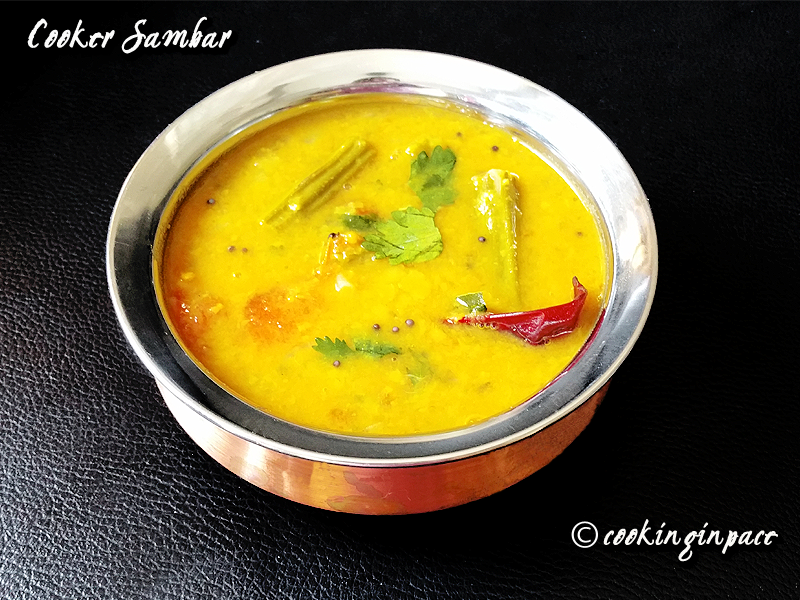 Ingredients
½ cup Thuvaram/Thoor Dhal
5 Cloves Garlic
1 Big onion
1 Tomato
1 Drumstick
1tsp Tamarind – Gently press tamarind in 1tsp measuring spoon
2 tsp Sambar powder
Bunch of Coriander leaves
10 Curry leaves
1tsp of Gingelly Oil
For tempering
1tsp oil
¼ tsp Mustard seeds
¼ tsp Urad dhal
¼ Asafoetida
1tsp Melted Ghee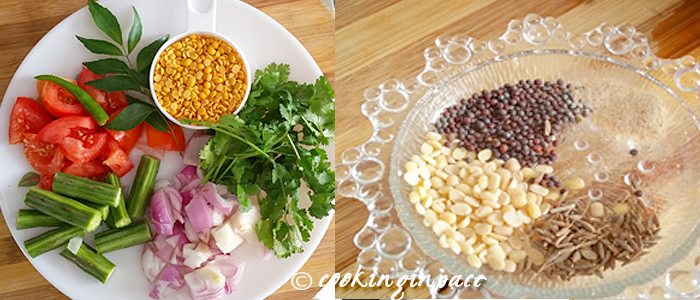 Method
1. Wash & cut Drumstick to 2" pieces, dice tomato and onion.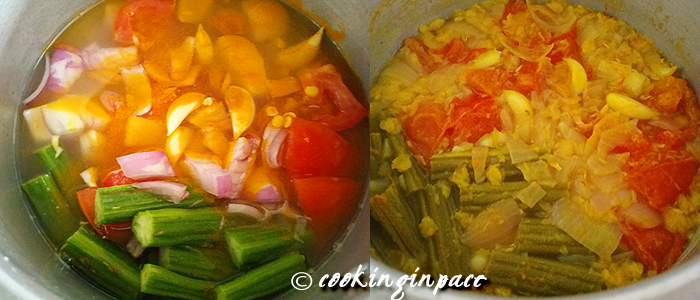 2. In a pressure cooker add washed thoor dhal, peeled garlic cloves, Drumstick pieces, Onion and tomato with 2 cups of water. To speed up the cooking process add 1 tsp of Gingelly oil.
3. Switch off the stove when the pressure releases for three times. (3 Whistles )
4. Mean while extract tamarind puree. To it add sambar powder and salt and keep it aside
5. When the pressure in cooker releases totally, carefully remove the drumstick from the dhal and place it separately.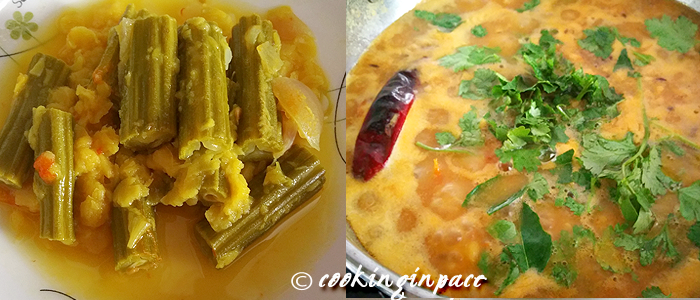 6. Mash the dhal in the cooker and add the tamarind mixture to it and allow to boil for 3 mins. Check for taste and do the additions at this stage.
7. Now add drumstick, coriander leaves and curry leaves. And let it simmer for another 3 minutes.. Remove from heat.
8. In a tempering kadai add oil and add mustard seeds, after spluttering add urad dhal, asafoetida. Now pour the tempering mixture into sambar.
9. Swirl ghee before serving.
Jotting
Sambar tastes best when drumstick is cooked along with thoor dhal. The drumstick will be too soft but will be intact, remove before mashing the cooked dhal. Shallots can be used instead of Big onion, that will enhance the taste of the sambar.
This can be served with Idly, Dosai and Rice. Personally I prefer with Dosai.