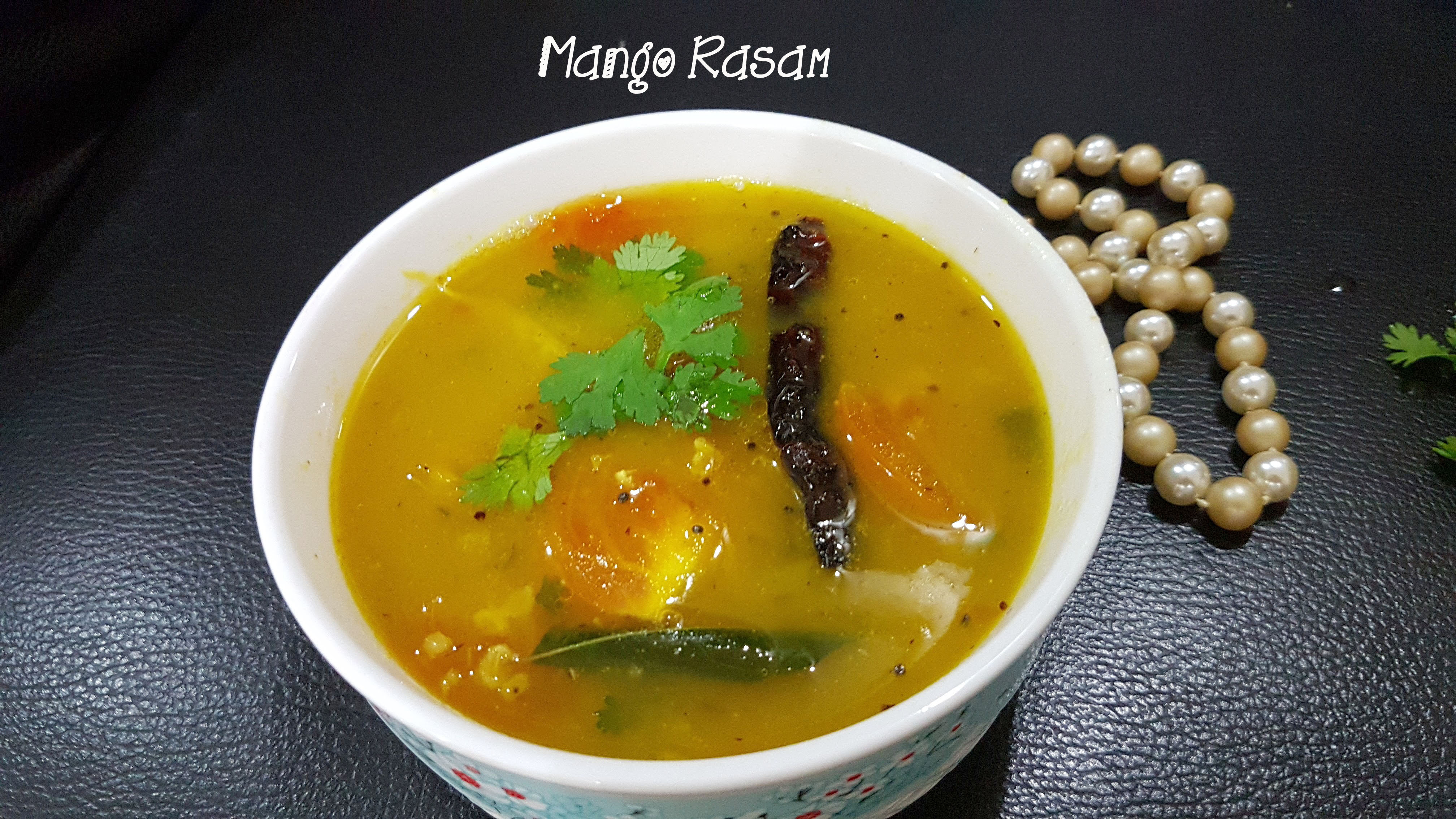 Who could say No to mangoes!!! Mango tops up my favourite list 🙂 Mango takes different role in my diet, Veggie in sambar, pickle as accompaniment, fruit as snack 😀
In Tamilnadu the Totapuri aka Ottumangai/Killimooku mangai is the most used in cooking. They are added in Sambar, Sweet Pachadi and instant pickle.
I have vaguely adopted this recipe from my friend's method and tweaked to my taste.
This Rasam has semi ripe mango of Totapuri variety as the main ingredient.
Preparation time : 10 Minutes
Cooking time : 15 Minutes
Serves : 4
Ingredients
1/2 Cup Chopped Semi Ripe Mango Pieces cut into 1/2″
1/3 Cup Split dehulled Mung bean
1 tomato
1″ ginger
1/2 tsp turmeric powder
1/2 tsp jaggery
To grind
3/4 tsp cumin seeds
1 tsp pepper corn
2 tsp coriander seeds
Handful of chopped fresh coriander leaves
For tempering
1/2 tsp mustard seeds
1/2 tsp Urad dhal
2 whole red chillies
1/4 Tsp Asafoetida
5 Crushed Garlic pods
1 sprig curry leaves
2 tbsp Oil
1 tsp ghee
Method
1.Peel the skin of the raw mango and cut into small pieces
2.Wash the mung bean and place in a pressure cooker.
3.Next add the cut mango pieces into the cooker and add 1 cup of water.
4.Allow it cook for 2 whistles and remove from heat.
After the pressure gets released, mash the cooked mung bean and mango to a paste.
5.Place a pan on heat and dry roast coriander seeds, cumin seeds and pepper corns. Remove from heat and allow it cool down to room temperature.
6.Grind the above to a smooth paste by adding enough water and keep aside.
7.Keep the pan on heat and add 1 tsp oil and add ginger pieces and tomato.
Saute for 2 minutes and add 2 cups of water.
8.Bring to boil and add turmeric powder and ground mixture (cumin seeds, coriander seeds and pepper corns).
9.Let the mixture boil for 3 minutes on high heat so that the quantity of water gets decreased.
Now reduce the heat to medium and add the cooker ingredients (mashed mung bean and mango) .
10.Now add salt and 1 cup of water. Let it boil for a minute, add jaggery and remove from heat.
Add ghee and fresh coriander leaves.
12.For tempering, in a tempering pan add remaining quantity of oil, then add mustard seeds.
After mustard seeds splutter add urad dhall, asafoetida, crushed garlic pods, whole red chillies and curry leaves.
Mix into the rasam .
Serve with rice.
My Tip:
The rasam will thicken as it cools down because of the addition of mung bean, add hot water before to adjust the consistency. I have used Totapuri Mango which isn't much sour, if the mango is too sour, increase pepper corn quantity to adjust the taste