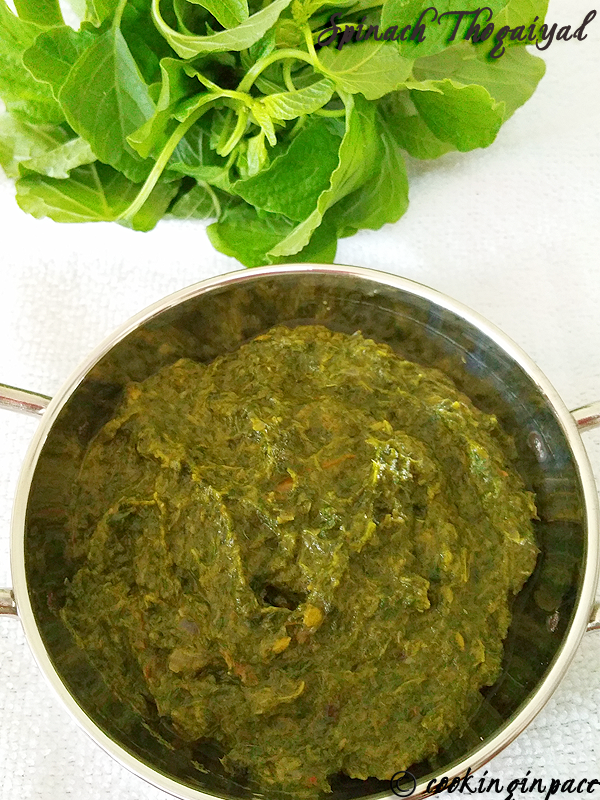 Keerai Thogaiyal – Sounds strange right?? Well an easy and yummy recipe to relish your taste buds. The base ingredient is greens, either you can use spinach or amaranth.
I do like to add greens in my daily diet. I prepare as gravy or dry poriyal with rice. This is a mash which doesn't need any tempering. Just saute the ingredients, mash and mix up with rice along with a swirl of ghee or sesame oil.
One of my favorite recipes as this takes less time 😀
Usually greens are classified to be a healthy diet having lot of nutrients in it. My doctor advises me to consume greens in my daily diet, a cup in my lunch. I do make it a point to include in my daily diet, but at times it gets off the list.
Especially amaranth is easy to cook, as there is no hassles in cleaning this green. Just discarding the roots and by just cutting the stem and leaves the greens is ready to get into the cooking pan. Usually the greens are cooked along with lentils either   sambar or kootu. Coconut is added as for garnishing.
Amaranth has many beneficial factors and nutrients loaded with it. The first and foremost is the iron content. A good food for treating hemorrhage conditions and treats diarrhea. On a regular intake, amaranth assists in easy digestion, heavy mensuration and weight management. As amaranth has iron content so it is good for hair loss.
Other leaves such as Drumstick and agathi keerai – august tree leaves, these two leaves have a bitter taste and should be consumed once in ten days. These two leaves are from leaves and take much for digestions and shouldn't be consume only for lunch. Greens are cultivated and harvested at the maximum four to six weeks. This can be grown in home garden without much hassles. All it needs good watering and sunlight.
Greens are cooked in many ways. Lentils are added to the greens either as a sambar or a kootu.
Serving : 2
Time : 15 minutes
Ingredients
2 handfuls of Spinach
1 Onion
1 tomato
2 Red Whole chillies
1 tsp Black Pepper Corns
1tsp of Melted Ghee
½ tsp of oil
Methoda
1. Slice the Onion and Tomato.


2. In a kadai add oil, then chillies, onion, tomatoes and give a stir for a couple of minutes.
3. Later add spinach and close the kadai with a lid. Allow it cook on a medium flame for 4 mins. The cooking time depends on the variety of spinach you use, So make sure the spinach gets cooked.

4. Allow it cool down to the room temperature. In a blender add the cooked ingredients along with pepper corns and required salt to a paste.
5. Swirl with a tsp of melted ghee before serving. This can be served as a condiment for chappathi or mixed with rice.
Adjust the chilli number to your taste as the dish has pepper for spiciness.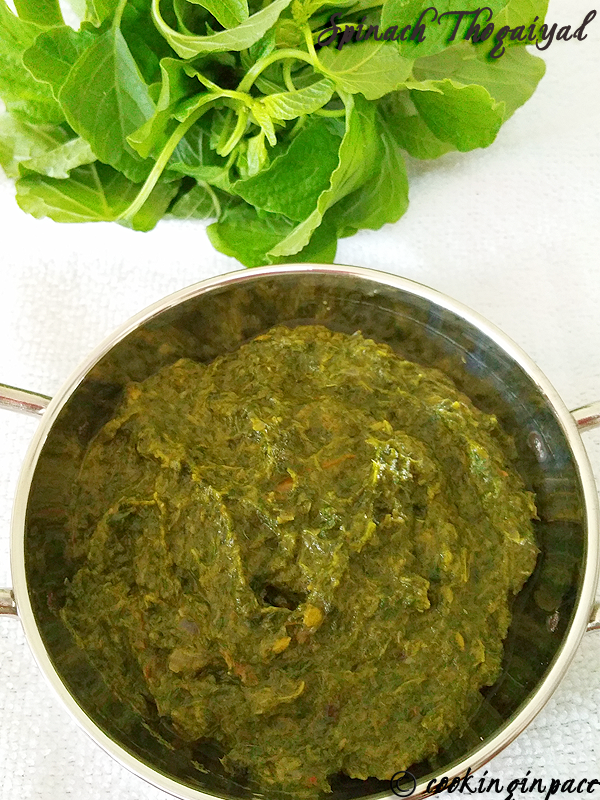 I have used amaranth for this dish … You can try with Amaranthus dubius, spinach or any other greens 🙂