If you are bored to cook, then take a break with this easy & simple recipe which can be done in a jiffy. No sauteing, tempering is required and radish's nutrients are well intact in its fresh state. No heat is required for this dish. In South Indian cooking, radish gets into sambar, the most common method of cooking. Seldom my mother did a poriyal/side dish with radish. I always saute radish in oil before adding to sambar, as per my mother's statement, you will never need to worry about cold getting you in clutch :-D.
Radish do have a distinct smell and some don't like to cook. In this recipe the radish is cooked raw and trust me the trace of radish is neither seen nor tasted. Onion and radish have individual taste but together as a team, they give a great taste giving a burst of flavour to the taste buds.
This recipe is an inspired version from a friend of mine. Her cooking mantra is "Cook with ease", she never likes to take much time in kitchen and in turn all her recipes have an interesting twist which can be done in a jiffy. This recipe is an example of her cooking style. When I asked her to pass down some recipes, she gave this one with the note that, try it and you will fall in love with it 🙂 In fact I was dubious to try, neither did I say nor show my diffidence 🙂 Having a recipe in hand and having a hesitation is absolutely ignorant to judge the taste. As an experiment, I tried and rest is known to the world :-). I fell in love with this recipe.
The next day, I tried this again, this time to get approval from my husband for an inclusion into our home recipe.
Of course, the recipe unanimously passed out with flying colours. The only serving requirement for this recipe is – it should be mixed with piping hot rice and sesame oil as a taste enhancer.
This chutney/thogaiyal can be stored for a week in fridge. This condiment isn't restricted to rice only, can be served along with chapathi, sure it will taste great.
Radish Chutney/Mullangi Thogaiyal
Preparation time : 3 minutes
Cooking time : 1 minute
Ingredients
1cup Grated Radish
3 Dry Red whole chillies
1 Medium size Onion
Tamarind – giving a measure to tamarind is bit tricky. For this recipe, give a gentle press to the tamarind in a 1 tsp measuring spoon.
Use rock salt and only Gingelly/Sesame oil for this recipe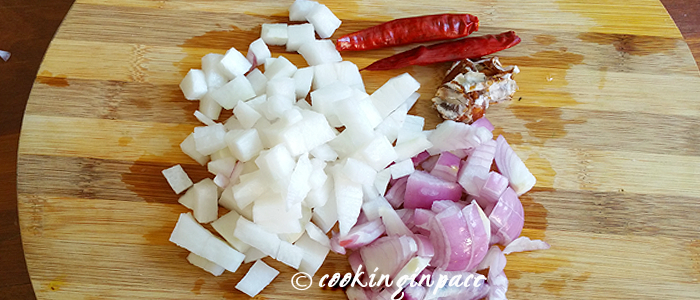 Method:
1. In a blender first grind the chilies with rock salt, then add tamarind, grated radish give a spin so that radish gets mashed , then onions. Grind to a paste, not a fine paste.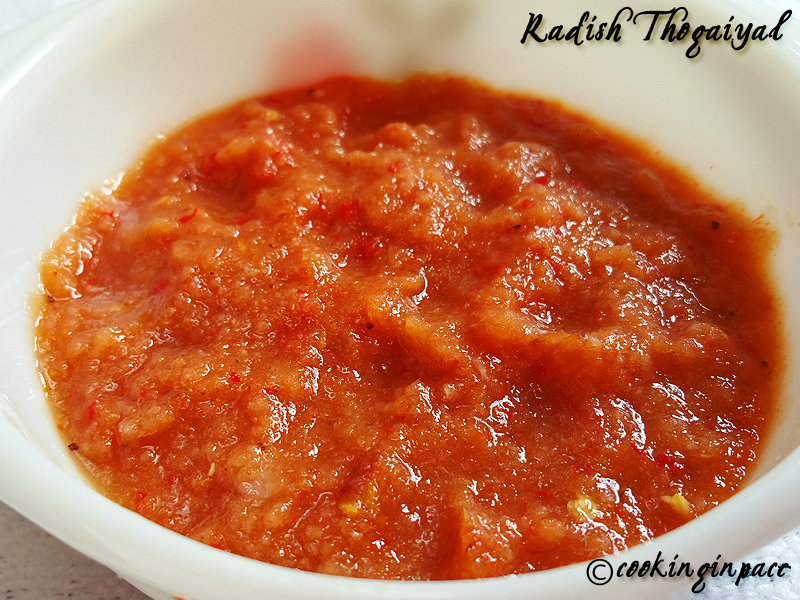 2. No water should be added to this recipe as radish and onion do have enough moisture for the mixture to get blended in a jar.
Mix the paste to piping hot rice with a generous swirl of gingelly oil or serve as a side dish for chappathi/idly. Sure you will like it.
Enjoy and relax 🙂