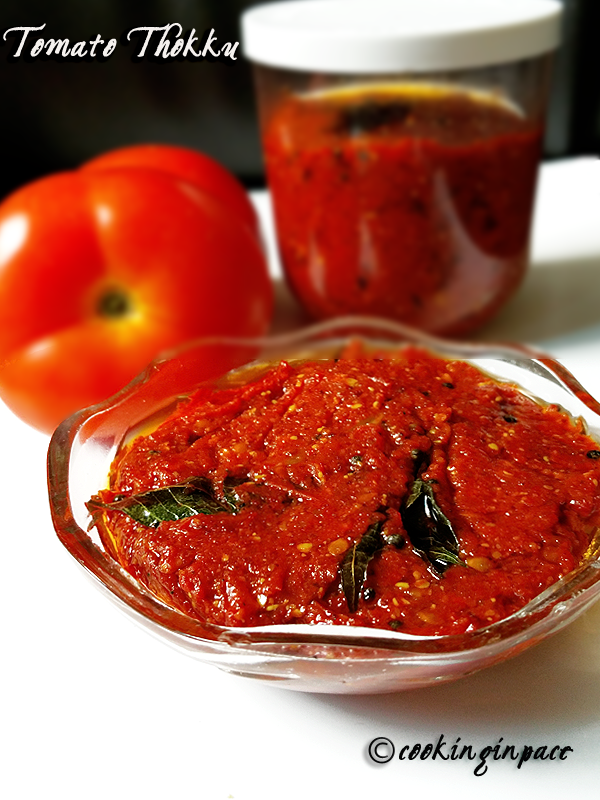 Click here ti view the video of this thokku  Youtube link: https://www.youtube.com/watch?v=uONCiGB4nC0
This is a traditional recipe passed down to me from my grandma. During the tomato season its more or less a customary to prepare tomato thokku at home. I relish on this thokku and always takes a place in plate for any meal right from rice, chapati, dosai, idly. This goes well with any dish and my favorite too 🙂 The All In One handy dish which takes its avatar accordingly.
Some recipes remain a favourite delight when prepared by a specific person in the family. My grandma's Pulikulambu is one such. Even If my mother or I prepare, something gets missed in the taste. We have tested this many times, even we had prepared under her supervision, still…
Once I insisted her to extract tamarind juice and add to the curry, that's it !!!! Atlast found the secret behind the tasty dishes she prepared. "Kai Pakkuvam" roughly means its the hand which adds the taste.
Tomato Thokku/Pickle
1Kg Tomatoes
5 ½ tsp Red Chilli Powder
The quantity of Chilli powder differs depending on what type of chilli variety you use. I have used the powder pounded from long chilli variety where piquant is on the lower side.
3tsp Mustard Powder
1 tsp Fenugreek powder
½ tsp Tumeric Powder
1/3 cup Oil

Tempering
Mustard seeds
Urad dhal
Curry leaves
Asafoetida
Method:
1. Wash the tomatoes and wipe the moisture with kitchen towel. Ensure no water droplets are left on the tomatoes.
2. Cut the tomatoes into small pieces.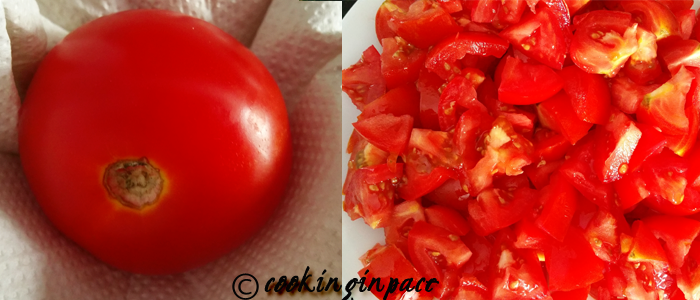 3. In a heavy bottom kadai add the tomatoes, along with salt, turmeric powder, Chilli powder and close the kadai with a lid The fluids from the tomatoes oozes out and the tomatoes gets cooked to form a gravy consistency. Stir the mixture from burning as the heat is in a high mode. The reduction takes around 30 mins.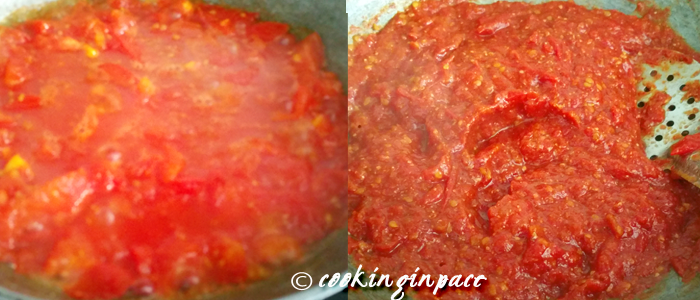 4. When the water evaporates, add mustard powder and fenugreek powder to the mixture and allow it to simmer for another 10 minutes on a medium flame. At this stage add 2 tbsp of oil. Keep stirring, when the mixture is turned around with a spatula it doesn't stick to the kadai, more or less a halva consistency. At this stage remove from the heat.

5. Now the tempering part, heat the remaining oil, add mustard seeds, when they splutter add urad dhal, asafoetida and curry leaves. Let it cool down to room temperature and later add to the tomato thokku.
6. Store in a glass jar. Make sure a layer of oil floats above to the thokku if you store in the room temperature.
Jotting
Choose the full ripe tomaotes, which are red in colour for this recipe. They taste the better when compared to half ripes.
Tomato thokku can be stored in a airtight container for a week and refrigerated for a month.
The caramalised tomoatoes add sweetness to the dish.
This tomato thokku can be mixed with rice along with ghee or can be used as a pickle.
I love to use this mixture as a base spread for chappathi rolls, masala dosai, the yummiest spread of course.
The best combination I would say is with Yogurt/Curd Rice.