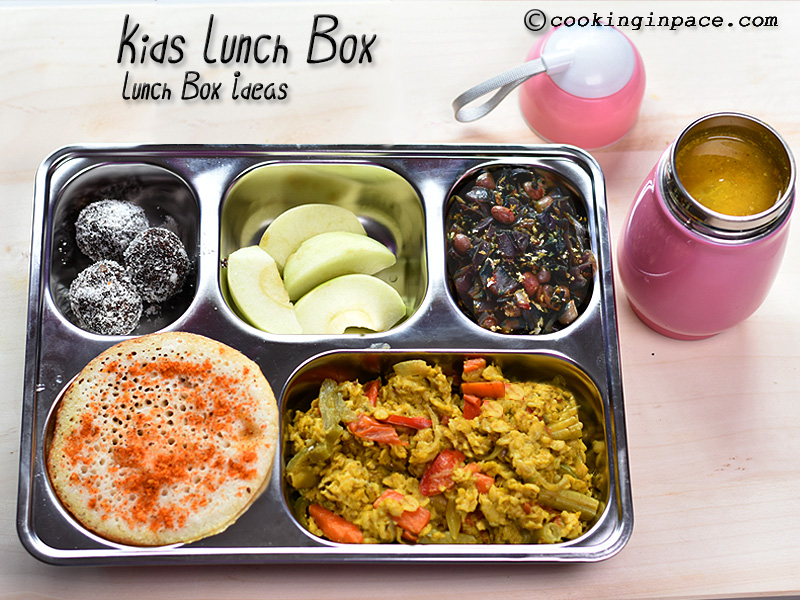 Here comes the fist menu for lunch box. The ingredients may seem to be long but the preparation before hand saves time.
Cooking time : 50 Minutes
Preparation time : 20 Minutes
Servings : 2 PersonsIngredients.
1.Oats Briyani
¾ Cup Rolled Oats
Chopped Mixed vegetables ¾ cup
(Beans, Red/Green/yellow capsicum)
1 sliced onion
1 chopped tomato
½ tsp Turmeric powder
¼ tsp coriander powder
¼ tsp Garam masala
¼ tsp red chilli powder
¼ Cup Coconut milk / Milk/ Soya Milk / Almond Milk
2 tsp Oil
1" Cinnamon stick
1 star anise
2 cloves
1 cardamon
1" ginger
1 green chilli
1 handful of coriander and curry leaves
2.Red cabbage poriyal
175 gms Chopped Red cabbage
2 tbsp  peanuts
¼ tsp Turmeric powder
¼ tsp red chilli powder
1 small sliced onion
2 tbsp grated coconut
1 tsp oil
¼ tsp mustard seeds
¼ urad dhal
¼ tsp cumin seeds
5 curry leaves
3. Uttapam
2/3 Cup Dosa batter
1 tbsp soya bean flour
2 tsp Idly Gun powder
2 tsp Gingelly Oil
4. Whole wheat cake truffles using Microwave
3 tbsp whole wheat
3 tbsp powdered Palm jaggery
2 tbsp Cocoa Powder4 tbsp Milk
3 tbsp Oil
6 Walnuts
2 tbsp Dessicated coconut or Fresh grated coconut
I haven't added baking powder to this recipe, still it has the softness and moisture to hold into rounds.
5. Lentil soup
1.5 tbsp Thuvar Dhal
1 tsp Channa Dhal
1 tsp Black Urad dhal
1 chopped onion
1 chopped tomato
1 tbsp pepper powder
½ tsp turmeric powder
1 bunch coriander leaves
1 tsp Ghee
¼ tsp Cumin seeds
¼ tsp Asafoetida
6. Fruit
1 Apple
Preparation
The real task starts, the night before. The planning and collecting ingredients has to be done in order to avoid morning chaos.
For Oats Briyani.
5 containers   needed for storing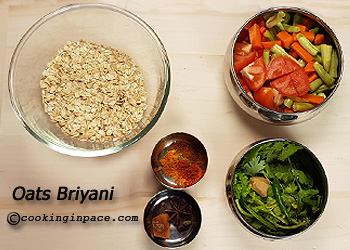 First wash and cut the vegetables and tomato. Don't cut the onion as it should be cut fresh before getting into cooking. Store it in a container and place in the fridge. This will take 3-4 minutes  for washing and chopping.
Scarp the ginger, wash along with chilli, coriander leaves and curry leaves place in a separate container and keep in fridge. Time required is 1-2 minutes.
Next the dry powders. Place chilli powder, coriander powder, garam masala and turmeric powder in a container. Keep this outside the fridge. This takes hardly 40 seconds to assemble.
The spices. In a container or bowl collect cinnamon stick, cloves, cardamon and star anise.  30 seconds to pull out from the spice container and transferring into the container.
For Red cabbage poriyal
1 container  needed for storing.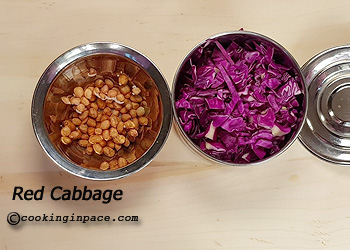 Wash and cut the red cabbage. This may take 3 minutes. Place it in a container and store in the fridge.
In a bowl add the peanuts and add 2/3 cup of water for soaking. Close with a lid and keep aside on the kitchen counter. It takes 30 seconds.
For Uttapam
As Idly batter is always on call so let it be in the fridge and only soya flour and idly podi needs to be included. This can be done on spur of the moment.
For Whole wheat cake truffles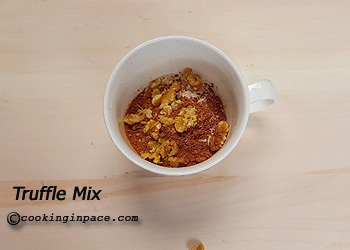 A  cup or bowl is needed which can hold all the ingredients. The dry ingredients should be 1/4 of the cup/bowl.
Add all the dry ingredients into the cup, wheat flour, cocoa powder, walnuts, sugar. Close and place it on the kitchen counter.
Keep the desiccated coconut ready. Instead of desiccated you may use fresh grated coconut.
For Lentil soup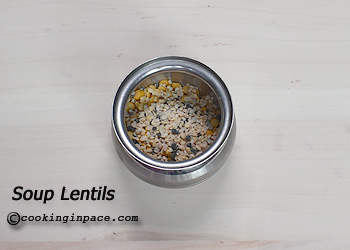 In a bowl add thuvar dhal, channa dhal, and black gram and keep on the kitchen counter.
Now the preparation part is over.
The next morning to start the cooking.
Before you start your day, pull out all the stored containers from fridge and allow it reset to room temperature. By this time you may do your daily routine ie, preparing coffee.
Once done, the first process starts with the ingredients to be cooked in pressure cooker. 
Peel and wash three onions, while two gets sliced and one chopped. Wash and Chop one tomato for soup. Takes 2 minutes.
Its better if you have a 7 litres cooker, You may keep two separators to  finish the cooking of vegetables and soup in a single shot.  I have two 3 litres cooker, so I need to pressure cook twice, first with the vegetables and next soup ingredients.
Pressure Cooker cooking : In a 7 litre cooker, add 1 cup of water and place the grid at the bottom.
In the first separator, place the lentils, chopped onion and tomato,  turmeric along with 1.5 cups of water and place it at the bottom.
In the separator, add the red cabbage, wash and add soaked peanuts. Add required salt and mix together. Don't add water.
Cook it for 3 whistles and keep aside. This process will take 6 minutes.
 Oats Briyani : Place a sauce pan or wide bottom pan for oats briyani.
Heat oil, add the spices, cinnamon stick, cardamon, star anise and cloves, after 20 seconds, add 1 sliced onion  , saute for 1 minute.
Meanwhile transfer the  ginger,green chilli, coriander and curry leaves to a mixie jar, add little water and grind to a paste. This will take 40 seconds.
Now add cut vegetables and tomato in the container and stir fry for a minute.
 Now add the ground mixture to the pan, next add all the masala powders, coriander powder, turmeric powder, required salt and close with a lid and allow to cook for 2 minutes on medium flame.
During this  slot scrap 1/4 cup of coconut and separate 2 tbsp of scrapped coconut for poriyal. With the balance coconut, add 1/4 water and grind to paste. Extract milk from coconut or you may directly add it to the oats briyani. This takes 3 minutes.
Now add coconut milk/paste and 1/2 cup of water, Stir and bring to boil, check for salt at this stage.
Now add oats and check for salt. Close with lid and cook on low flame for 3 minutes.
By now the ingredients in the cooker should have cooked and release the pressure.
Cabbage Poriyal : In an iron wok heat oil, add mustard seeds, urad dhal, cumin seeds and curry leaves.
Add 1 sliced onion and saute for 30 secs. Now transfer the cooked red cabbage from the cooker.
Add turmeric powder, chilli powder, Mix and keep on medium flame for 2 minutes and add scrapped coconut. Remove from heat.
By now the oats briyani and poriyal should be ready and keep aside.
Lentil soup : In a pressure cooker add thuvar dhal, black urad dhal, channa dhall, onion and tomato along with 2 cups of water, turmeric powder and cook for 3 whistles.
Whole Wheat cake Truffles : In the cup which has been filled with dry ingredients add milk and oil. Mix together so that all the ingredients are mixed thoroughly. Place the cup in microwave for 2 minutes.
Remove and allow it cool till it has bearable heat to handle. Now scoop the cake and roll into rounds.
Coat  the truffles with desiccated coconut or fresh grated coconut.
Tempering of Lentil soup :Release the pressure from the cooker with soup ingredients. Strain the soup and blend the strained soup ingredients in a mixie jar, pluse for 10 seconds.
In a sauce pan add ghee, cumin seeds and asafoetida. Then add the blended  soup ingredients along with strained water. Bring to boil and add chopped coriander leaves. This will take 3 minutes.
Immediately transfer to a thermo soup container.
For Uthappam : Mix soya flour with little water and mix into dosa batter.
On a hot iron griddle pour 1 laddle batter and spread to form a thick small size dosa. Drizzle oil and gun powder on the top.
Close with a lid and allow it cook for 1.5 minutes on medium flame and remove from the griddle, no need to cook the other side.
Preparation of soya flour, heating the iron griddle will take 1.5 minutes plus 1.5 minutes for cooking for one uthappam.
Apple : Peel the skin of the apple or place the apple in hot water for 2 minutes to get rid of the wax coating. Slice into  slices.
Now pack the dishes in a stainless steel box or thermo tiffin box.
Disclaimer : The lunch box recipes in this site are intended to serve as a guidance and
not stated that this is a balanced diet with nutrition and calories calculated  for daily intake.
My goal is to present a hassle free cooking method for mothers on a healthy note.