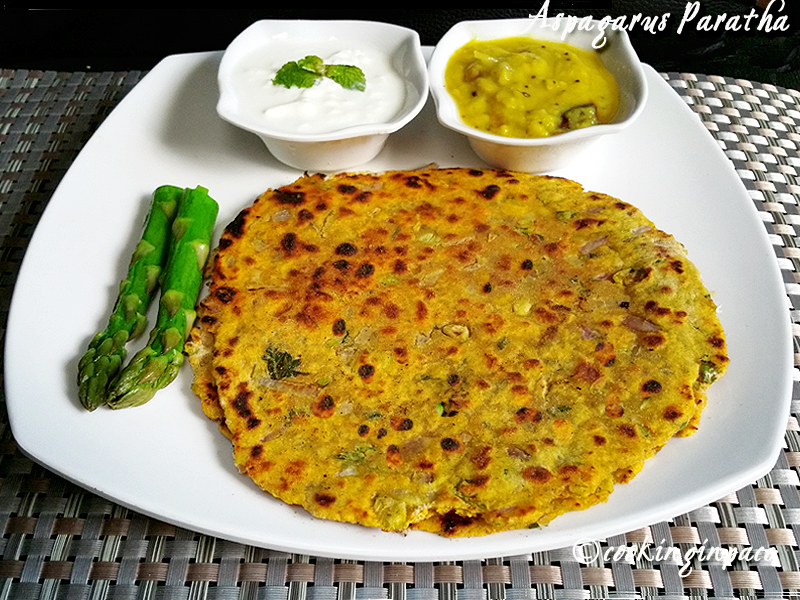 Asparagus Paratha, another entry into my Paratha section. I have added extra ingredients to the paratha, to tinkle your tasty buds. The yogurt which softens the dough along with ginger to take care of the digestion part. Cumin which is good for health and chili powder to add up spice to the paratha. The onions to give a crunchy bite while munching the soft Asparagus pieces.
Asparagus – To my knowledge this vegetable isn't cooked much into South Indian Cooking. South Indian recipes has country vegetables and Seemai kaigarigal – which means the vegetables which were introduced by the Britishers during their reign in India, for example Carrot, cauliflower, French beans to name a few. And Asparagus still out of the daily menu in Southern India. Though we get in supermarkets and have in restaurants, because of its diffident nature to gel with the Local recipes. I haven't tried much with Asparagus, the first trial which has given me confidence to move on with other dishes. Hopefully I experiment with this vegetable 🙂
Asparagus tops with good nutritional and beneficial points to include in a daily meal. A family of lily which is a good source of Fibre, folate, Vitamin – A,C,E,K along with chromium.
With beneficial factors, its good to include asparagus in our meal.
Asparagus Parotha
Servings : 4
Time : 40 minutes
Ingredients
1½ Cup Wheat Flour
1 Onion
½ Cup Chopped Asparagus
10 Panner Cubes
2 tbsp yohurt
2" Ginger
¼ tsp Cumin Powder
¼ tsp Turmeric Powder
1 tsp Chili Powder
¼ cup of Curry leaves, coriander and Mint leaves
Preparation
1.Wash, Peel and cut Asparagus into thin slices.
2.Finely chop Onions, Ginger.
3.Shred the Paneer cubes.
Method
1.In a bowl add Wheat flour, cumin powder, turmeric powder, chili powder and required salt. Mix the dry ingredients.
2.Now add Onions, Ginger, Paneer, Asparagus, chopped Curry, coriander, mint leaves and yohurt. Again mix.
3.Now add required water to the flour to make a dough.
4.Divide into equal parts and roll out in circular shapes with a rolling pin.
5.Cook the parathas on a hot griddle. Cook on both sides.
Jotting
Serve with Dhal and Yohurt.
If you wish you can add oil or butter or ghee while cooking the paratha on the griddle. It's individuals' preference 🙂