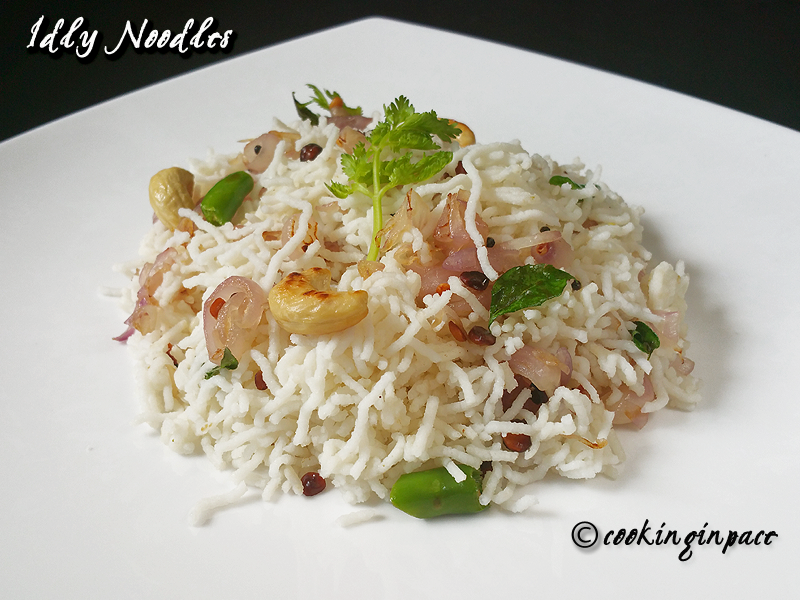 Idly Noodles – Sounds strange !!!
Idly, a South Indian pride where it is clubbed with sambar. History says that its an inspired version of Indonesian's Steamed rice cake, though the geography didn't restrict for its Indian identity.
The left over recipe gained its popularity to secure a prominent place in my Kid's Lunch box. I have done a basic Upma tempering, But this can be served as Tomato Bath, Lemon Noodles or even in a Briyani Style. Do give a try and Trust your kids will enjoy their lunch time. Its not a must to prepare this recipe with leftover, Can be tried with fresh idlys, a change to a normal breakfast.
Normally the left over idly get converted into Upma – a common dish in South India. But I have given a twist to this left over recipe. Though it seems to have another step in converting into noodles, but worth to try.
Idly is an healthy and easy digestible food which is consumed as a breakfast and dinner meal. Rice and Urad dhal(black gram) is soaked and ground to a batter, then added with salt for fermentation. The fermentation process is about 8 hours which makes the batter to a fluffy mix. Then the batter is poured into idly mounds and steamed in an Idly maker. A healthy meal as this is steamed and no oil is used for this dish.
The Idlys are ideal food for travel and can consumed for a couple of days. I can still recall the aroma of idlys wrapped in banana leaves during our long travel from Chennai to Delhi. It was a long journey where three nights and two nights were spent to reach the other end. In 80's it was customary to eat home prepared meal even during the journey. So some dishes were exclusively meant for take away, Idly and chapathi for breakfast, while yogurt rice, lemon and tamarind rice were packed for three days and consumed in the order as written in this sentence. For Idly and chapathi, my grandma's special Onion chutney was best to consume even after 2 days even kept at room temperature. Idly being ideal for breakfast and dinner, I opt for Idly just for the delicious chutney with sesame oil floating at the top 😀 As a little girl, I always looked forward for the summer vacation, especially I enjoyed the train journey a lot. But now, travelling for 5 hours together, I loose my patience 🙂
Servings : 2
Time : 15 Minutes
Ingredients
4 Idly
1 Onion
2 Green chilies
Tempering
1tsp Oil
1/8 tsp Mustard seeds
½ tsp Urad dhal
½ tsp Bengal gram
1/8 tsp Asafoetida
1 sprig curry leaves
Method
1. Place the idlys in hooper mould to squeeze the idlys into strings.

2. Dice the onions, slice the green chilies.
3. In a pan, add oil, mustard seeds, after mustard seeds splutter, add urad dhal and bengal gram.
4. Then add curry leaves, asafoetida, Onions and Green Chilies, now add required salt.

5. Finally add the idly noodles and give a toss and mix together.
Jotting
There is already salt in the idly so adjust the quantity accordingly.