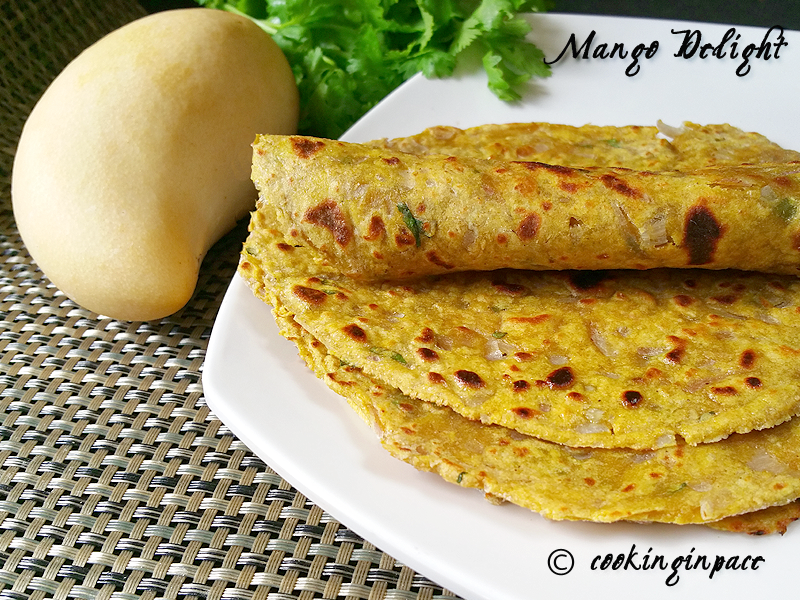 The King of Fruits Has Arrived 🙂 Why not celebrate the occasion with palatable meal.
A Sweet and Spicy Mango meal, for sure it will tickle your taste buds. This is not a stuffed chappathi, I have added directly to the flour. Ripe Mango can't be stuffed due to its consistency, but raw mango can used to make the stuffing. Raw Mango Chappathi is on the way to get published 🙂 Will try to post as soon as possible.
There are many versions of stuffed chappathis/parathas, but this is quite different to give a try. Normally radish, panner are some of the ingredients which are directly added to the flour and rolled out to a chappathi. Cooking a stuffed chappathi needs extra care while rolling out, as the flour and the stuffing ingredient should be in the same consistency. But no hassles in this recipe all you need is to control the water quantity while making the dough, as mango pulp do have moisture to bind the flour.
I have used Thailand honey mango which has sweetness though not as Indian Alphonsa variety. If you are using Alphonsa mango then increase the chili count to another. I have added Soya bean flour for making chappathis, as I always do for daily meal. Decade ago, I acquainted a friend online, who advised me to add soya bean in my diet, of course in a minimal amount. To start the addition, she told me to add in idly/dosa batter by soaking soya beans along with rice and grinding them into paste. And it had become a habitual for me to add soya bean in all possible ways in to my food. So while making chapathi I started to add soyabean flour. For one cup of Wheat flour I add 2 tablespoons of soya bean flour. It doesn't have any side effects 😀 Jokes apart, a good source of protein and fibre, which can be included in diet especially for children.
Mango Chapathi
Servings : 3
Time : 40 Minutes
Ingredients
1 cup Wheat Flour
2 tbsp Soya Bean Flour
¼ cup Mango Pulp
½ tsp Turmeric Powder
½ tsp Garam Masala
2 Green Chili
1" Ginger
½ Cup Finely chopped Onions
3 sprigs of Curry Leaves
Handful of Corainder leaves
Oil for greasing
Method
1. Grind Green Chilies and Ginger with some water and strain.
2. Grate a Ripe Mango with a vegetable grater and keep the pulp aside.
3. In a bowl Mix the wheat flour, Soyabean flour, Turmeric Powder, Garam masala, required salt and dry mix thoroughly.
4. In another bowl mix the chopped Onion, Pulp, Ginger Chilli extract, finely chopped Curry and Coriander leaves.
5. Now Mix the dry and wet Ingredients in a bowl with required water to make a dough.
6. Make it into small balls and roll out with a rolling pin to make chappathis.
7. On a hot griddle cook the chappathis on both sides with a swirl of butter, oil or ghee.
Jotting
You can finely chop the ginger and chili, if your kids are fine when chili pops up while munching OR replace with dry red chili powder.