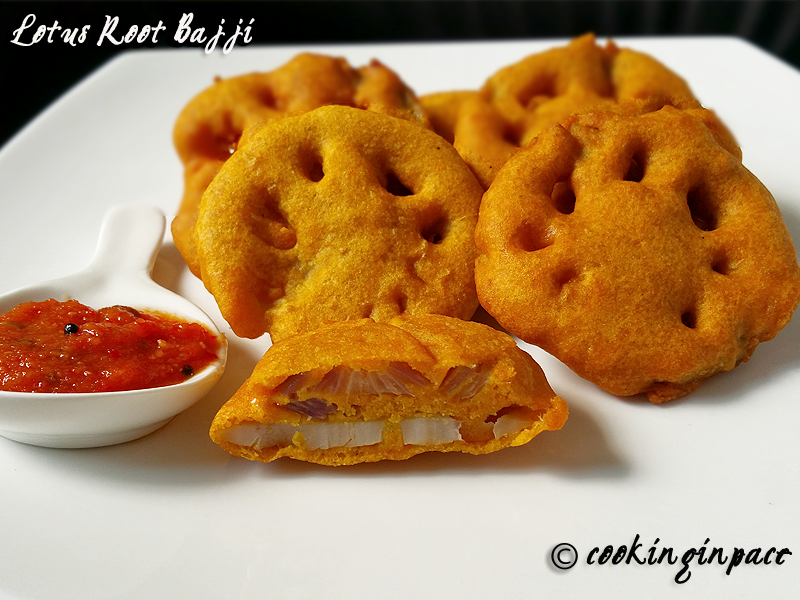 Lotus Stem Bajji. A new try which worked out and made a grand entry into our evening snack list. I tried sandwiching crunchy lotus stem and onion in bajji batter. Normally Lotus root are either used in salads or cooked in a gravy, But I experimented to create a snack, a purely Indian evening snack and my test result was awesome and tasty. It tasted good and I loved to munch on the crunchy vegetables getting well with the fried crispy batter.
Lotus root normally finds a special place in Chinese, Korean cooking seldom used in South Indian recipes, I have tried my level best to include Lotus root in South Indian recipe and add a healthy food into my food book.
There are lots of benefits from Lotus Root. The first and foremost is the low calorie and high fibre content, which is ideal for a diet conscious person to consume. Additional there are minerals including including potassium, phosphorous, copper, iron, and manganese, as well as thiamin, pantothenic acid, zinc, vitamin B6, vitamin C.
Usually banana, onion or brinjal get into the oil for evening snack as fritters. But lotus stem do tastes good for an evening bite.
I have seen lotus ponds in around my inlaws home, but never been to close it.The lotus pond has its own beauty and the flowers in bloom is a must to see. I never knew that lotus stem is used for cooking until my friend came up with a recipe where dried lotus stems were used for pulikuzhambu. When dried stems (vatha) can be used why not with fresh stems. As fresh lotus stems are available in wet markets as well in super markets, immediately bought and did some experimenting work. The first and foremost about cleaning, I asked an aunty who was having buying the stem. She gave me a curious look because most Indians don't use lotus stem in cooking. Then she gave me some tips about the stem and the cleaning process.
1. While buying the best is that the bulb be big more than three inches in diameter, the mature stems do taste good.
2. Wash and scrap the outer layer of the stem/root.
3. When the sliced stems are placed in water, the water will turn cloudy.
3. After cutting into slices or pieces wash thoroughly by changing the water in the bowl for at least for 6 to 7 times and keeping the bowl of sliced stems under the running water for 30 to 60 seconds.
Lotus Stem/Root Bajji
Servings : 2
Time : 15 Minutes
Ingredients
7 Lotus Stem slices
½ cup Gram Flour/Besan
¼ cup Rice flour
¼ tsp Chilli Powder
¼ tsp Fennel powder
1/8 tsp Asafoetida
1/8 tsp Baking soda (Optional)
Oil for frying
Method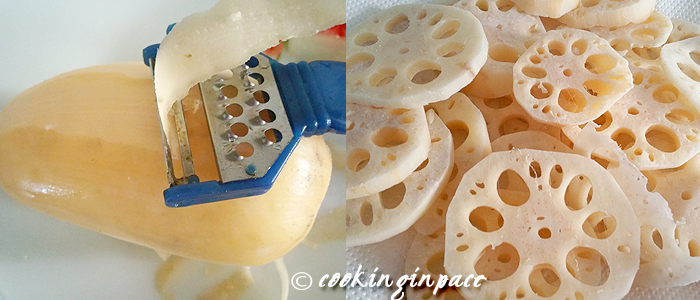 1.Clean the lotus stems under running water and peel the outer skin.
2.Cut into thin slices and blanch in boiling water for 4 minutes. Strain the water and remove the moisture with a kitchen towel.
3.Mix throughly Gram flour, Rice flour, Fennel powder, Chilli powder, Asafoetida, Baking Soda and required salt in a bowl. Add required water not too thick nor thin.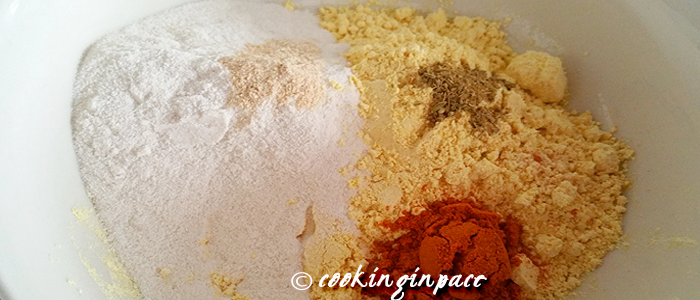 4.Heat oil and test by dripping droplets of batter, The drops should bounce to the top immediately after they touch the bottom of the pan.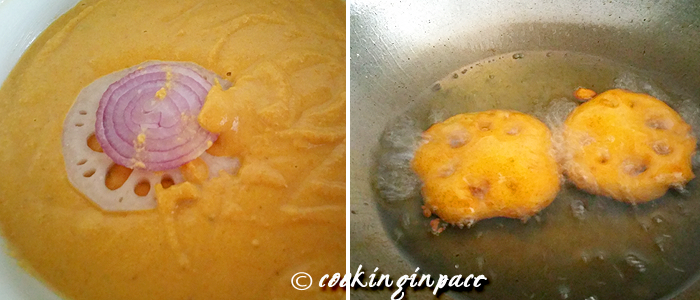 5.Now dip the Lotus stems slices in the batter, make sure the batter is coated on both sides.'
6.Deep fry the slices by turning the sides for the bajji to cook evenly on both sides