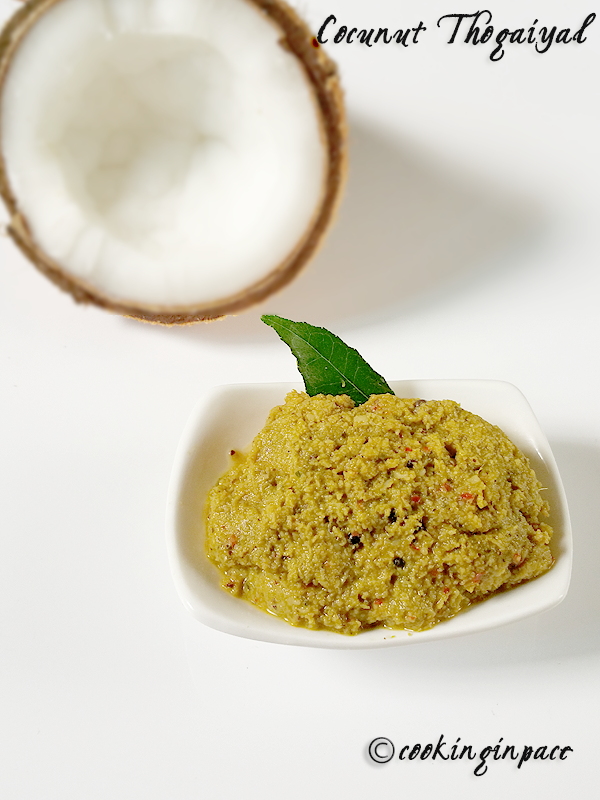 A relishing accompaniment to a simple main course dish, Be it a Rasam – mulligatawny soup, yogurt rice or lemon rice. This thogaiyal has tamarind, chilies to tinkle the taste buds and ginger to take care of the digestion part and. I have added Curry leaves to whole up for a healthy diet.
Coconut finds an dominant part in South Indian cooking. In Tamilnadu coconut is mostly used for garnishing poriyal, the side dish. Coconut though deemed to be high saturated fat, still it has many benefits when consumed, nothing harm taking it in minimal level. Though the researches are still on to come to a common understanding whether the fat content present in Coconut is good for health or not. Still Coconut chutney is a must accompaniment for Idly and dosai. So it is unimaginable to boycott from Cooking from South Indian cooking. Coconut is used by our ancestors for centuries and Personally I do like to add coconut sparingly in my meal.
The coconut has many beneficial factors. About the coconut oil. In South India, coconut oil is the one and only oil used as hair oil. We believe it acts as a coolant and barrier to suppress the heat generated within the body.
Coconut oil is made from farm produce. The coconut flesh are removed from the shell and cut into pieces. These small pieces are made sun dried till the moisture is absorbed by the scorching sun. By the end the dried coconut pieces have a translucency look and when pressed between fingers, the oil tries to ooze out. In my younger days it was a great privilege for me to take over the sentry duty to scare the crow and the whole terrace was under my control. I used to have a stick with me as if it was the greatest armament and strolled with greatest pride.. Sounds Funny right, while writing I couldn't control my laughter. But I enjoyed my childhood, taking care of the smallest details even for the kiddish act…
Coconut Thogaiyal
Servings : 4
Time 20 Minutes
Ingredients
½ Cup of grated Coconut
3 Red Whole Chillies
1" Inch Ginger
2 tbsp Bengal Gram
2 tsp Urad dal
A small piece of Tamarind – just a size of turkey berry
Few Curry Leaves
1tsp Oil
Tempering
½ tsp of Oil
1/8 tsp Mustard seeds
1/8 tsp Urad dal
1/8 tsp Asafoetida
Method
1. Add oil in a pan add Ginger, sauté for couple of minutes and remove from heat. Then add tamarind and red chillies fry for couple of minutes, remove from pan.
2. Then fry Bengal gram and urad dal and curry leaves.
When the urad and bengal gram gets roasted at the end add grated cocunut and switch off the stove. The coconut gets roasted in the pan heat..
3. In a blender add all the fried ingredients,required salt and grind to a smooth paste by adding small quantity of water.
4. In a tempering pan, add oil, mustard seeds, urad dal, asafoetida and add to the mixture.
Jotting
This thogaiyal can be prepared without tamarind but it can be kept outside for a longer time as it would turn stale. Without tamarind do tastes good.
If you aren't adding curry leaves, then there is no need to add jaggery in this recipe. As curry leaves do have a bitter taste, to compensate jaggery is added to the thogaiyal.