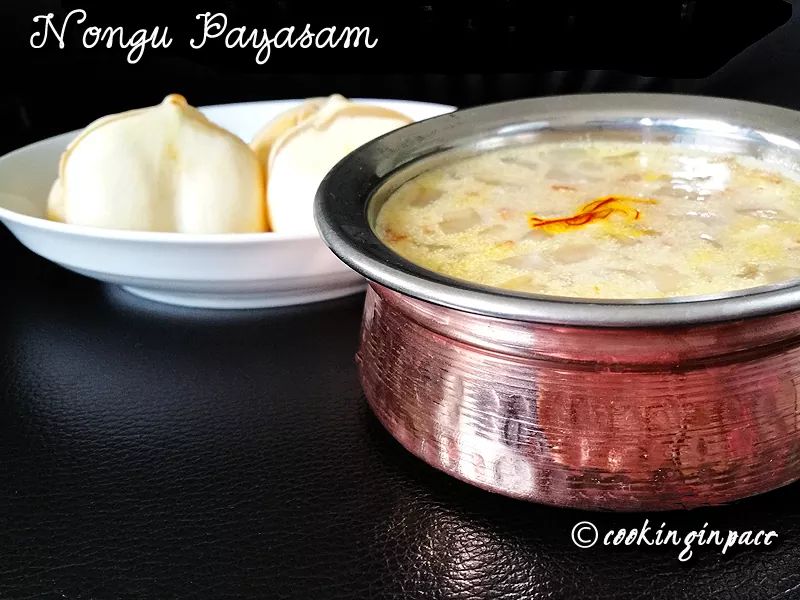 The Nongu – Palmyra fruit or the Ice Apple is available only during Summer season. A natural coolant and provides hydration to the body. The pale white/brown outer skin which has a slight bitter taste heals the stomach ulcers and digestion issues. This recipe needs the fruit as a whole, skin intact…
Nongu Payasam
5 Nongu/Ice Apple
2 tbsp Sugar
1 tsp Poppy seeds
5 Almonds
2 tbsp Sugar
4 Cardamoms
2 tbsp Coconut pieces
Few strands of Saffron
1 tsp Ghee
Method
1. Soak Almonds and peel the skin. Dry roast the poppy seeds. Grind almonds, poppy seeds in a blender along with 4 Ice apples with the skin and grind to a paste.
2 . Roast the coconut pieces in ghee and keep aside.
3. In a pan add the ground paste, sugar and add 3 cups of water. After it starts to boil, let it be in boiling state for 3 minutes and remove from heat.
3. . Add warm water to saffron and add to the mixture.
4. Now add the ghee roasted coconut pieces.
5. Peel the skin of the remaining 1 Ice Apple, cut into small pieces and add to the payasam.
Serve hot or cold.
Note
The colour of the payasam will have a tint of brown, as nongu is used with the skin. Alternatively you can use peeled fruit to have a bright coloured payasam and decrease the sugar quantity.