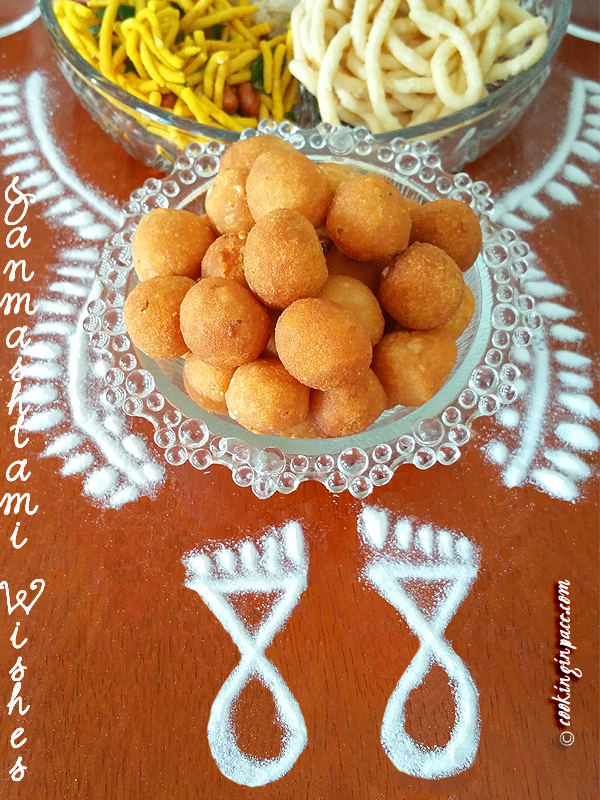 "Janmaastami Wishes"
Festival Occasions are always a memory down lane to me, especially leads to my primary school days, where I still long to travel if I am bestowed with a time machine. The inevitable naughty and innocent acts, a part of childhood which I feel, I had the chance to travel without any impediments 🙂
My neighbour, Aunty Shanthamma, who treated me as one her daughters. Though a single child, but had 7 siblings to play and fight. With constant grumbles and complaints, none of the elders intervened into our child play.
Any festivals, then my day starts at their home right from cleaning to helping aunty with doing festival dishes. It was kids' duty to take care of dough mixing, rolling out into either balls or pooris, coconut scrapping etc… It was tireless job then…Back to the present, Now the job gets tired looking at me, the way I do 🙂
Palakayalu,the crispy balls prepared with rice flour and deep fried in oil. A Janmaastami special recipe in Andhra Pradesh and Telugana. With just four ingredients payakayalu can be done in a jiffy.
Preparation Time : 5 Minutes
Cooking Time : 10 Minutes
Serving : 2
Ingredients
1 Cup Rice Flour
1/8 tsp Asafoetida
1 tbsp Sesame seeds
1 tbsp Ghee/Clarified Butter
Water as required
Oil for deep frying
Method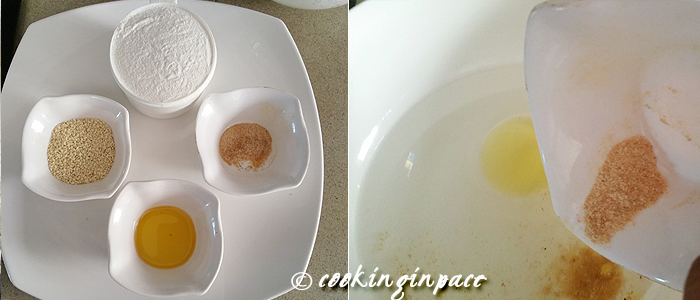 1. Boil water and change to a mixing bowl. No add salt and give a stir so that the salt dissolves. Then add ghee and asafoetida and mix it.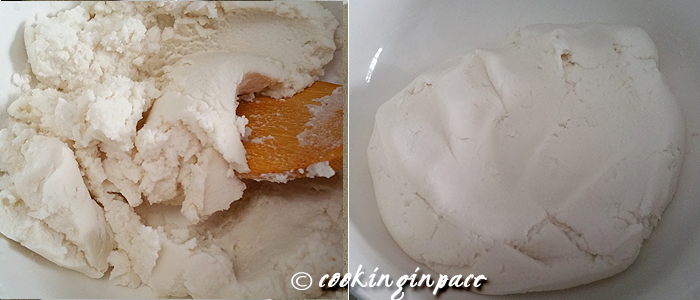 2. Now add rice flour in parts and mix thoroughly to form a dough not too firm nor too loose. Keep aside and allow it cool down to room temperature.
3.

After the dough cools down add sesame seeds and knead so that the sesame seeds gets dispersed uniformly in the dough. Now roll into rough balls. Don't roll into smooth balls.
4. Heat required oil in a kadai for frying.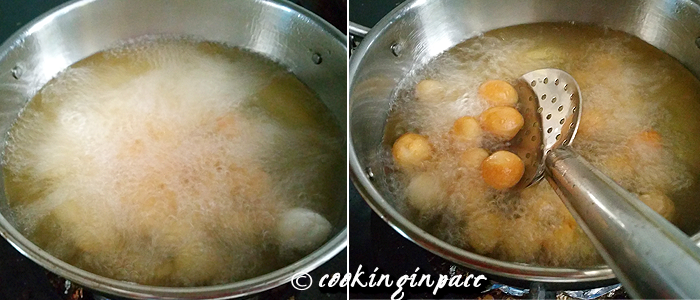 5. When the oil is hot add the payakayalu balls into the oil and don't disturb for a while. The balls will rise up as soon as it touches the bottom of kadai so no need for stirring at this stage. Allow it to cook for a while.
Fry on medium flame.


6.It takes around 7 to 8 minutes for the balls to get cooked. The bubbles should subside and time to remove from oil. Drain excess oil by placing on a kitchen towel.
Jotting:
1 cup of flour requires around ½ – ¾ cup of water depending upon the rice flour. Start to mix with half cup of water, if required add more water to make a smooth dough.
2. These balls don't burst, if done according as per the above procedure. Still make it sure you stand away from the oil wok. Drop the balls into the oil with a ladle.
3. Cook payakayalu on medium flame as the inside part gets cooked. If not the outer gets cooked leaving the inner dough uncooked.
4. These are too crispy and not soft to teeth 🙂 If you drop down on floor it will shatter into pieces 🙂