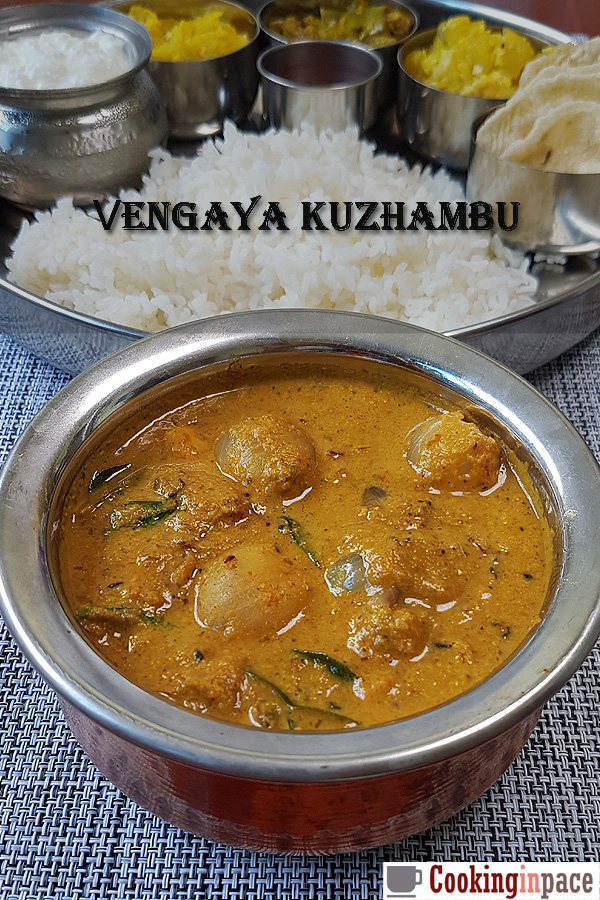 A traditional recipe with shallots and spices triggering the taste buds to experience a different taste. A special ingredient, the onion undergoes a special cooking process and added to the dish.
This is my mother's recipe and my favourite too. When we were residing in Secunderabad, we visited our grandma during school vacation. On return journey, a bag of shallots travelled along with us to our base. If I am correct the quantity should be around 5 kgs.
So for the next month we had shallots in our daily meal, as chutney or pullikuzhambu or sambar.. My favourite is this Pullikuzhambu.. I still remember the soft cooked shallots with a sweet punch in it along with the spicy curry.
The ingredients and the steps may look lengthy, but a simple recipe which I have split it down for an easy understanding. Do try once.
Prep Time :10 mins
Cook Time :25mins
Serves :3People
INGREDIENTS
10 Shallots / Small /Sambar Onions
9 pods Garlic
2 tbsp of thick Tamarind extract
1/2 tsp turmeric powder
1 tsp ghee
1/2 tsp jaggery
1 sprig curry leaves
For Grinding
1 medium size onion
1/4 cup grated coconut
1.5 tbsp Coriander seeds
3/4 tsp cumin seeds
3/4 tsp Black Pepper Corns
3/4 tsp poppy seeds
1/4 tsp Fenugreek seeds
2 whole red chillies
1/2 tsp Bengal gram/Channa dhal
1/2 tsp Black gram / Urad dhal
1 tsp Sesame/Gingelly oil
FIRST TEMPERING
2 tbsp Sesame/Gingelly oil
1 tsp Thallipu Vadagam (sun-dried black seasoning)
SECOND TEMEPERING
2 tsp Sesame/Gingelly oil
1/2 tsp fennel seeds
2 Shallots with skin intact
4 Garlic pods with skin intact
1 sprig curry leaves
FIRST GRINDING STEP
1.The medium size onion given in the grinding section is to be smoked with fire.Place the onion on fire and allow it to burn for a minute so that 4 layers of skin turns black . Remove from fire and allow it to cool.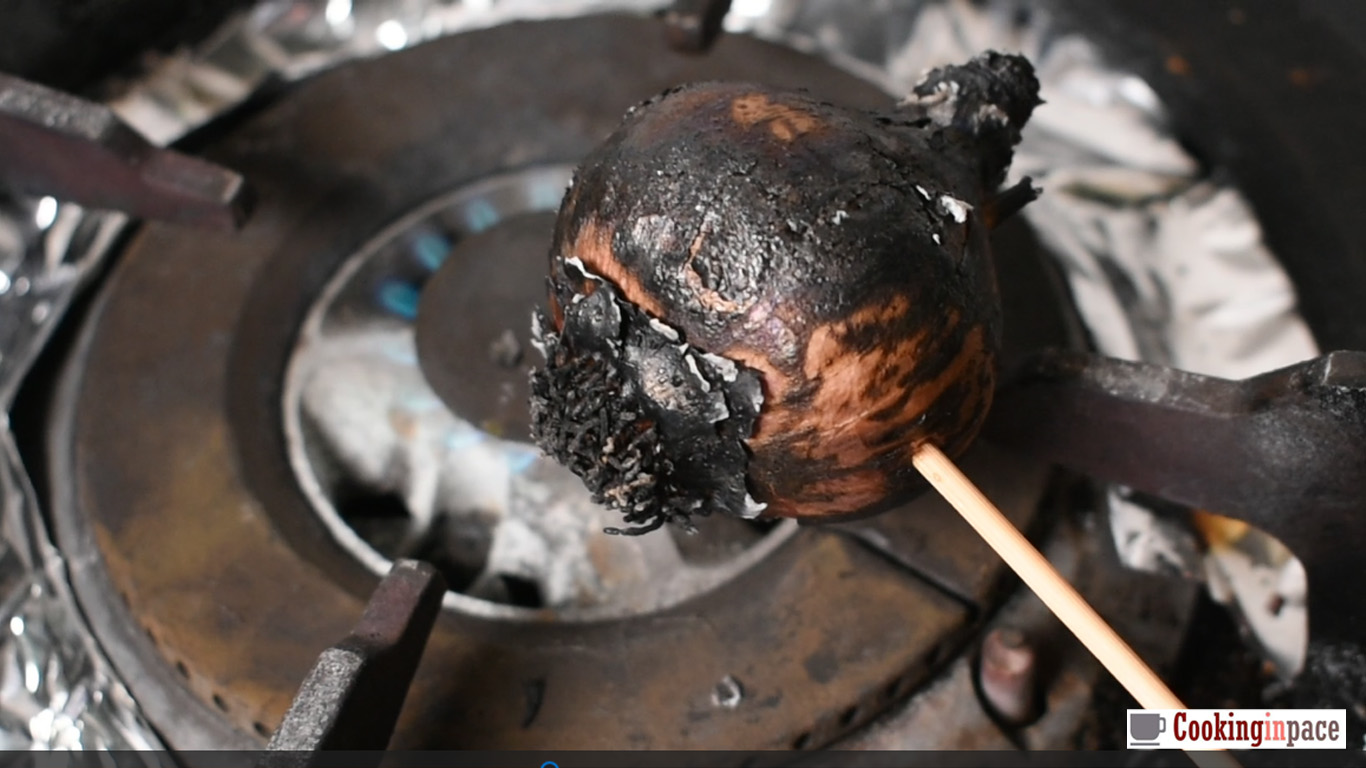 2. After it cools down peel.off the burnt layers and cut into pieces.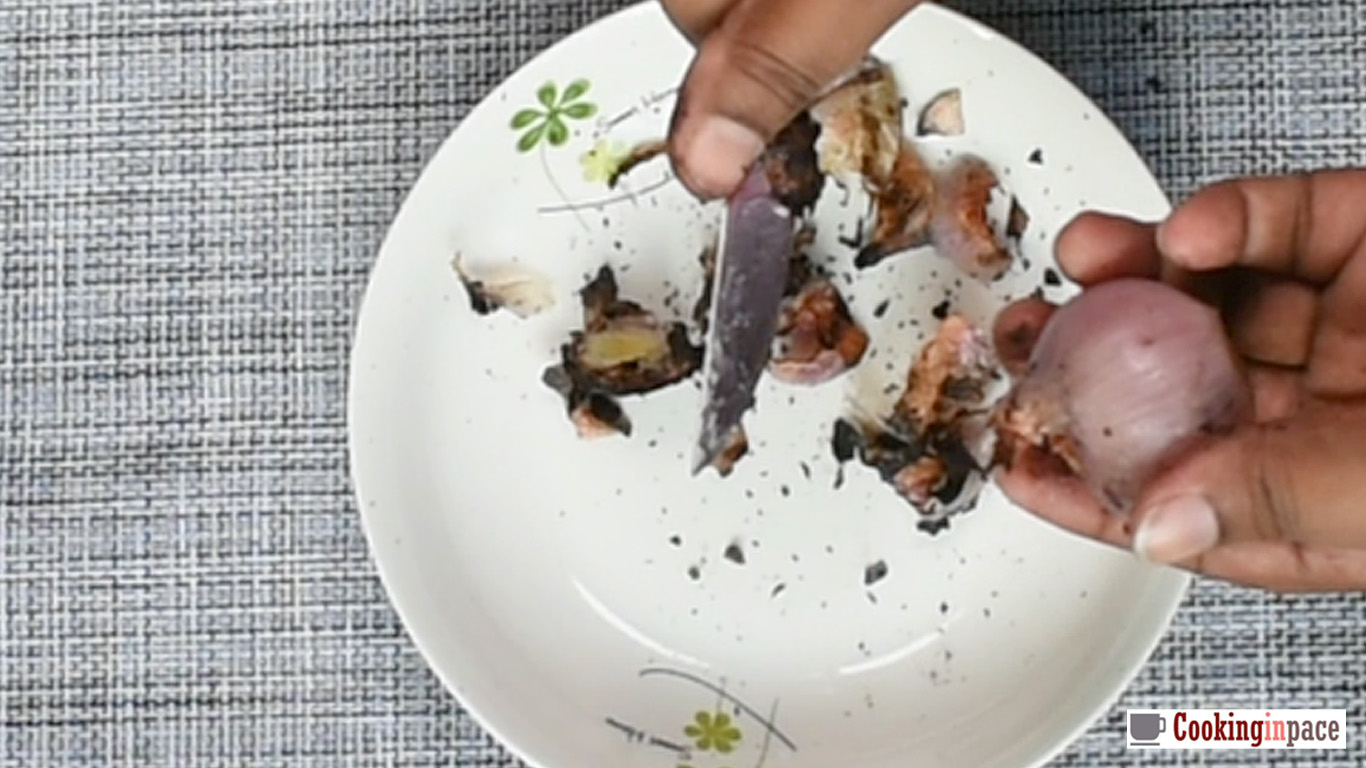 Roasting of Ingredients for Grinding
4.In a pan add oil, after it gets heated add coriander seeds and roast it for a minute.Next add red chillies and stir for 30 seconds.Now add bengal gram and black gram, again on heat for 30 seconds.Next add pepper corns and cumin seeds in the interval of 30 seconds.Now add fenugreek seeds, followed by poppy seeds.Once the poppy seeds pops up add the grated coconut and stir it for couple of minutes. By now the coconut will get roasted.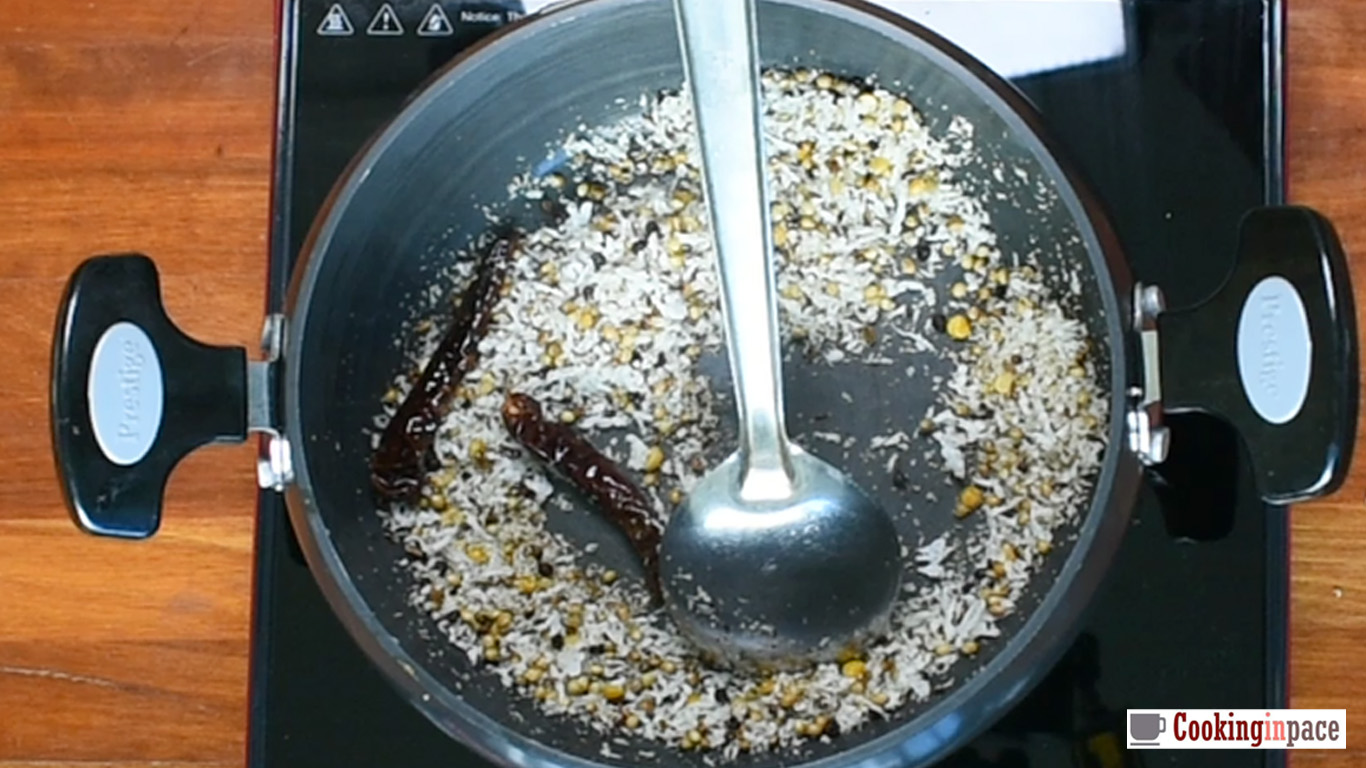 5.Allow the ingredients to cool down and transfer to the mixer jar along with the cut onion which was burnt in the first step.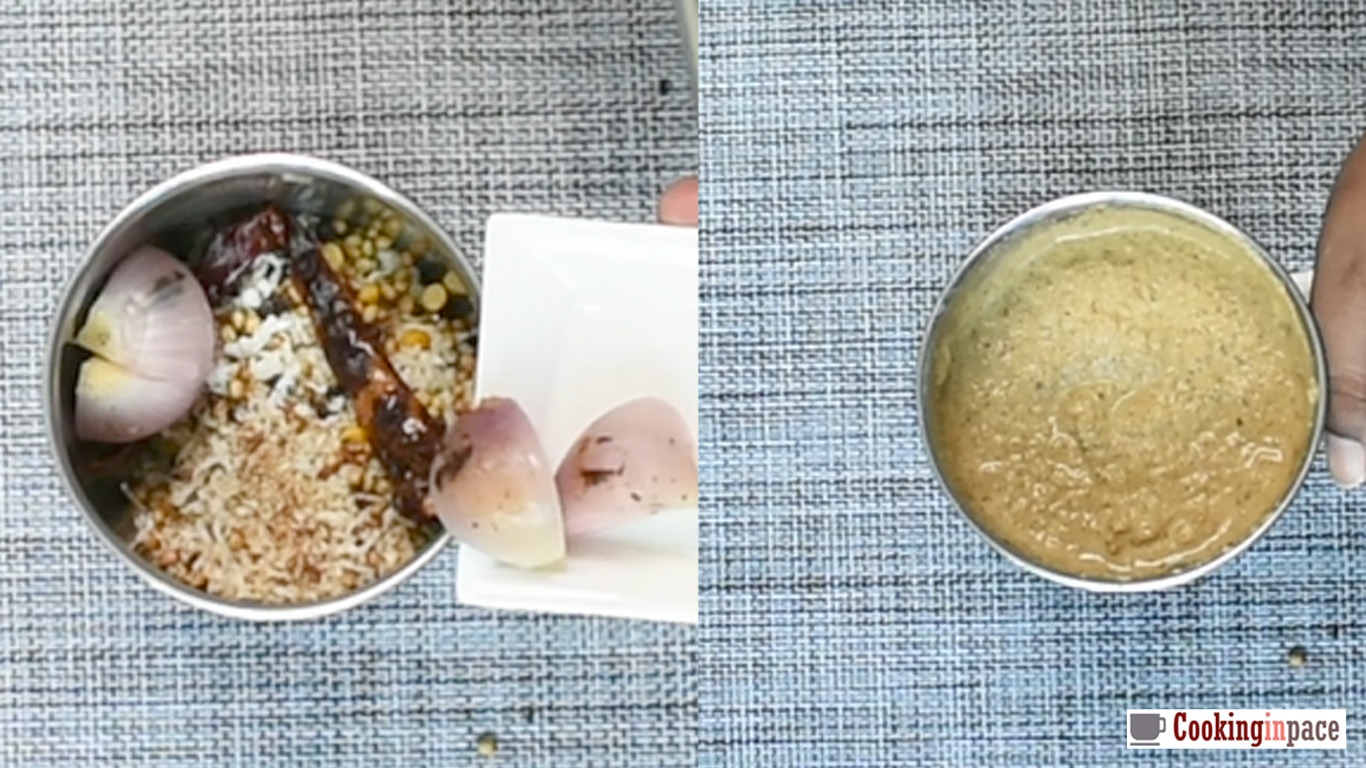 Grind the ingredients to a fine paste by adding water
THE FIRST TEMPERING AND START OF COOKING
6. Add oil in the hot pan, then add the black seasoning.
7.When the mustard seeds in the seasoning starts to splutter, add garlic and shallots into the pan.
8.Saute the onions and garlic for couple of minutes, by now they should have turned soft.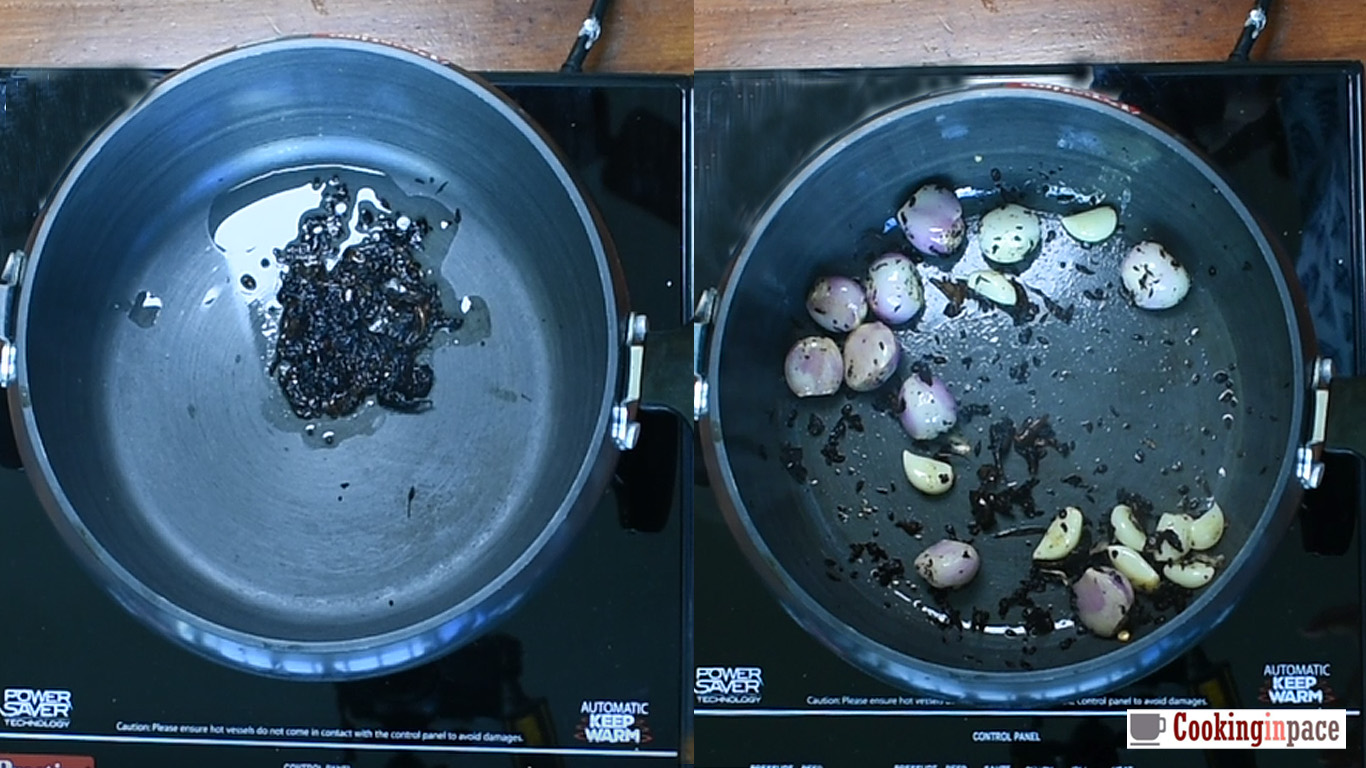 9.Now add the ground mixture along with 1.5 cups water and give an immediate swirl.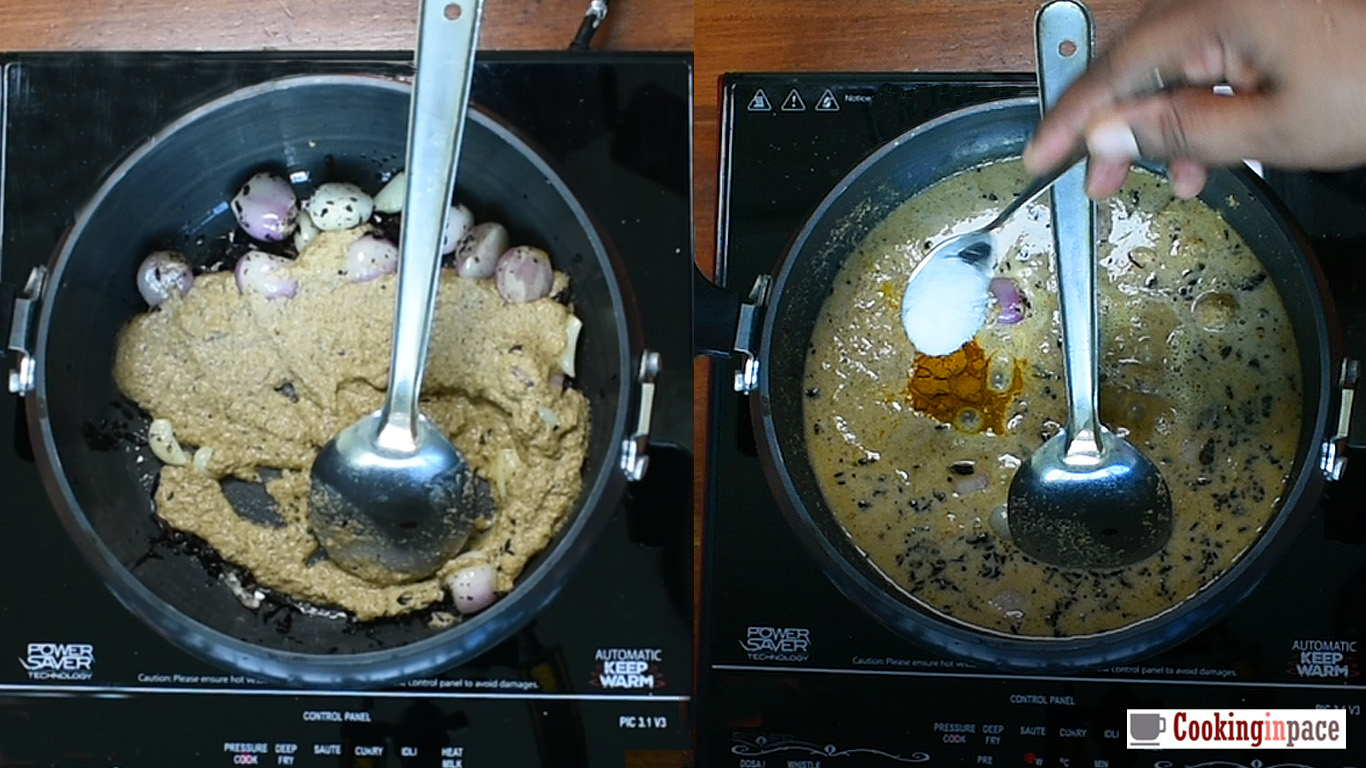 10.Next step is to add required salt and turmeric to the mixture.
11.Add tamarind extract. Stir the mixture , bring it to boil, then turn to medium flame and close the pan with a lid.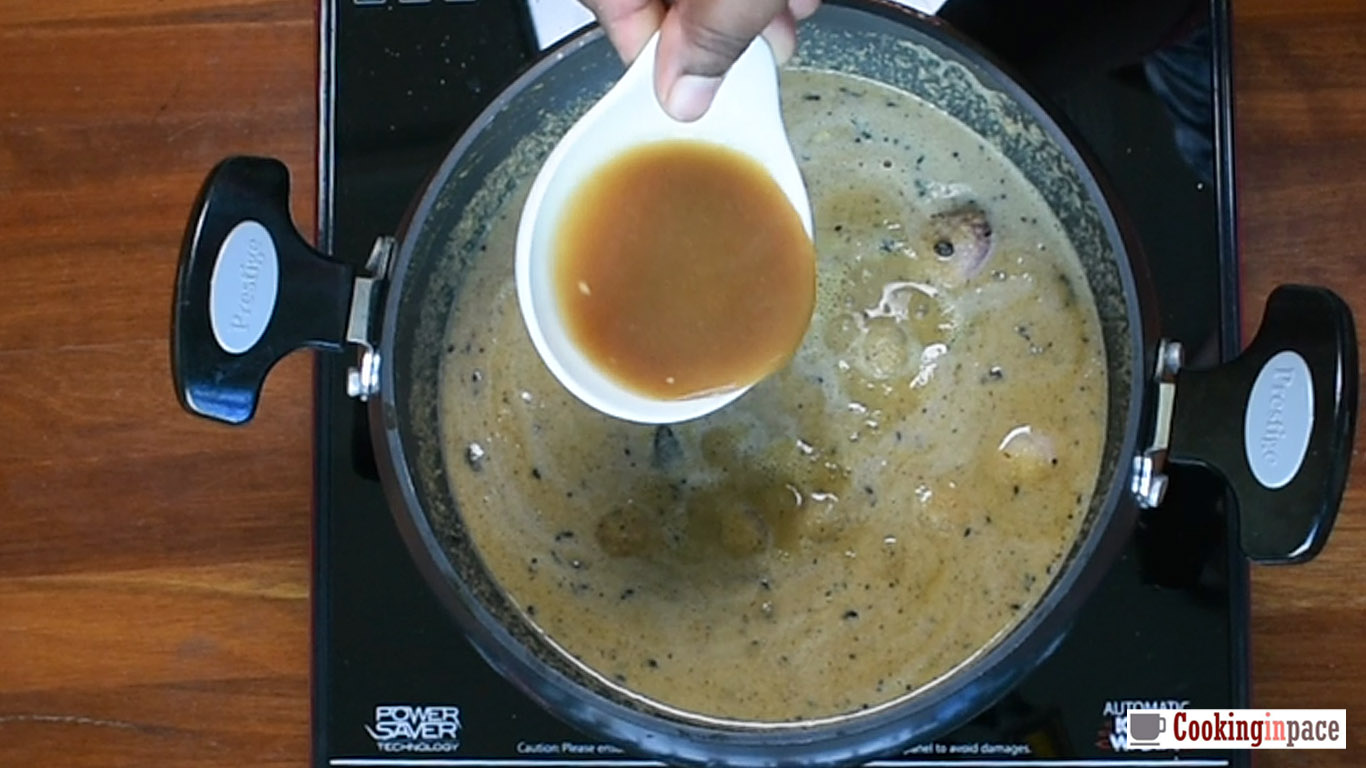 12.After 3 minutes open and add crushed curry leaves and stir it. Close the lid and allow it continue cooking for another 3 minutes.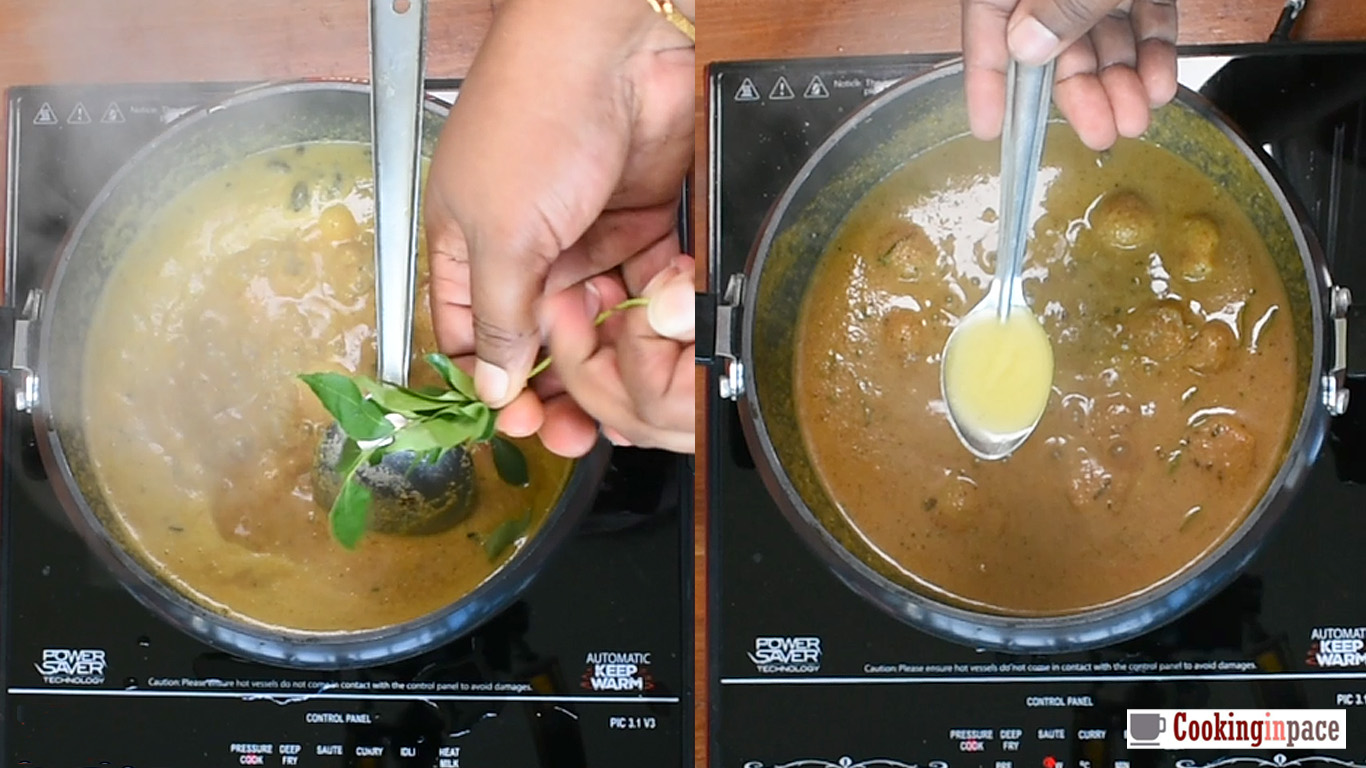 13..Before removing from heat add jaggery and swirl the ghee on the gravy. Now remove the pan from the heat.
SECOND TEMPERING For this tempering the shallots and garlic has to be pounded with its skin intact.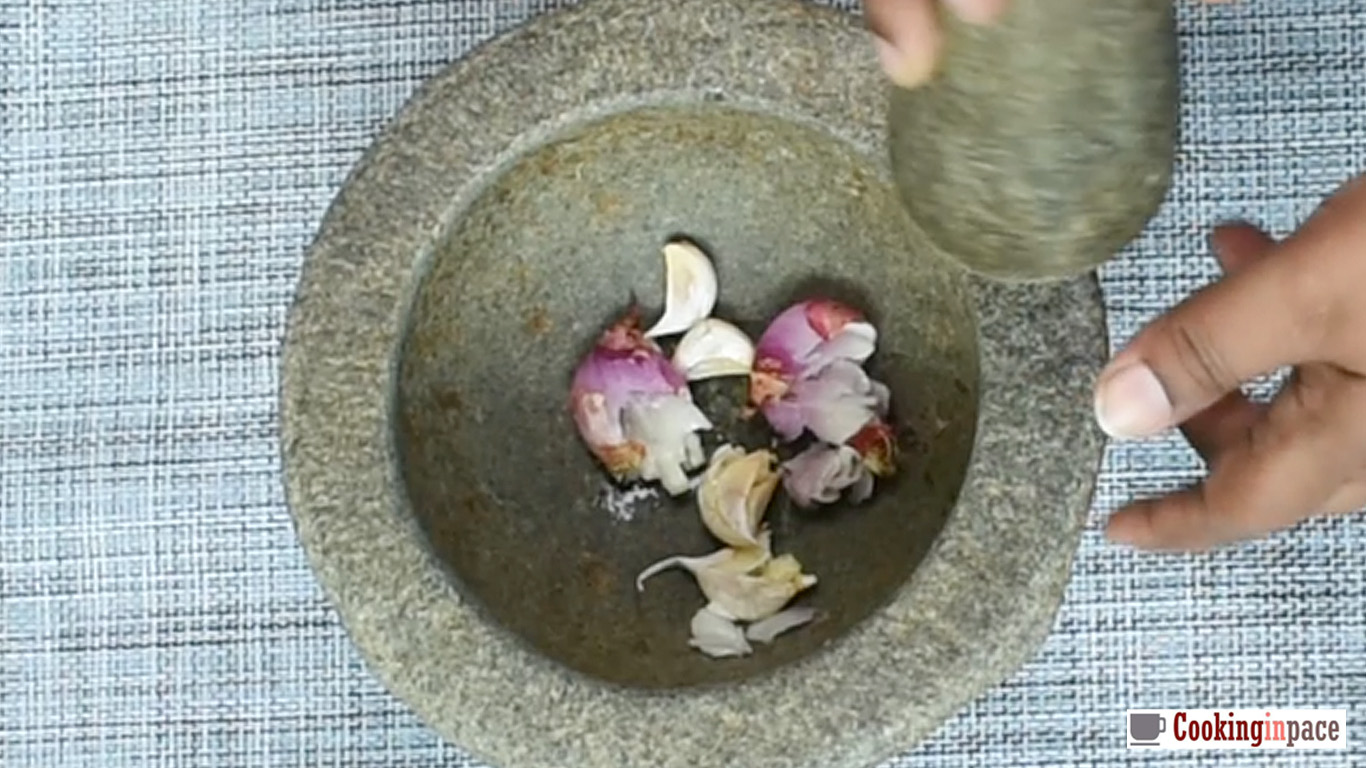 14.In a tempering pan add oil and after it heats up, add fennel seeds.After the fennel gets roasted add pounded garlic and shallots.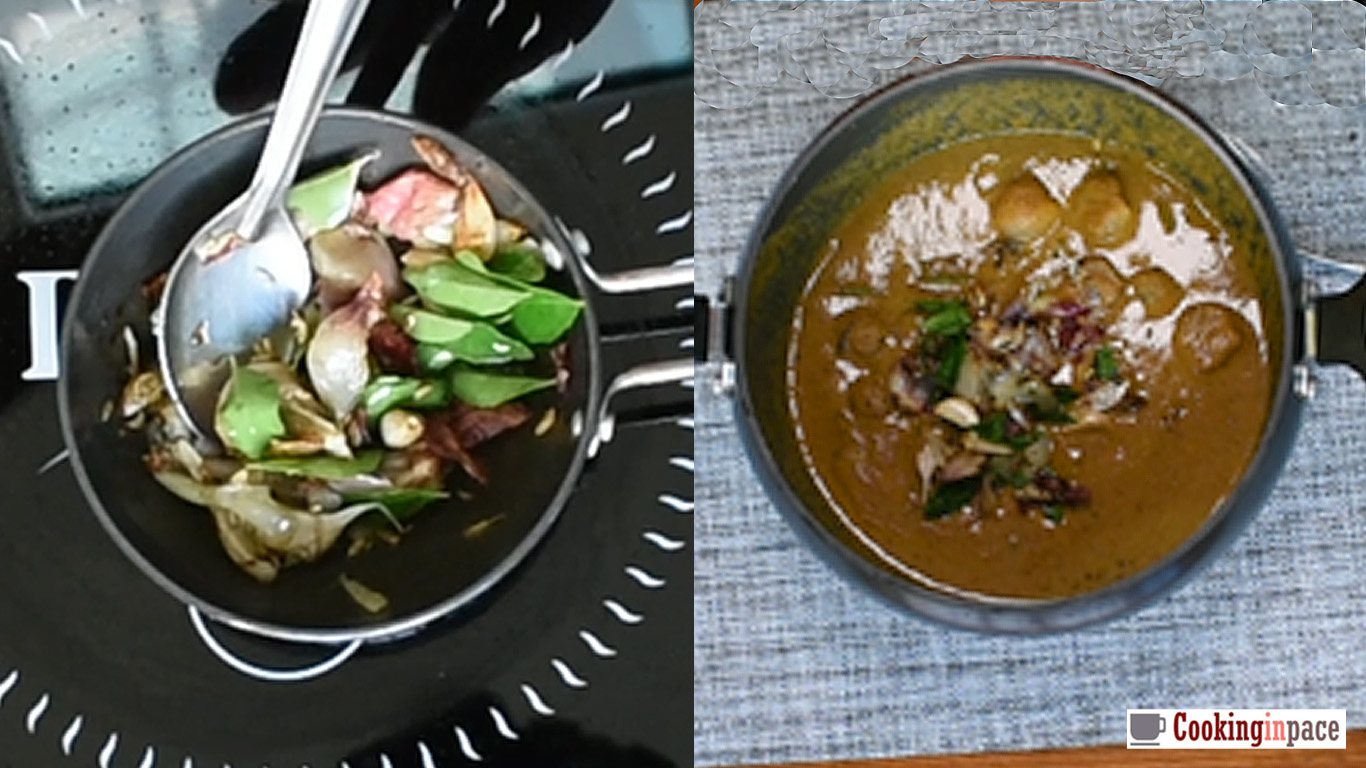 15.After the garlic and shallots gets roasted add curry leaves give a stir and add to the curry.
Serve hot with rice /dosai/chappathi.
Jotting
Adjust the consistency of the gravy by adding hot water and check for salt. Instead of black seasoning : you may use 1/2 tsp of mustard seeds, 1/2 urad dhal, 1/4 tsp fenugreek seeds, 1/4 tsp cumin seeds for first tempering.