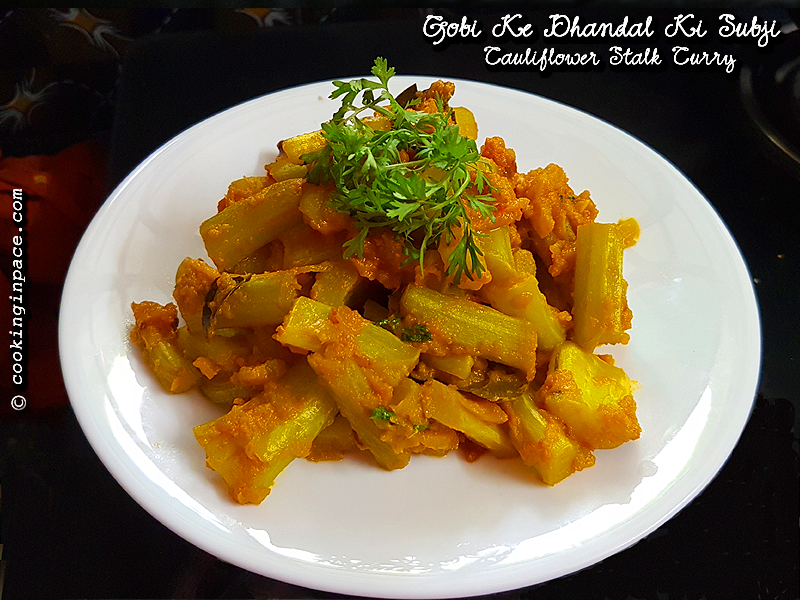 Do you discard the Cauliflower stalks while cutting florets for cooking? Then you should have missed a yummilicious taste. Time to give your taste buds a change from the taste of normal veggies.
I never knew that the stalks, dhandal known in Hindi are edible and used in Cooking, until Mrs.Anita Chahal, came up with a recipe in a FB group. Auntyji always presents a recipe with a twist, which prompts me to note down her recipe in my notebook. Now had an opportunity to try the stalk, as I am at my parents' home and enjoying my experiments with full confidence that my Dad will never let me down 🙂 Trust stalks didn't let me down too 🙂
I have followed the cooking procedure of Auntyji's but prepared in my style.
Lets get into cooking
Preparation Time : 5 Minutes
Cooking Time : 15 Minutes
Servings : 2
Ingredients
2 Cups Cut Cauliflower Stalks
1 Medium Size Onion
1 Tomato
1 tsp Ginger Garlic Paste
1 tsp Coriander Powder
1/2 tsp Red Chilli Powder
1/4 tsp Turmeric Powder
1.5 Cups Water
For tempering
1.5 tsp of Cooking Oil
1″ Cinnamon Stick
1 Bay leaf
1/4 tsp of Cumin seeds
Method
1. Grind the onion and tomato to corase paste and keep aside.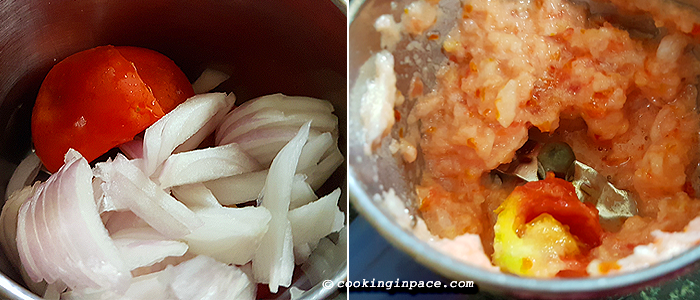 2. Remove the stalks from the cauliflower.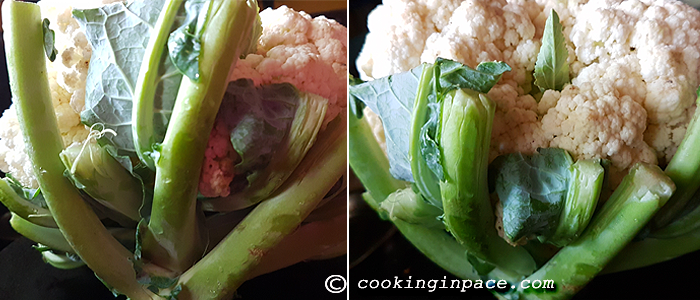 3. Cut the stalks into 1″piece. Remove the strings and wash the stalks.
The tender stalks tastes better than the matured ones as they are soft after cooking and melts as they get chewed. While the matured ones have fibres and takes time to get cooked leaving fibre behind.
In a pan, add oil and add the stalks, stir fry for couple of minutes on high flame and remove from the pan.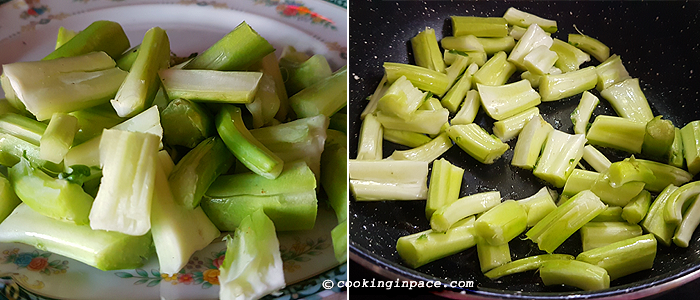 4. In the same pan add cinnamon stick, bay leaf and cumin seeds. Then add the onion and tomato paste and saute for couple of minutes.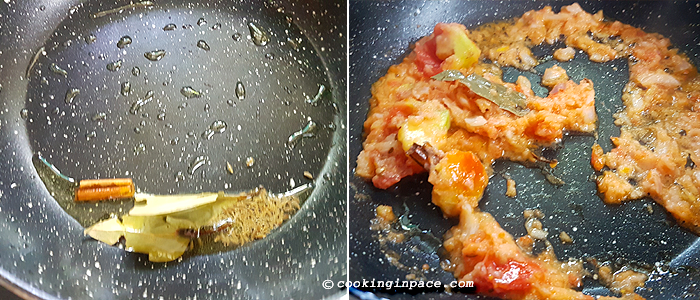 5. Now add Ginger garlic paste, mix and stir for a minute, then add turmeric powder.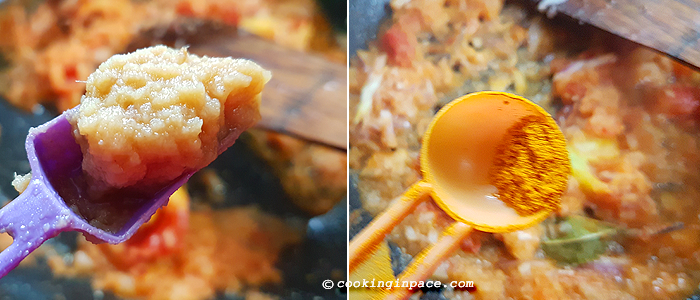 6. Now time for coriander and chilli powder to get into the pan.


7. stir the masala and allow it cook for a couple of minutes, then add the stalks. Add required salt at this stage.
Now add 1.5 cups of water and bring to boil.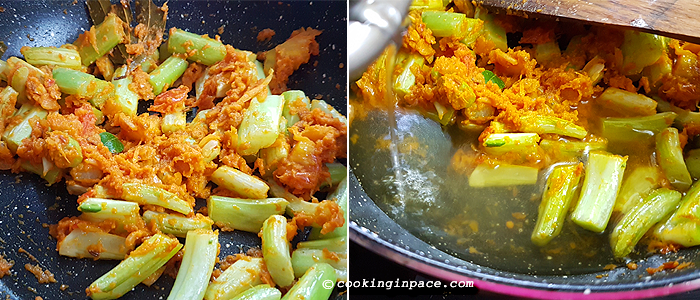 8. When it starts to boil, reduce the flame to medium and close the pan with a lid. Occassionaly stir the mixture so that the strands get cooked uniformly. It takes around 10 minutes for the matured ones to get cooked.


9. After the stalks get cooked, you can adjust the consistency by simmering down or adding water.
The display picture was prepared as an accompaniment for rice.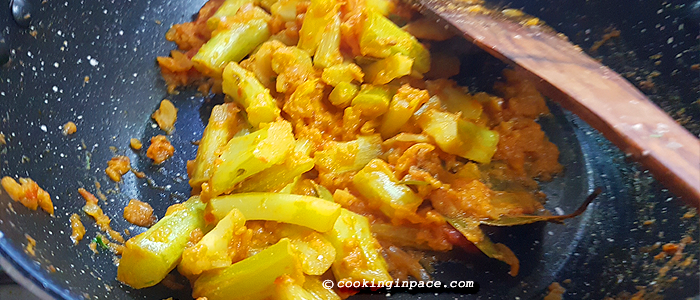 Note: Stalks can be prepared in kootu or poriyal style by addition of grated coconut along with mustard, urad dhal tempering.