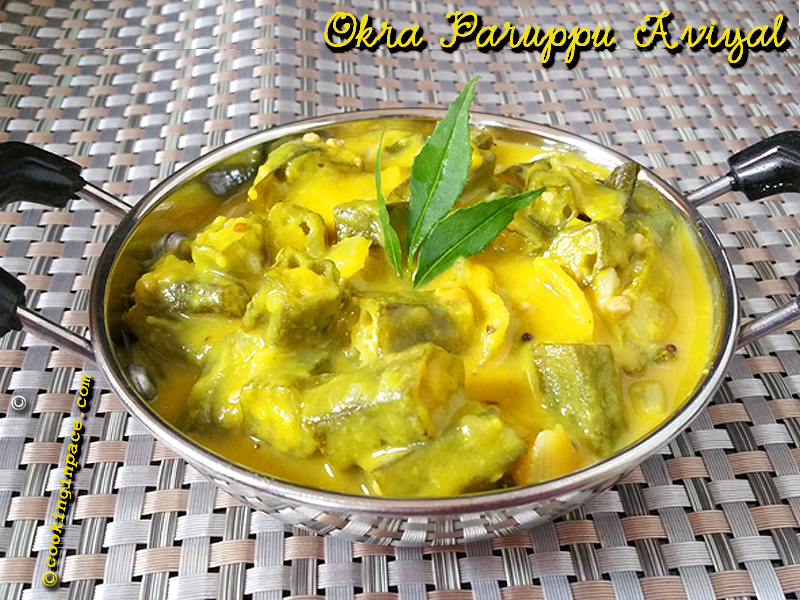 Ladies finger – that's how I learned the name of the vegetable in school 🙂 I am not sure why the name Okra got familiarized against Ladies finger. I am not into the research of the name behind, just a curiosity..
Heard that the leaves of the plant are edible and used in salads, I haven't tasted though… I think I must give a try. My grandma says to saute the vegetable in oil for a while before cooking the dish, so that the small spines on the ladies finger gets cooked.
This recipe wasn't on the menu for the day. I had ladies finger at home thought of doing kootu. The preparation started for a kootu and got derailed when I saw yogurt sitting aside with a smile 🙂 Why not include it in the dish??? That's how I prepared this.. At times I don't stick to the rule, there's always a deviation to pave my own way, self blown trumpet 😀 I didn't take photos right from start, as I didn't plan for uploading. It all started when yogurt came into the picture. So started to document after the vegetables got into the pan. Hopefully I may update sometime later. The sourness of the yogurt do have major role in the final taste of the dish. Sour or creamy taste, yogurt decides it, so add yogurt according to your preference.
Preparation Time : 5 Minutes
Cooking Time : 10 Minutes
Ingredients
250 gms Ladies finger – Vendaikai
1/2 Cup cooked Yellow Lentils – thuvar/thuvaram paruppu
1/2 Cup yogurt
1 Medium size Onion
1/2 tsp Red Chilli powder – This quantity is for fresh yogurt. the more sourness of yogurt, the more chilli powder is needed
1/4 tsp Turmeric powder
1/4 tsp tsp Mustard seeds
1/4 tsp Urad dhal / vella ullundu
1/4 tsp Asafoetida / perungaiyam
1/4 tsp Cumin seeds / jeera/ Jeeragam
2 tsp Oil

Method.
1. Wash ladies finger and cut ladies finger discarding the head and tail into 1.5 inches length. In a pan add 1 tsp of oil and saute ladies finger for couple of minutes. Remove from the pan.
2. In the same pan add the remaining oil. Then mustard seeds get first into the pan. After mustard seeds splutter add urad dhal and cumin seeds, later asafoetida.
3. Now add Onion and saute for couple of minutes. Then add the ladies finger into and saute for another minute.
4. Time for the yogurt to make its entry into the pan. Give a mix and then add Cooked thuvar dhal and mix again.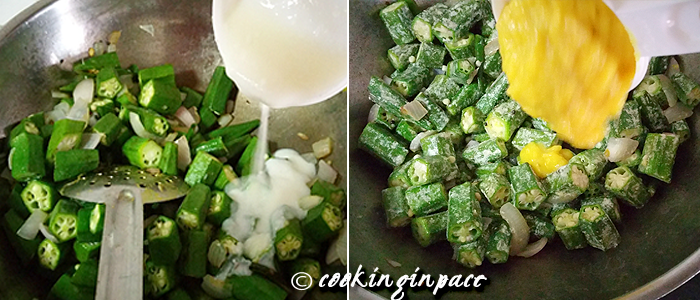 5. Add chilli powder, required salt to the vegetable.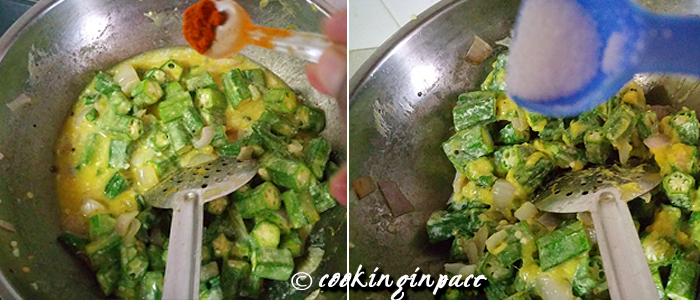 6. Then add turmeric powder and half cup of water and mix thorughly.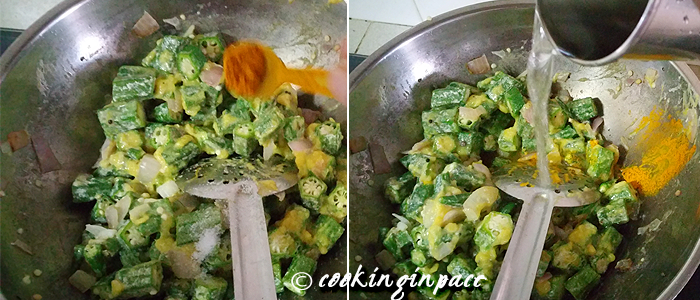 7.After mixing the curry may look sticky as seen in the below picture, once cooked the stickiness gets reduced to form a smooth creamy curry.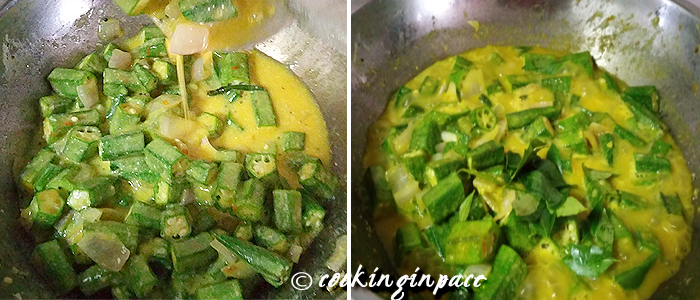 8. Cook for 5 minutes on medium flame or till the vegetable gets cooked.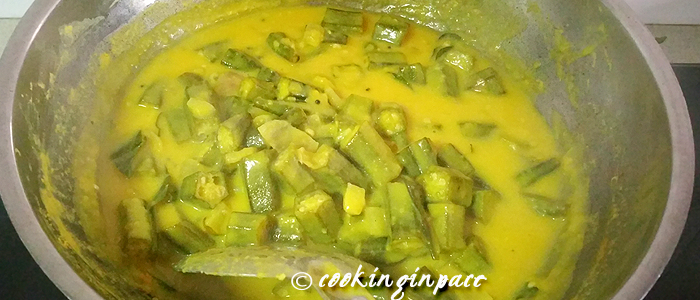 Jotting
This curry can be served as a gravy for rice or chappathi. If you want for a side dish, Simmer for a while till it gets into a thick poriyal consistency.
Optional- you can stir ghee or coconut oil before removing from heat.