Onam Wishes
Onam Sadhya never completes without a Payasam. Though there are many varieties of Payasam for festivals, here I am with a payasam where Oats as the main ingredient. As of now, Oats has entered into the Indian culinary and got desi versions of it. And Oats is not anymore new to Indians 🙂 Thanks to the power of Advertisement….
I am not a great fan of Oats nor my family, but wanted to try a payasam with Oats and glad it had a good reception at home except for mushiness, the basic nature of oats, Can't help either 🙂
Well, as recipes do get into different versions by the way it is blended with other ingredients and cooking method, I do have my own way of adding ingredients and presenting in my style 🙂
Here comes my version.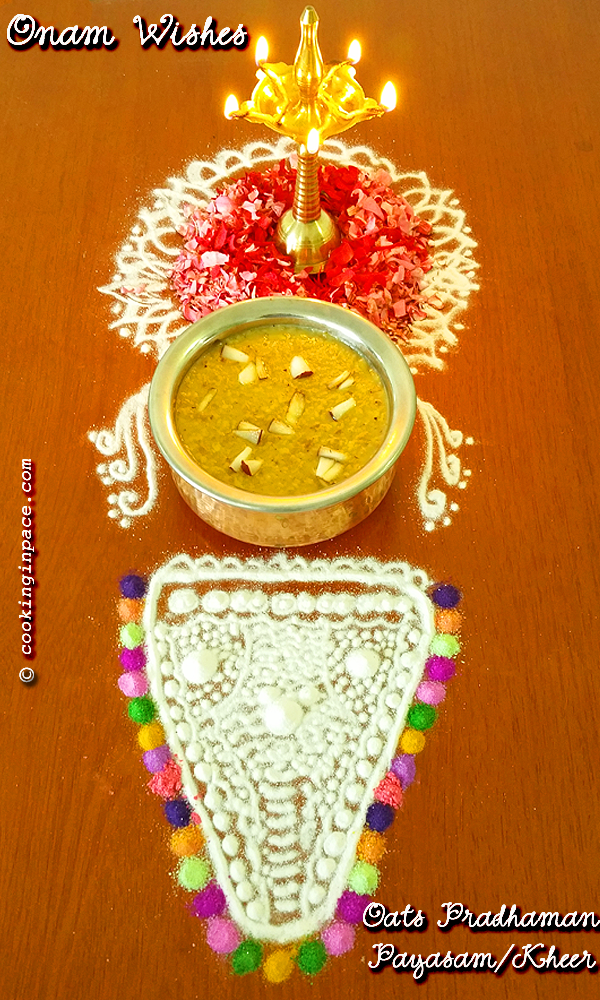 Preparation Time : 15 Minutes
Cooking Time : 10 Minutes
Ingredients
1 Cup Oats
1/2 Cup Pasi Paruppu – Dehusked Split Green Gram
1/4 Cup Kadalai Paruppu- Bengal Gram
1 Cup Vellam – Jaggery
1/2 tsp Powdered Cardamon
1/4 tsp Dry Ginger Powder
1/2 Cup First Extract of coconut milk
1 Cup Second Extract of coconut milk
1 Cup third Extract of coconut milk
1 tbsp Ghee
1/4 Cup coconut pieces
Method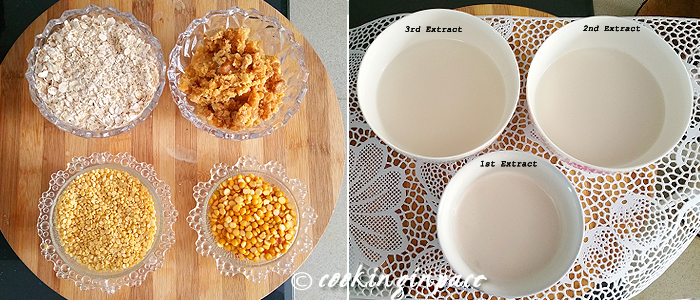 1. Dry Roast Oats in a Pan on medium flame. After roasted transfer to a plate.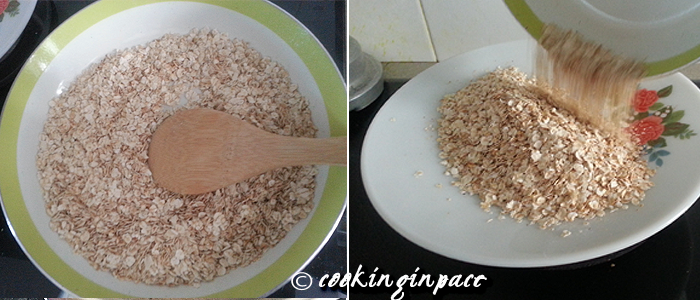 2. In the pan add the Green gram and roast and remove from heat when it starts to change its colour.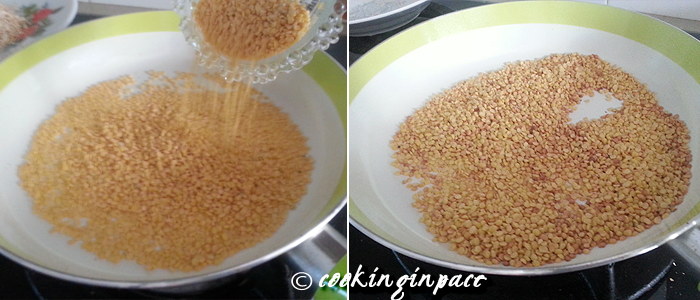 3. Wash green gram and bengal gram. Transfer oats, bengal gram and green gram to a pressure cooker. To it add 1 cup third extract of cocunut milk and 1.5 Cups of water. Cook for 2 pressure release (whistles). The grams should be cooked to al dente consistency.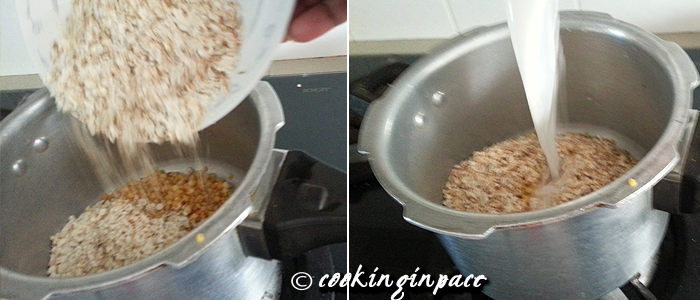 4. Meanwhile, dissolve jaggery in half cup of hot water. I like to boil the jaggery mix, its not a must to boil, just dissolve in water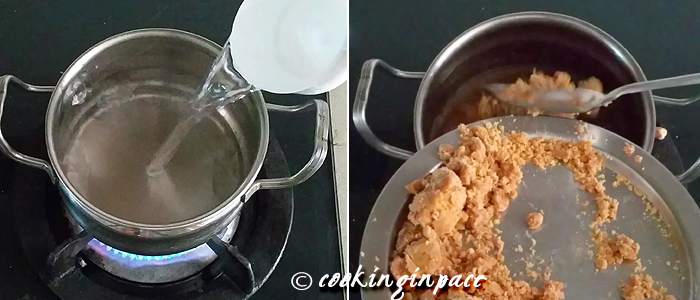 5.Strain for impurities.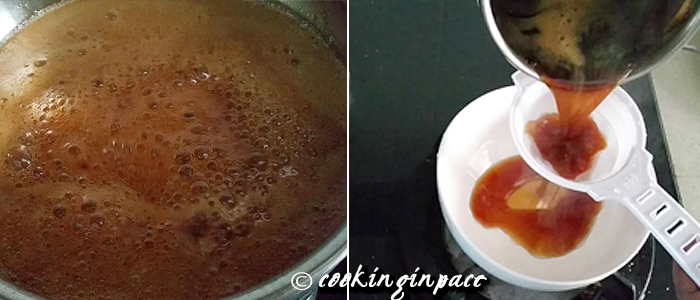 6. Release the pressure in the cooker and this is the cooked product.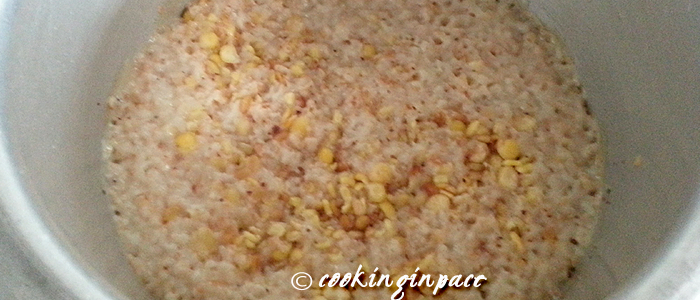 7. In a pan add 1 tbsp of Ghee and add the coconut pieces and roast till it changes its colour. Remove from heat.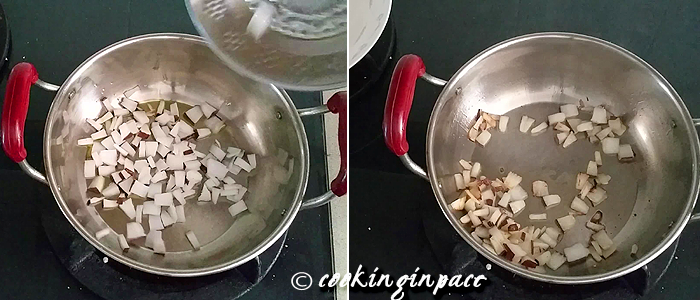 8. In the same pan add the strained jaggery and later the cooked ingredients from the pressure cooker.

9. Mix to blend together and at this stage add the second coconut extract and keep stirring. Bring to boil and keep on medium flame for 3 minutes. Before switching off the flame, add the dry ginger powder in hot water and add to the mix.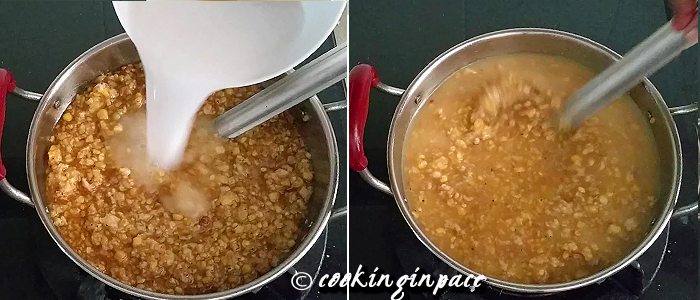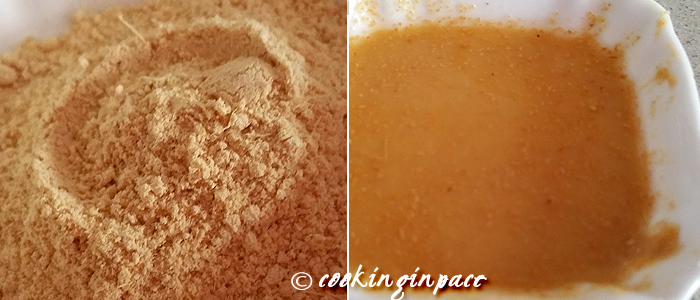 10. Switch off the flame and add cardamon powder, roasted coconut pieces and first extract coconut milk and give a swirl.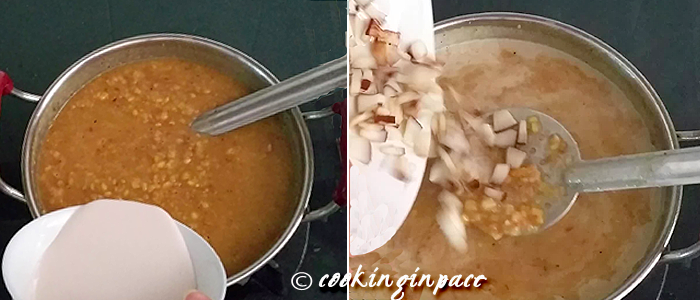 Jotting:
1. The grams can be pressure cooked while the oats in open pot method if you don't like the sticky taste.
2. Coconut milk can be replaced with milk. I have used fresh coconut milk,ready made can be used.
3. Use Ghee according to your preference.