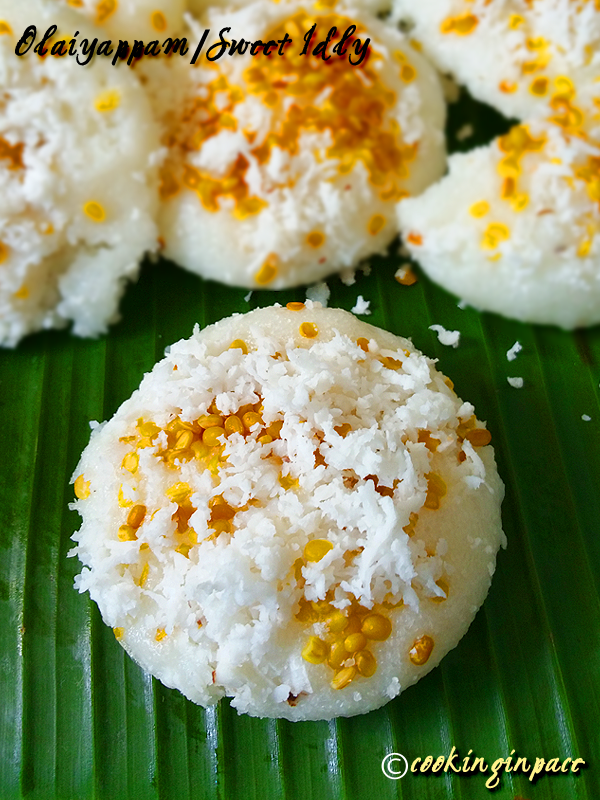 Olaiyappam aka Sweet Idly. This is a Pondicherry special. Though, it tastes sweet, the fluffy idly for sure will delight the taste buds. No need for any side dish. Give a try as the procedure is quite simple and this is a two in one batter, which can be used for Apam too.
The smell and taste of this idly takes me back to my childhood days when we used to visit our grandma's home during my school vacation to Pondicherry. My grandma is a great cook, especially her steamed dishes, still lingers in my memory. This is a must dish prepared at our family gatherings. Appam, Puttu, Olaiyapam are three main dishes which my aunties prepared for occasions. Now seldom we have those sort of gatherings, my aunties, cousins stay nearby, dishes get exchanged, still miss those old days. My grandma has passed down her signature dishes to my mother, I don't want to break the chain so taking a small initiative to record the recipes online, in fact for my future reference too 😀 This batter has two other procedures. The first one using dry rice flour, the next with wet rice flour, which should be ground fresh. There is a procedure named "kappi" ( not sure which language it is, as Pondicherry has amalgamation of words from different languages right from French in the day to day usage) where the rice flour is boiled to a paste consistency and added to the batter.
Authentically this dish calls for a special ingredient 😀 "Toddy". Actually the batter fermented with Toddy adds a different taste and gives the softness and fluffiness to the idly. Even Pondizens don't use Toddy for Olaiyappam or Appam now-a-days, its being replaced with yeast.
Preparation Time : 12hrs and 30 minutes
Serves : 5
Ingredients
2 Cups Parboiled Rice –Idly Rice
2 Cups Raw Rice
1/3 Cup Rice – Ponni Rice or Rice used for daily meal
1 1/2 Cup Sugar
¼ tsp Yeast
¼ tsp Baking powder
1/8 tsp Salt
For Garnishing
½ Cup Grated Cocunut
¼ Cup roasted Dehusked Split Green Gram
Method
1.Wash and Soak Raw and Idly Rice for 4 hours.
2.One hour prior to grinding, Pressure cook 1/3 cup Rice with double amount of water for three whistles. Allow it to cool.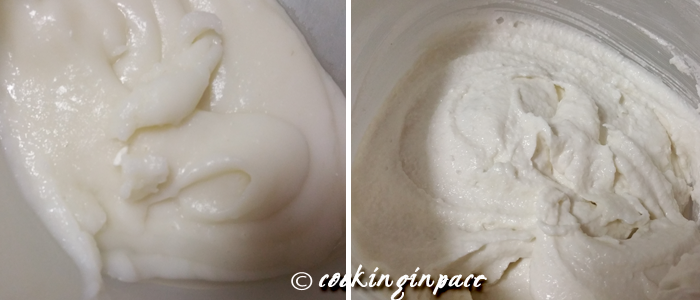 3.Grind the cooked rice to a fluffy paste with minimal water for 5 minutes.
4.Strain water from the soaked rice and grind to a thick paste . Use minimal water to grind as the fermentation process will loosen up the batter.
5.The batter should have granules like sooji/rava texture, that's the consistency of the batter.
6.Now mix the ground rice paste and rice batter together with salt, sugar. Mix yeast with water , add to the batter and leave for fermentation process. It takes around 6 to 8 hours to ferment. After fermentation the batter should have turned to a watery consistency.
7.Before making idli, mix baking powder in 2 tsp of water and add to the batter.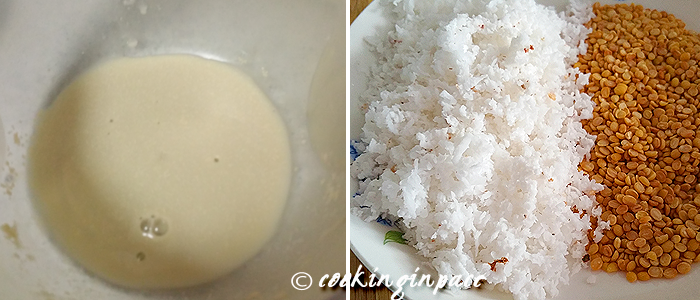 8.Pour the batter in the idly mould and on to the top sprinkle dry roasted green gram and grated coconut. Steam for 5 minutes.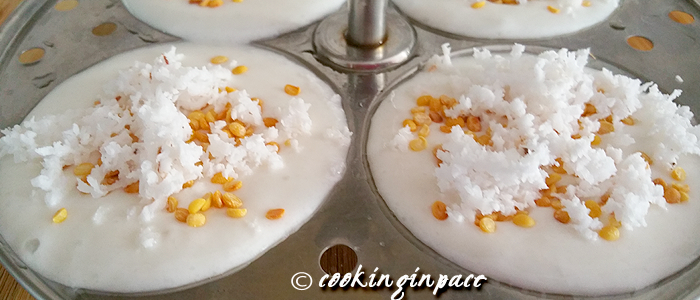 Jotting
This Idly remains fluffy even after it cools down. As said earlier, this batter can be used for Appam, Reduce sugar quantity from 1 ½ cup to 1 tbsp.