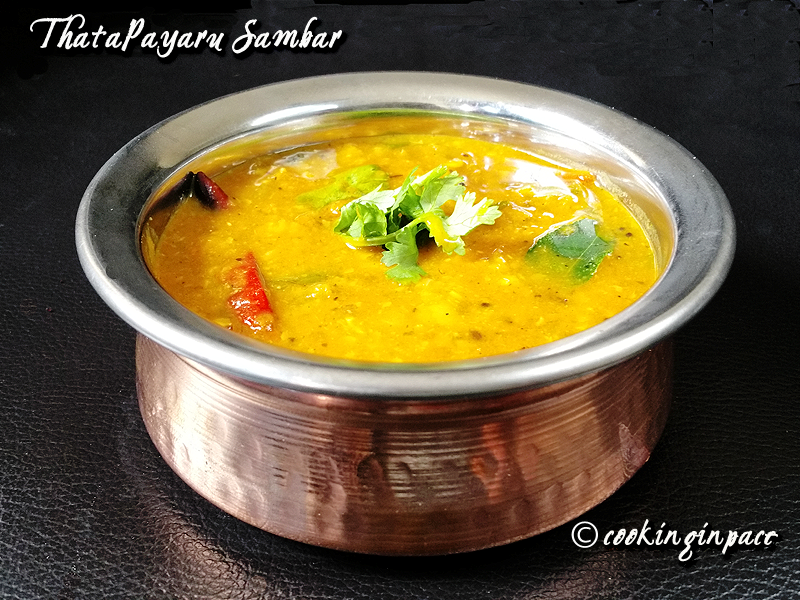 Cow Peas/Thatai Payaru, instantly tie-in with Karakulambu . A Sambar version with black eye Beans without any vegetables. Any country vegetables can be used and the veggies gel with the Cow peas.
There is a short story behind this recipe. I have to give credit to for the person behind this new recipe, Its my husband 🙂 It all started with the soaked peas ready to take their stand into Pulikuzhambu. But I didn't have the mood to cook on that day and it was his turn to tune the kitchen 😀 I thought the cow peas would have ended with Pulikuzhambu, but to my surprise it a Sambar done in a jiffy. I didn't expect this twist. It was delicious and had to my heart's content 🙂 He has the genes of my Mother-inlaw, who prepares only selected dishes but delectable. Can't find any fault in her cooking. Her murukkus is her signature savoury to highlight. Some dishes are unique and she adds minimal quantity of onions much into her cooking, its vice versa in my case. I love to add more onions, as I like to munch on the crunchy vegetable while having with rice or chappathi. My daughter has inherited my genes 🙂
Well, coming back to the innovation of this recipe, when I had asked what made him to think about making a sambar, his answer was simple, we need a cooked lentil paste, so do the cooked cow peas take the part of the lentils.
Then with his instructions I prepared again and tasted yummy to share the recipe with the world 🙂 Give a try, sure this sambar will get into your home meal menu 🙂
Thata Payuru/Cow Peas Sambar
Servings : 2
Time : 30 minutes
Ingredients
¼ Cup Thata payaru/Cow Peas
2 Onion or 15 Shallots
1 Tomato
2 tsp Sambar powder
1tsp Chilli Powder
½ tsp Turmeric Powder
1tsp Tamarind – Gently Press tamarind into 1tsp measuring teaspoon
A bunch of Coriander leaves
1 sprig Curry Leaves
Below are the optional ingredients.
Small piece of Jaggery – not bigger than a turkey berry
1tsp coconut grating
1 tsp Melted Ghee
Tempering
1tsp Oil
¼ tsp Mustard seeds
¼ Urad dal
¼ tsp Asafoetida
Method
1.Soak Cow Peas for 2 hours and pressure cook for 2 whistles. Put in a blender and pulse it to a coarse paste.
2.Dice Onion and Tomato.
3.The first part is tempering. Add oil in a pan and add mustard seeds after it splutters put urad dal, asafoetida.
4.Add Diced Onions and Tomato and sauté it till the tomato is cooked and gets into a paste form.


5.At this stage add turmeric powder, chilli powder, sambar powder and sauté it for a minute.
6.Add mashed Cow peas to the pan and add required salt and water to form a gravy consistency.
7.Let the mixture boil for 3 minutes, now add tamarind extract and allow it to boil for another 4 minutes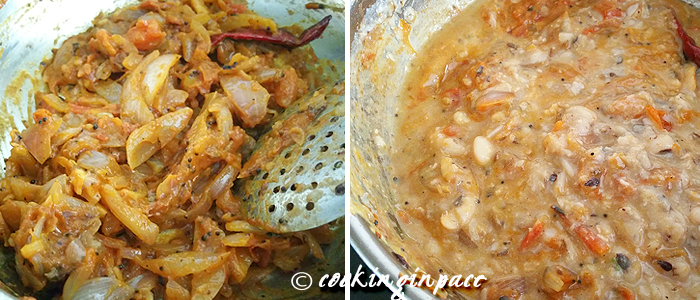 8.Add Coriander leaves and Crush curry leaves with your fingers before adding to the sambar.

9.When the sambar is done, add Jaggery , coriander leaves,coconut grating & ghee and remove from heat.
10.Serve with Rice, Dosai or Chappathi.