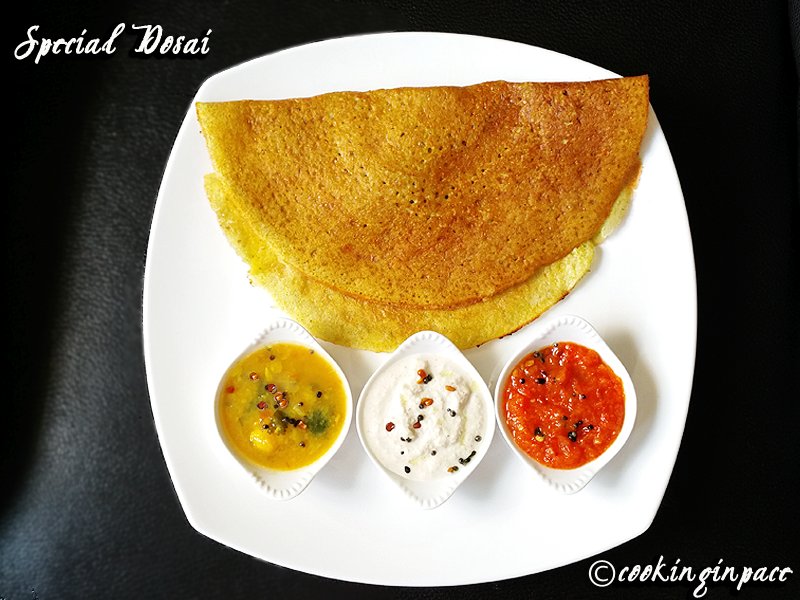 This is a modified version of Pesaratu which has only Green gram as the main ingredient. In the original recipe the green gram is soaked and ground to a paste along with chilies and salt. But I have included sprouted the beans and added soya beans, peanuts in the recipe for a different taste. It tastes good and a perfect recipe for breakfast.
To be served only for breakfast not for dinner …. A note before getting into the recipe details.
The raw sprouted beans are hard to digest, thought it is cooked in this recipe, its better children don't consume this dosai for dinner. And a final note, Make sure the sprouted beans are thoroughly cleaned as sprouted beans may have bacteria especially E.Coli in it, which may be harmful for health. Sprouting do have beneficial factors, while the phytic acid is nuetralised by the breakdown of lactobacilli enzymes.
Traditionally,the Thoor dhal – yellow lentils are actually processed with the sprouting method and then the outer skin is removed. First the lentils are soaked and made to sprout by covering by a thick layer of wet red soil. Menawhile inside the thick coat of the red soil the lentils undergo the germination process. After two to three days the outer red soil is removed and the sprouted lentils are dried and the outer skin is removed from the lentils. I have seen my grandma doing this procedure with produce from our farm.
Pesaretu is a Andhra's special dish. During our stay in Secunderabad, my neighbour aunty used to prepare this dosai very frequently and my favourite dosai. If its pesaratu then my breakfast was in her home. I still remember the taste 🙂 I am her great fan of her pappu saaru 🙂 Will try to post the recipe sometime later. Its more or less the same procedure of Vethu sambar/Killivacha sambar of Tamilnadu, except the consistency differs, where the latter is a thicker version.
Servings : 4
Time : 20 Minutes
Ingredients
Special Dosai / Sprouted Green Gram Dosai
½ cup Green Gram
¼ cup Soy Beans
¼ cup unroasted Peanuts
½ cup Raw/Parboiled Rice
1" Ginger
3 Dried Red whole Chilies
½ tsp Asafoetida
Turmeric powder – ½ tsp
Method
1. Soak Green gram in a bowl for 6 hours and drain the water. Now close the bowl for 36 hours, by then new shoots should have come out. Or after soaking transfer the grams to a cloth and tie the cloth with a knot and hang it spray water once in a while.
2. A night before to grinding, soak soyabeans and peanuts overnight.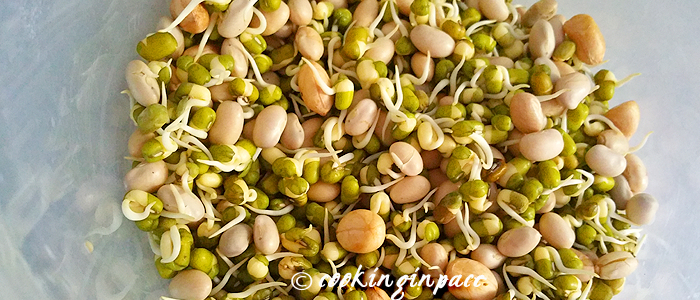 3. The next day morning, grind sprouted beans, soya beans, peanuts along with ginger, salt and turmeric powder to a fine paste.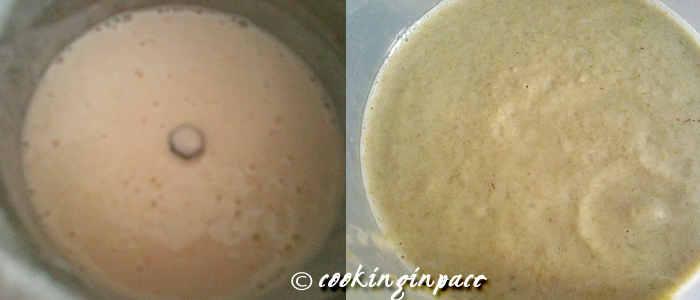 4. That's it… the batter is ready ..
5. Heat up the griddle, to know the exact time to spread, just sprinkle some water, it should evaporate immediately, at this stage spread the batter with a ladle and swirl oil or ghee. Flip the dosai when the bottom gets cooked. Remove from tava when both sides are cooked just like dosai.
6. Serve with any chutney.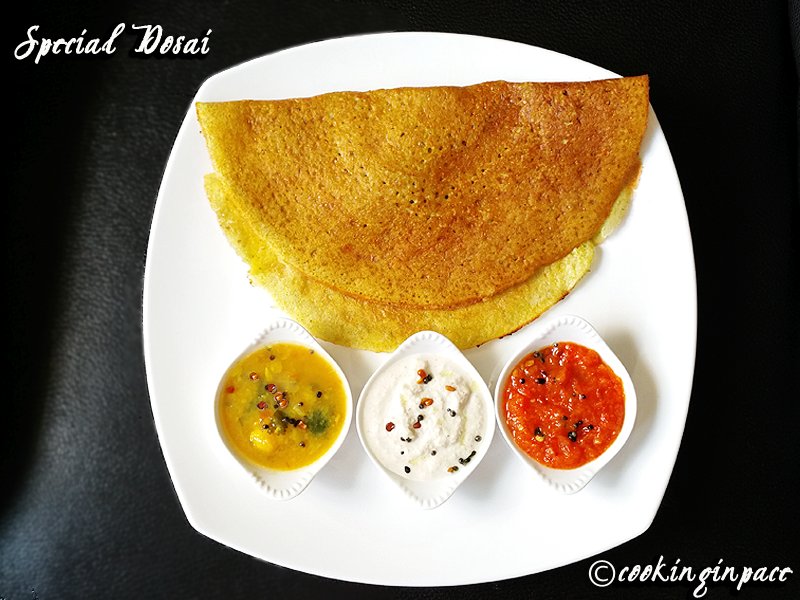 Jotting
Serve with any chutney or sambar. Sure Kids will enjoy the taste. If you want a crunchy dosai for your kids, sprinkle some crushed almonds on the top after removing from the griddle.