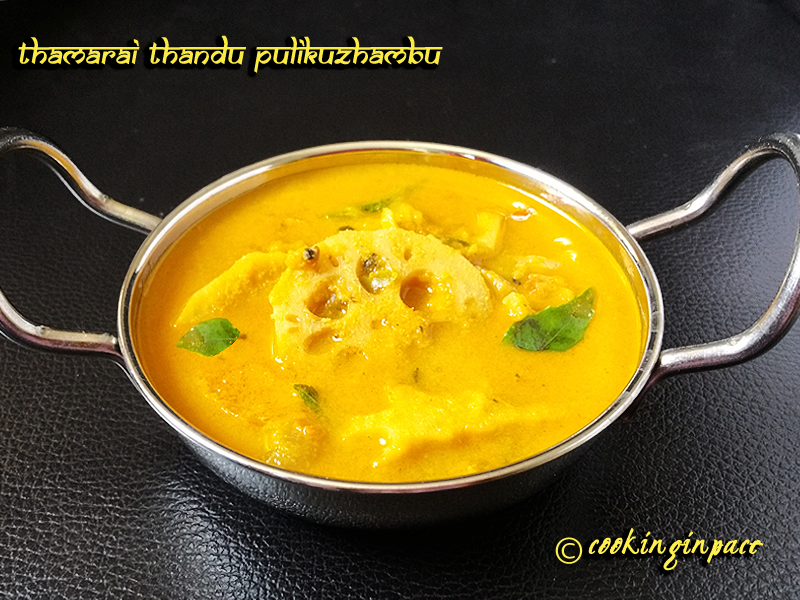 An unique and special curry from my Grandma's kitchen. My grandma usually prepares this Pulikuzhambu with other vegetables but I have added Lotus stem in her signature dish.
This Pulikuzhambu neither needs any sauté nor constant monitoring. Though the procedure seems to be lengthy but an easy one, A must try recipe 🙂
Preparation of Lotus stem.
1. While buying the best is that the bulb be big more than three inches in diameter, the mature stems do taste good.
2. Wash and scrap the outer layer of the stem/root.
3. When the sliced stems are placed in water, the water will turn cloudy.
3. After cutting into slices or pieces wash thoroughly by changing the water in the bowl for at least for 6 to 7 times and keeping the bowl of sliced stems under the running water for 30 to 60 seconds.

Lotus Stem/Root Curry – Thamarai Thandu Pulikuzhambu
Servings : 4
Time : 40 Minutes
Ingredients
15 Sliced pieces of Louts Root
1 Tbsp Tamarind –Gently press tamarind in 1tbsp measuring spoon, that should be a size of a small goose berry size
2½ tbsp Sambar Powder
¼ tsp Turmeric powder
10 Garlic pods
1 Green chilli
2 tbsp Gingelly/Sesame Oil
1 tsp Thallipu vadagam – this can be replaced with ½ tsp of Mustard seeds, ½ tsp Urad dhal, ½ tsp Cumin seeds and ¼ tspFenugreek
Curry leaves
To Grind
½ cup scrapped Coconut
15 Small Onions
½ tsp black Pepper Corns
½ tsp Cumin seeds
2 Green chilli
1 small size tomato
Method
1. Wash and clean Lotus stem from mud and dirt . Now scrap the outer skin as we do for radish. Cut the stem into slices. Raw lotus root will start to darken so after cutting immediately put them into a bowl of water .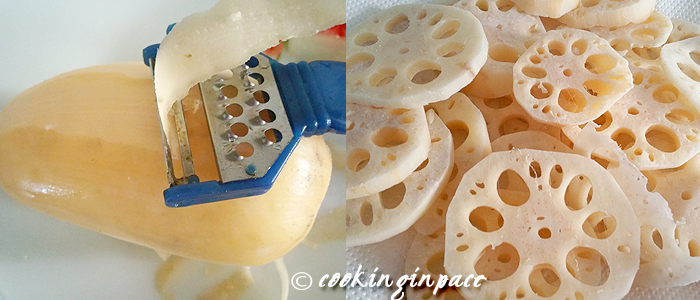 2. Extract tamarind pulp and transfer to a big bowl. To the extract add Sambar powder, Sliced lotus stems, garlic pods, one unsliced chilli required salt and keep aside.
3. Grind coconut in a blender to a fine paste by adding water.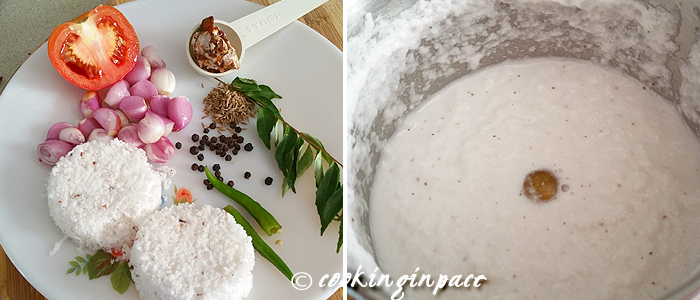 4. To ground coconut add small onion, green chilli, cumin seeds, pepper corns, tomato, 7 curry leaves and press the whipper button thrice so that the ingredients are coarsely mashed.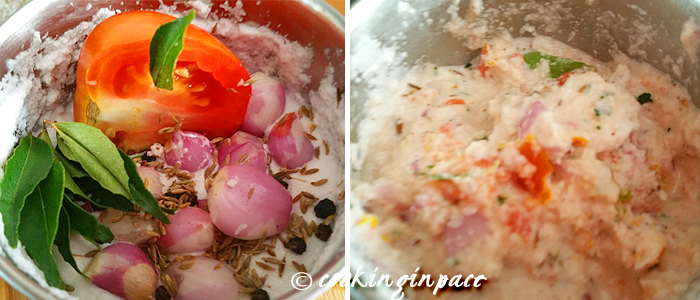 5. Now add the ground ingredients into the tamarind Bowl. At this stage taste the mixture for salt, spiciness, Do the additions at this stage.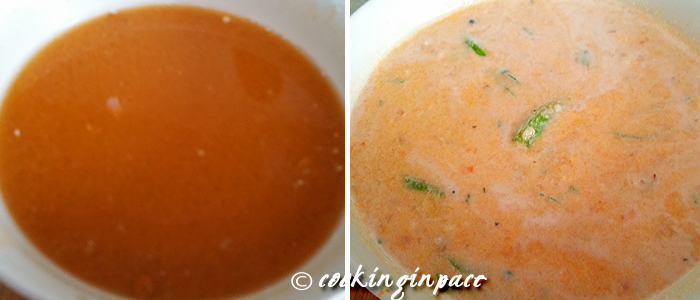 6. In a kadai, add Gingelly oil, add the talllipu vadagam or the optional tempering ingredients, Once the mustards splutter add Curry leaves. Transfer the Mixture to the kadai and Bring to boil on a high heat. Keep stirring the curry till it reaches to boiling state.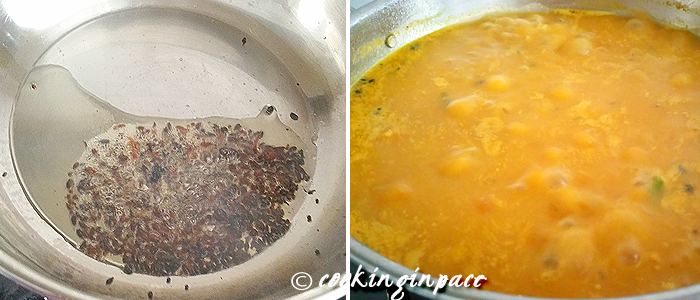 7. Reduce the heat to medium. Let the curry be on medium flame closed with a lid for 12 minutes as lotus stems take time to cook.
8. Now add coriander leaves and remove from heat.
9. Serve with rice or chappathi.

Jotting
You can prepare this curry with any country vegetables.
The coconut will not curdle up as its directly added to tamarind extract before getting heated up. After nearly 15 mins, the curry changes to a creamy consistency tangling all taste together.
The measurement for sambar powder is assumed using home made with corainader and chillies in 2:1 ratio.
If you are using South Indian brand Sambar Powder, First add 1½ Tbsp, check for spiciness, then add if required, as piquant level will be higher in shop brought powders.