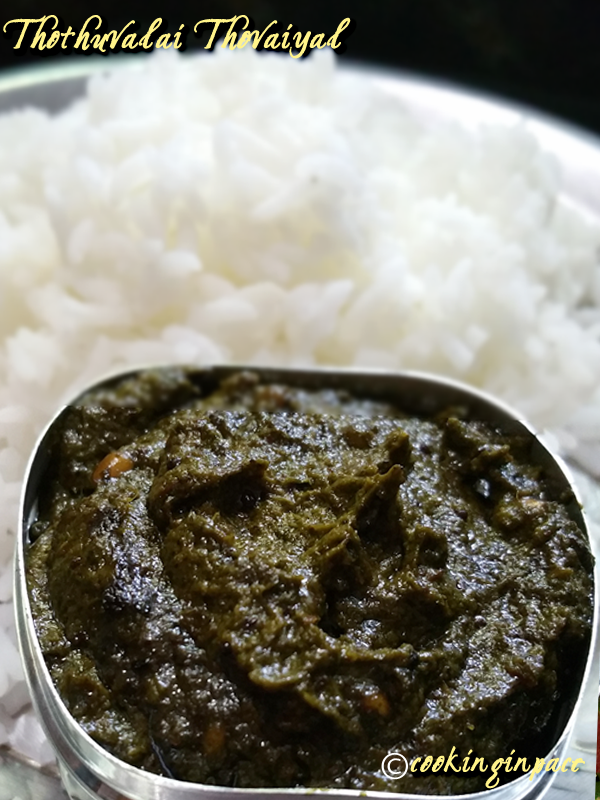 A home remedy for cold especially to treat chest congestion, it removes the flum. This plant is climber and can be grown in home gardens. My mother cooks this chutney frequently as we all like the taste. This is my maternal grandma's recipe and has passed down to me.. Care has to be taken while cutting the leaves from the steams, as the leaves and stems are full of thorns. Use a glove and cut with scissors. My mother prepares and stores the mixture in fridge for a week. While using, Amma heats up the mixture by adding a teaspoon of gingelly oil in a kadai and later adds rice to it. The texture of the chutney looks alike to the traditionally ground fresh maruthani – henna mixture 🙂 .
While cooking you can sense a distinct aroma arising from this leaves.
This has a slightly bitter taste, so the quantity of tamaind can be increased, if you are serving for kids. This recipe needs only Sesame Oil for roasting and tempering purpose. As Sesame/Gingelly oil has medicinal effects and good for health.
These climbers are found abundantly in my inlaws backyard. Unaware of its medicinal properties, its yet another weed to them. After my marriage, I harvest the greens and prepare thogaiyal as I like to have them as a first course meal. My husband tirelessly cuts the leaves and prepares for the chutney. Though not his favourite, just tastes for name sake. There is another plant which grow like a weed is the Pirandai – Adamant Creeper. They keep growing creating a web spread over the backyard. At a point of time they were dominating the whole area with their tentacles 🙂
Thoothuvalai Thogaiyal (Climbing Brinjal)
Ingredients
Thoothuvalai – 4 handsful, beware of the thorns present in the leaves
Tamarind – lemon size
Dry Red Chilly – 4 increase or decrease to your taste
Ginger – 2inch Piece, I use more ginger.
Thalippu Vadagam – 1.5tbsp
Gingelly Oil -1 tbsp
Mustard – ¼ tsp
Urad dhal – ¼ tsp
asafoetida – ¼ tsp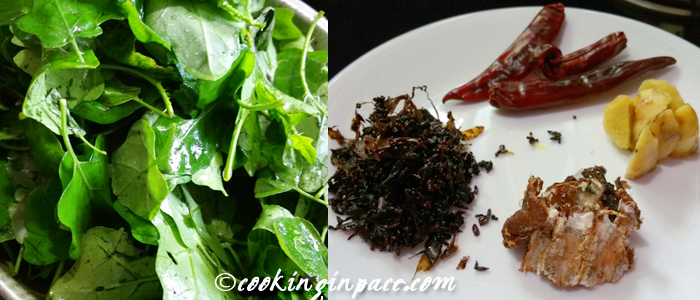 Preparation:
Cut the thuthuvalai leaves from the stem using scissors and wash twice and strain it. Though they look in great quantity before roasting, once in the pan they shrink to half of their original quantity. Don't over cook it.
Method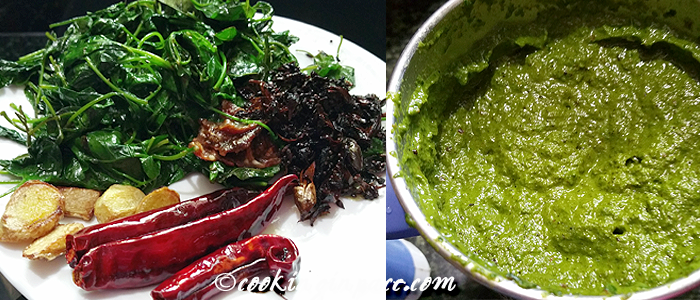 1. Roast thallippu vadagam, red chillies and ginger in a tava with 1 tsp of oil remove the above ingredients and add tamarind and thoothuvalai in the same kadai give a toast for 2 minutes in the heat.


2. Allow them to cool and grind it in a blender to a fine paste with salt to taste.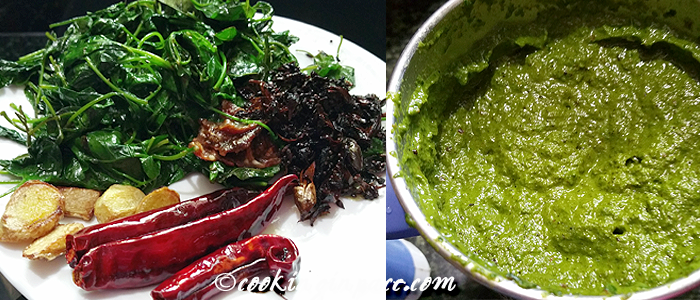 3. Now for tempering add the remaining amount of oil to it add mustard, urad dhal, asefoetida , after the mustard splutters add the paste, cook on a medium flame for first 3 mins and low flame for another 3 mins. Store it in a container and refrigerate, can be stored for a week .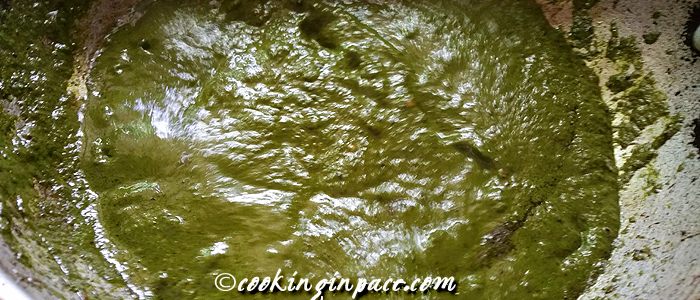 Jotting
For serving add required amount of paste to piping hot rice , add generous amount of seseame oil and consume immediately, the heat has be to felt in the chest while the food travels down . A good remedy for cold and chest congestion.