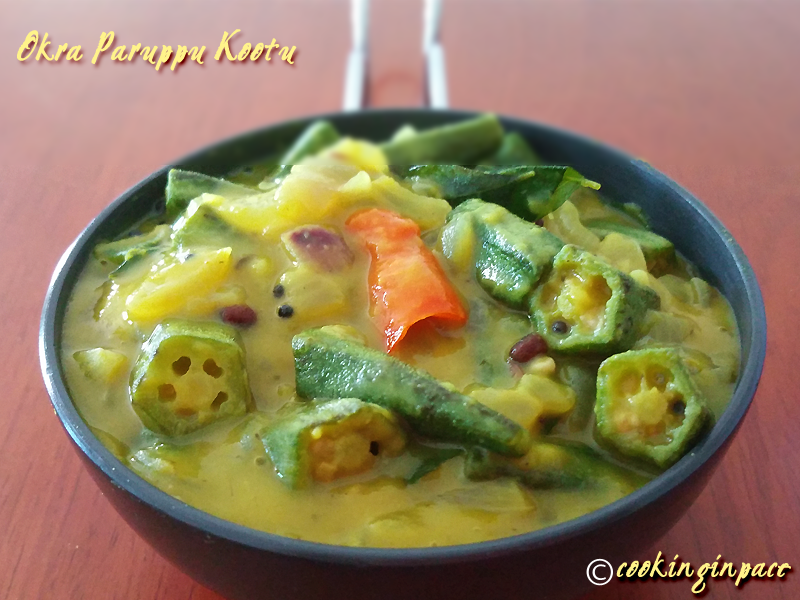 When I was  in my primary school, my teacher used to advise us to take Ladyfinger in our diet saying it improves memory power. Though the sticky nature of ladyfingers makes me to move away from the vegetable, my mother found a way of including okra in my meal is by adding yogurt in the curry. I took it because of yogurt's presence 🙂 and additionally the addition of yogurt removes the stickiness in the curry.
Now a days hybrid okra's are rounding the market, some gargantuan, During my brief stay in the outskirts of Coimbatore, we had the luxury of buying fresh vegetables from the nearby farm. Once the vegetable vendor brought ladyfingers which were around 9 inches in length, at first,I thought it was matured, But it was tender and soft. That was the first time, I saw a okra of its kind, well that was 13 years ago. The fresh harvested vegetables do have a special taste when cooked. I guess okra got in my menu after my stay in Coimbatore. Though to till date, I don't like to prepare sambar with ladyfinger… But My Husband loves it, No other way, I go according to the current 🙂 I prepare kootu or rasam as an alternative to okra sambar 🙂
An Aunt of My Husband prepares mandi with okra, it tastes delicious with the sourness of tamarind taking over taste of the curry.
Okra aka Ladyfinger curry can be done in a jiffy cooked in yellow lentils. The curry has no tomatoes in it, just the onions, lentils and chili getting along for a delicious treat. I haven't added coconut in any form for this dish. You may add coconut gratings, milk or paste to the curry in minimal amount. If you add milk or paste keep stirring while adding if not it will curdle..
Servings : 3
Time : 20 minutes
Ingredients
Okra – ¼ kg
Onion – 2 big sized onion.
Tuvaram Paruppu(Tuvar Dhal) –3/4 cup
Green Chillies – 3 Depending on chilly's spiciness
Turmeric – ¼ tsp
Tempering
Oil – 2 tsp
Mustard – ¼ tsp
Urad Dhal- ¼ tsp,
Jeera – ¼ tsp
Asafeotida – 1/8 tsp
Curry leaves
Method
1. Cook dhal and keep aside.
2. Cut okra into 1 inch and dice onions into small pieces.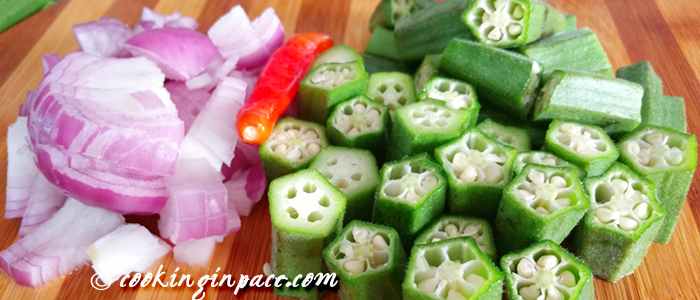 3. In a tava add a teaspoon of oil and add okra for a swift fry on a constant stir. Let it be on high flame for 2 mins. Remove from tava .
4. Add ½ tsp of oil in the tava, to it add mustard urad dhal, jeera, curry leaves for tempering.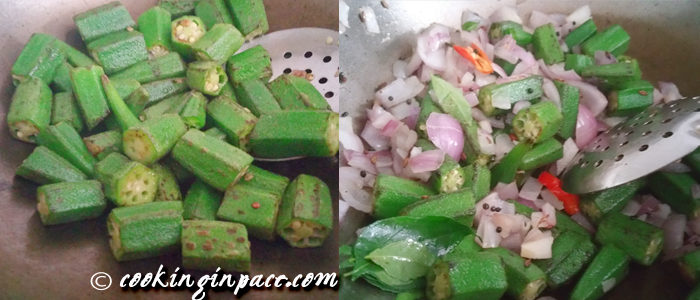 5. Next add diced onions, okra, green chillies, dhal, turmeric powder and salt. Add 2 cups of boiling water and allow to boil and cook for 5 mins.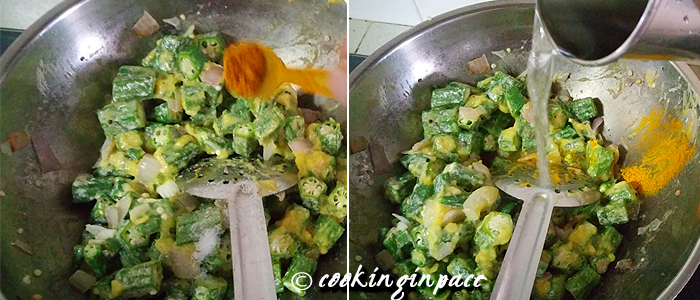 When the  gravy starts to thicken, there will be no stickiness of the okra.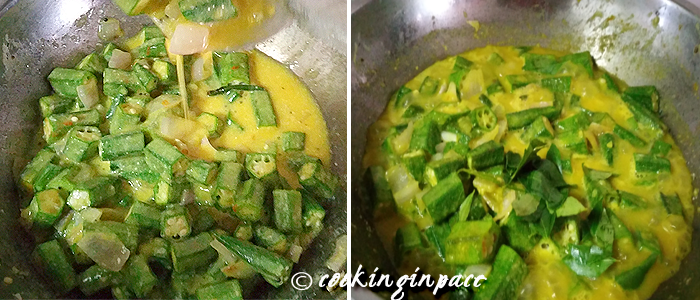 6. When the gravy gets thickened remove the tava from heat.

Jotting
This gravy will be sticky and thick, add boiling water to your preference. Onion and okra shouldn't be cooked too much. Onions should be crunchy to give a sweeter punch to the dish. There is no sour taste in this dish so balance the spiciness with green chilies.
Goes well with rice as well as Chappathi.
The red colour in the display is the red chili not tomato 🙂