Khoa Puri is mostly done during festive season, but can be served for brunch or as an evening snack too, well, who doesn't like sweets. A Sweet Crunchy Puri stuffed with khoa and almonds, providing a lip smacking snack for sweet tooth 🙂
Servings : 4
Preparation Time : 10 Minutes
Cooking Time : 15 Minutes
Khoa Puri
1 Cup All purpose Flour
¼ Cup Unsweetned Khoa
1 Cup Sugar
6 Almonds
1/8 tsp Cardamom powder
Oil for frying
Few Strands of Saffron
Method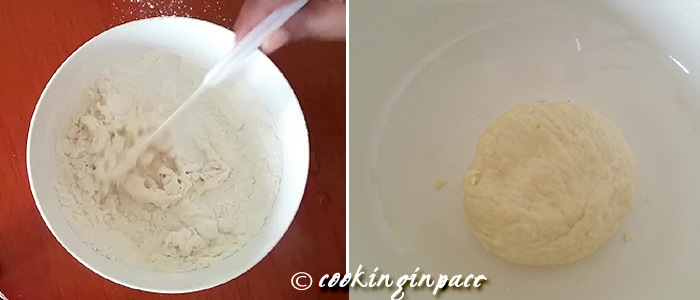 1. In a bow mix all Purpose flour and required salt. Dry mix together and then add required water to make a stiff dough. Knead for 3 minutes and keep aside.
2. Meanwhile powder the almonds in the blender and add it to the khoa. The almond powder can be corase or fine, but not into slices as it may come out of the dought while rolling into puris.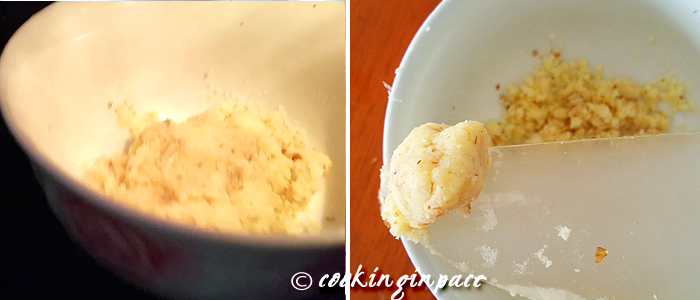 3. If khoa is too hard to roll into balls add ½ tsp of sugar to it and microwave for 20 secs. By now the khoa should be loose and will bind together with the almonds. Now add powdered cardamom powder.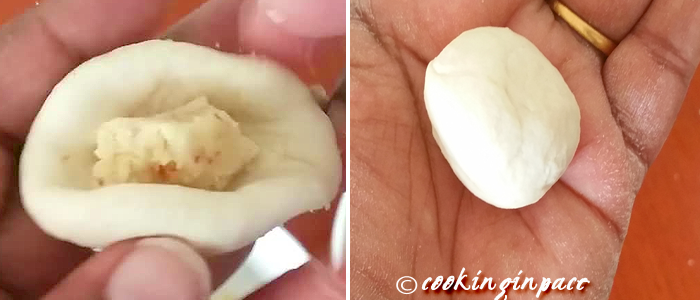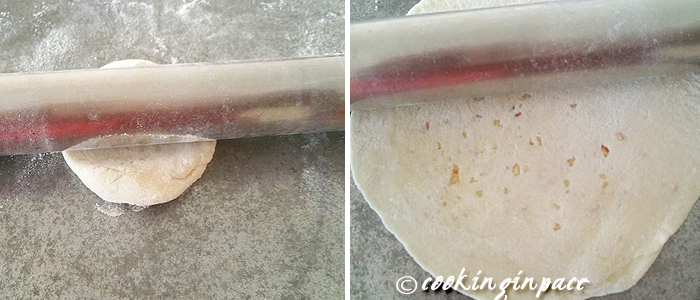 4. Now take the dough and roll into equal sized balls. Make a well in the balls and add khoa balls into it, close and roll neatly that the khoa doesn't come out, as we stuff for aloo chapthis. But the puris should be thinner than the chapathis. Now dust the balls with all purpose flour and with a rolling pin, roll out to circular shape.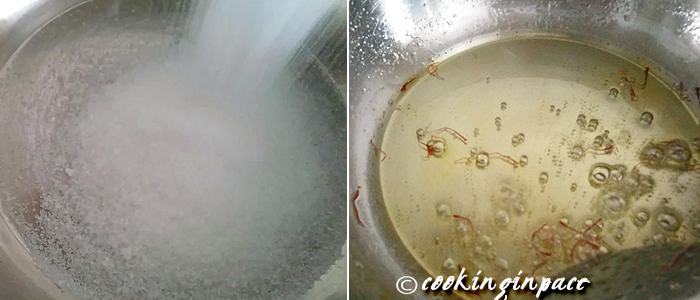 5. Add 1 cup of water to 1 cup of sugar and bring to boil till 1 string consistency. When you touch the sugar syrup in between your fingers it should be sticky enough to form a string.
6. Add warm water to saffron strands allow for the colour to ooze out and then add to the sugar mixture. Add this water after sugar syrup starts to boil.


7. In a kadai heat oil and fry the puris. Turn the puris on either side for cooking. After the puris get cooked remove from oil draining the excess oil.
8. Dip the puris into the sugar syrup so that both sides gets coated and stack on a plate.
9. Serve hot.
Jotting
This quantity yields 8 medium size puris as shown in the image. If you want very crispy puris, then boil the sugar syrup to two string consistency.
I have used unsweetened khoa as there is a sugar coating on the top of the puri, If you wish you may add sweetened khoa. I have used store bought unsweetened khoa for this recipe, you can use home made khoa.
Don't add too much water while preparing the dough, as the dough consistency and the khoa consistency should be of same, if not it will be difficult to roll out.
Instead of water you may add warm milk to make the dough, or 1:1 water milk ratio. Saffron can be added to the puris while making the dough. If so soak the saffron in warm milk and add the saffron the all purpose flour and make a dough.
The puris tastes good when its hot.