A Kuzhambu style gravy with Soya Chunks and Teasel Gourd. One pot recipe which goes well with rice and chapathi.
The Teasel gourds are slow cooked with fresh ground ingredients. The ingredients take their time to suffuse into gourds making the dish scrumptious.
Though the ingredient list seem to be long, but the procedure is simple and an appetizing dish 🙂
Wish, Teasel Gourds were in market round the year. Again I spotted these small gourds in the supermarket recently and without any second thoughts, I moved to the Teasels section. While picking the gourds, another person joined in to scoop up the best ones for his part. He started his conversation, "atlast arrived", I gave him a puzzled look, he was so sure that his conversation was in Hindi and he should have never expected a South Indian to buy this vegetable. I replied him "Yes, monsoon has arrived" I could sense his love for this vegetable, he was more or less lamenting for not spotting this vegetable in the store for months together and gave me tips for buying the best ones. While billing, I couldn't stop myself thinking, should I have asked him his recipe 😀 Thoughts Gone overboard !!!!
Cooking Time :15 Minutes
Preparation Time : 10 Minutes
Servings : 4
Ingredients
1½ cup Soyameal chunks
5 medium size Teasel gourd
1 Onion
2 tsp Oil
To Grind
¼ Cup Grated Coconut
3 Dry Kashmiri Chilis
1 inch Cinnamon Stick
1 Star Anise
2 Cloves
2 Cardamons
1 tsp Fennel seeds
1½ tbsp Poppy seeds
2 tbsp Coriander Powder
½ tsp Turmeric Powder
1 small size Stone flower (Kalpasi)
1″ Ginger
1 Ripe Tomato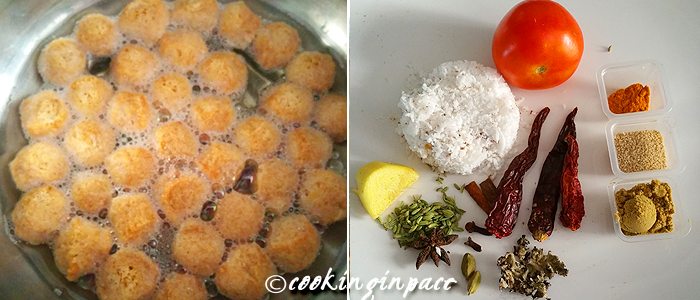 1. Soak soyameal chunks in boiling water and keep aside for 5 minutes. Later strain the water and wash in water by squeezing again again and finally squeeze and keep aside. Change the water twice.

2. Add a teaspoon of oil in a pan and dry roast cinnamon stcik, star anise, cloves, cardamons, fennel seeds, red chilies, when they are roasted add the poppy seeds. When poppy seeds pop, add grated coconut and roast till the colour of the coconut changes to light brown. Allow the roasted ingredients to cool down.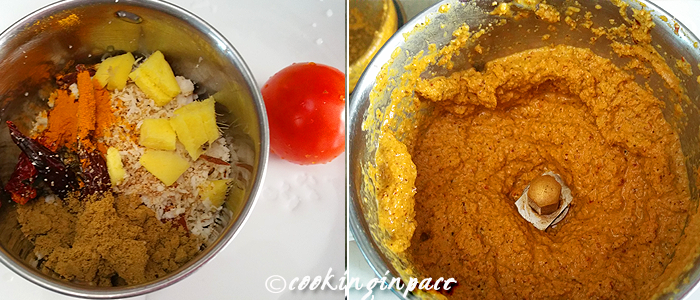 3. Now transfer the roasted ingredients to the blender container along with ginger, coriander powder and turmeric powder. Grind to a smooth paste by adding sufficient water.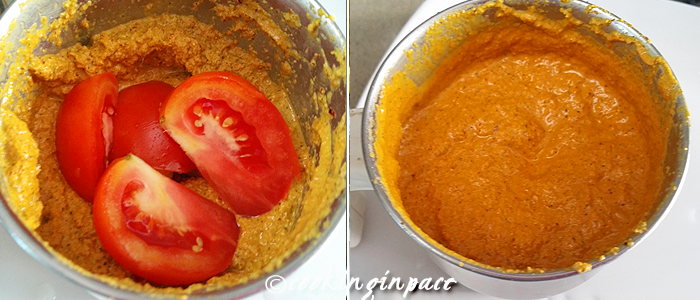 4. After grinding to a fine paste, add the tomato and grind again to paste. Keep the mixture aside.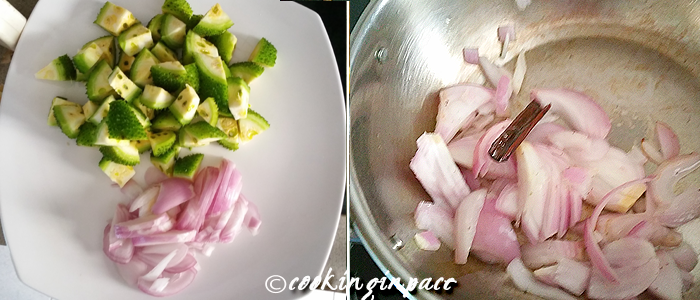 5. Wash and dice the teasel gourd into small pieces and Slice the onion. In a pan add a teaspoon of oil and then goes the cinnamon stick followed by sliced onion into the pan. Saute the onion for couple of minutes till turns translucent.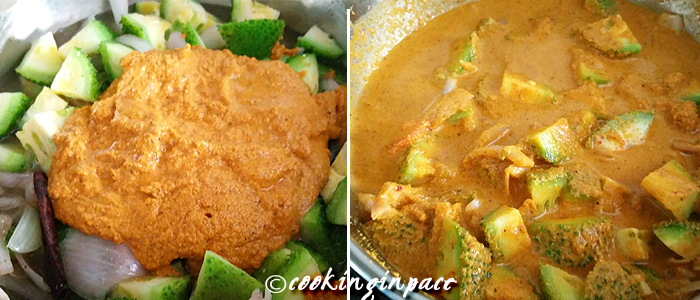 6. Then add taesel gourd pieces and give a stir. Add half cup of water with required salt and bring to a boil.
Reduce the flame and add the ground mixture into the pan and immediately keep stirring as coconut will curdle if it isn't stirred for the bondage. Add 2½ cups of water to the mixture. Now increase the flame and bring to boil. Then reduce the flame to medium and cook for 8 minutes.
Jotting:
Add boiling water to adjust the consistency of the gravy before serving.
I have used Kashmiri Chilis, But any variety will get along well with individuals's preferred quantity of spiciness.