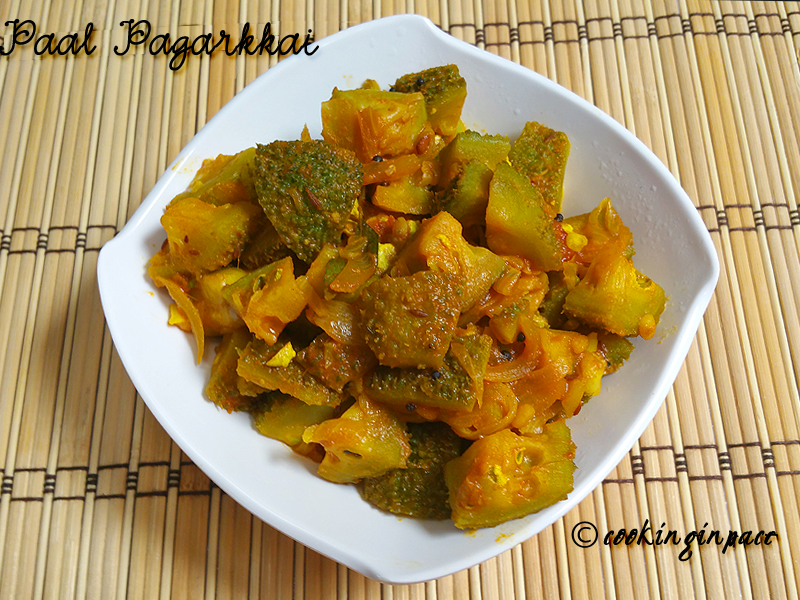 Teasel Gourd has the looks of a baby jack fruit, which distanced me from this vegetable. I have seen Teasel gourd in the Indian supermarket, but was obscure about its taste and the method of cooking. Until one day, a friend of mine from Madurai introduced this vegetable to me. Though she told it has the taste of gourds, but I was skeptical to give a try. I haven't seen Teasel gourd either in Trichy or Pondicherry and it is not into the local cuisine. But I guess teasel gourd is much popular in North Eastern cuisine. Hope it has has some geographical criteria to be cultivated.
Back to my kitchen, I didn't show the Teasel gourd to my husband as I know he would just reject even without tasting. So I made an attempt by just cooking with addition of chili powder, turmeric powder and salt. Though it wasn't crispy, still it was tasty and my husband gave a green signal to cook in future 🙂
I came to know that this vegetable is seasonal and only available during the monsoon period. Recently, I had found teasel gourd in the market and without any second thoughts bought pretty good quantity to give a try and experiment with it :-). The first trial was a grand success as it tasted like a gourd no bitterness in any means. When cooked the centre flesh was soft with the seeds still giving a crunchy bite, the tough spiky skin had given its way to the process of cooking, which was good to munch on. There are no limitations for this vegetable to get into any particular dish. This can be added to Kurma type dishes, though I am not skeptical about the addition to sambar. I need to try Teasel gourd sambar, I hope it may taste good 🙂
Paal Pagarkkai Poriyal
Servings : 3
Preparation Time : 10 Minutes
Cooking Time : 10 Minutes
Ingredients
6 Paal Paagarkkai/Teasel Gourd approximately 300gms
1 Medium size Onion
1 Small Tomato
4 Garlic pods
1½ tsp Chili Powder
¼ tsp Turmeric Powder
¼ tsp Fennel Powder
For Tempering
1 tsp Oil
¼ tsp Mustard Seeds
¼ Urad dhal
¼ tsp Cumin Seeds
1 Sprig Curry leaves
Method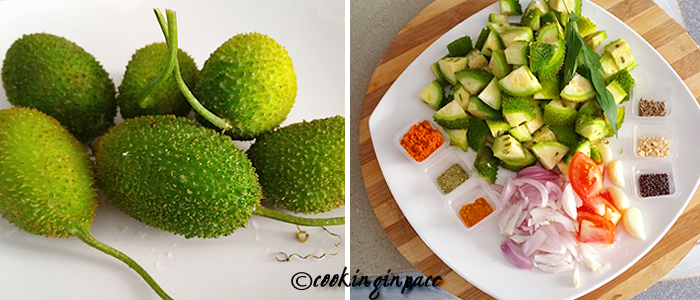 1. Wash and cut teasel gourds. Divide the gourds into two and cut the half portion into four.
2. Slice the onion and dice the tomato. Peel the garlic skin and crush it.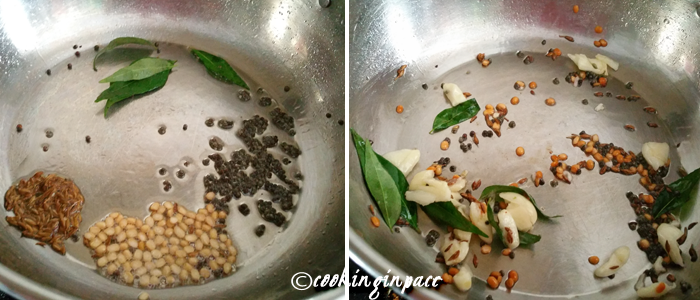 3. In a pan, add oil, when its hot add mustard seeds. After the mustard seeds splutter, add urad dhal, cumin seeds and curry leaves.
4. After the tempering is done, add crushed Garlic pods and sauté for a minute.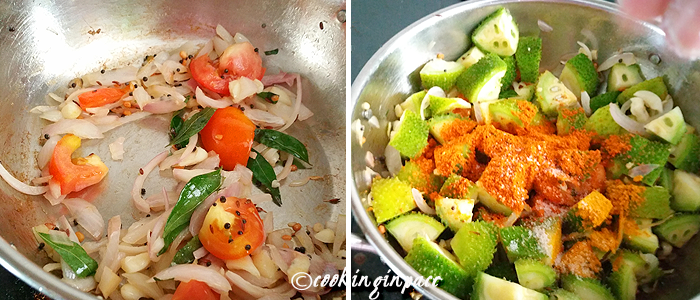 5. Then add sliced onion and diced tomato and sauté for a couple of minutes.
6. Now add the cut teasel gourd.
7. Add Chili powder, turmeric powder and required salt to the dish.
8. Mix it thoroughly so that the vegetable is coated with all the ingredients in the pan.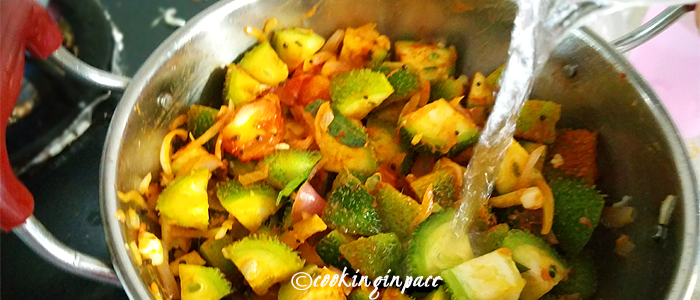 9. Now add half cup of water. Close the pan with a lid. Let the heat be on high for 2 minutes and reduce to low flame for 5 minutes.
10. Now add fennel powder and remove from heat.
Serve with rice.