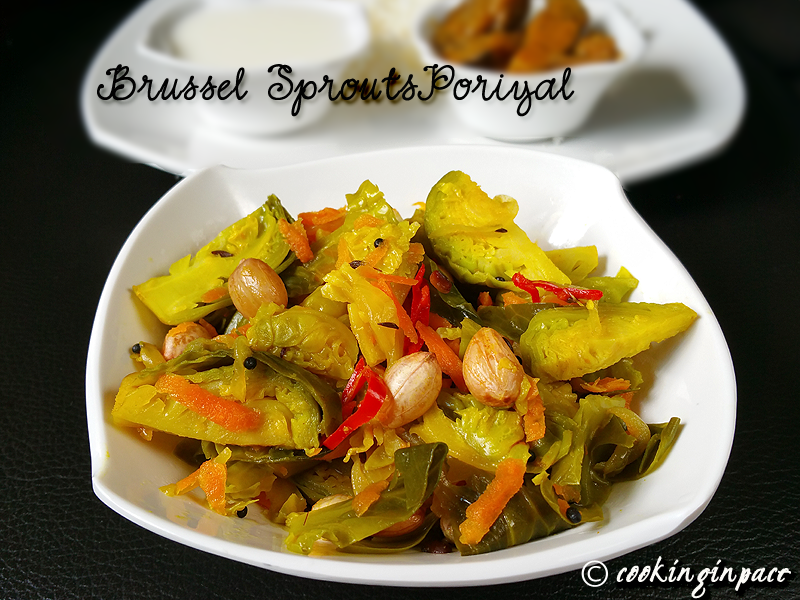 "The Brussel Sprouts", A vegetable not much into the South Indian cooking, especially not in Pondicherry local kitchen. A poriyal version done in my style 🙂
I have seen this vegetable in the supermarket, seldom used in my cooking as my husband is a picky eater, so experimenting gets restricted to a limited version 🙂 I prepared this poriyal and introduced brussel sporuts as baby cabbage and instilled that these are harvested before getting into huge size. He isn't much into googling nor interested to broaden his curiosity aka General knowledge, where I am too good into these sorts of things 🙂
Successfully, I had introduced Brussel Sprouts to the family, where my daughter simply named it as baby cabbage and no grumbles during the lunch time 🙂
While browsing for the beneficial effects by Brussel sprouts, it does have an interesting list. The vitamin list is quite too long with Vitamin K leading by the highest point followed by Vitamin C. Along with the minerals, manganese, Copper, magnesium and Zinc do contribute a considerable values in the dietary chart.
The first and foremost beneficiary effect by the vegetable is the cholesterol-lowering aspect, that was the first point, which caught my attention. I understand that the fibre related components in the Brussel sprouts do exhibit their true colours when the vegetable is steamed and consumed. The method of cooking do have an impact in the beneficiary part to our body. When steamed the the fibre elements in vegetable gets absorbed and it makes the bile acids to excrete easily, thus lowering the cholesterol level. The vegetable has low-glycemic, paving way to get into the weight loss program food chart 🙂
The other pro-known effect of the vegetable is that it lowers the risk of cancer when compared to Broccoli.
Servings : 3
Preparation Time : 5 minutes
Cooking Time : 7 Minutes
8 Brussel Sprouts
1 Medium size Onion
¼ cup Peanuts
¼ Grated carrot
1 Green/Red chili
¼ tsp Turmeric powder
Tempering
1 tsp Oil
¼ tsp Mustard Seeds
¼ Urad dhal
1/8 tsp Asafoetida powder
1 Sprig Curry leaves
Method


1. Wash and cut the brussel sprouts into four pieces.
2. Cut Onion and chili into thin slices.
3. Cook the peanuts with required quantity of salt. If using dried peanuts, soak them before hand or pressure cook without soaking.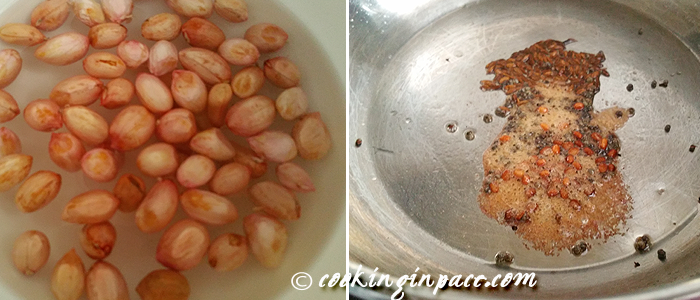 4. In a pan, add oil, then mustards seeds into the pan. After the mustard seeds splutter, add urad dhal, asafetida and curry leaves.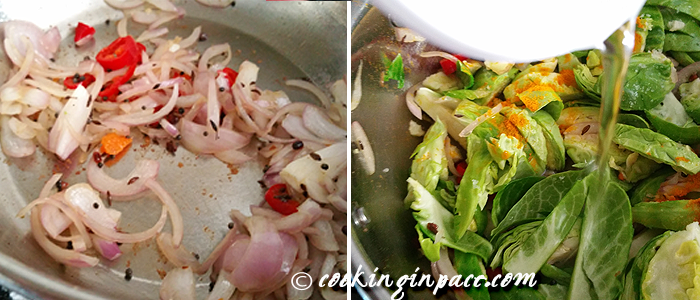 5. After tempering done, add sliced onions, sauté for couple of minutes.
6. Now add chilies, and give a stir.
7. Now add brussel sprouts, along with add turmeric powder and required salt. Add half a cup of water, mix and close the pan. When the water starts to boil, reduce the flame to sim and allow it to cook for 3 minutes .
8.When the brussel sprouts get cooked, add cooked peanuts and grated carrots. Stir thoroughly, so that the vegetables get a coat of grated carrot.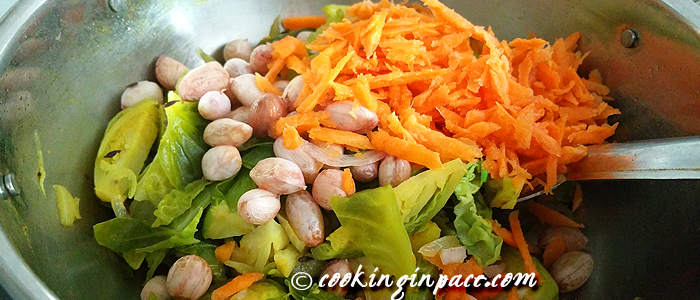 9. After adding carrot, let the pan be on heat for a minute and switch off the flame.
Jotting
The carrot should not be cooked, it should retain the crunchiness, which should be munched along with soft Brussel sprouts.
I have added carrots instead of coconut, you may substitute grated coconut for an extra taste.