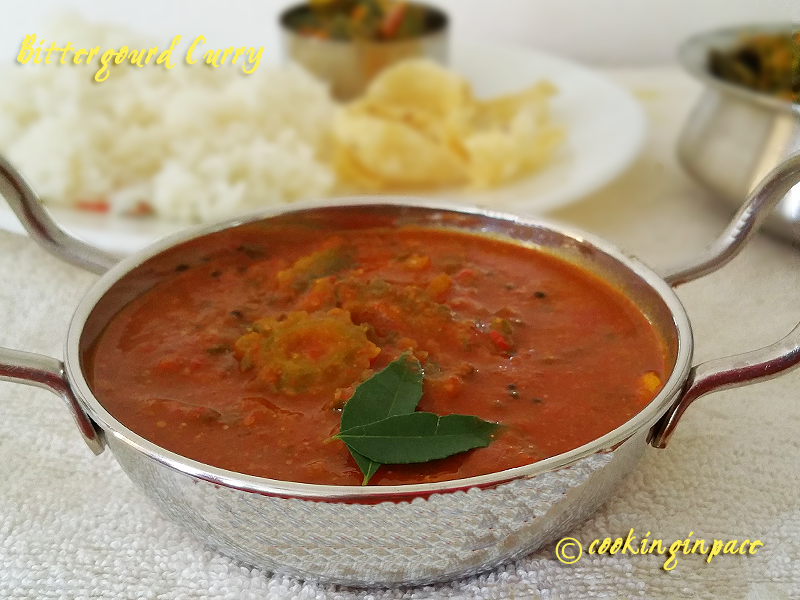 Bittergourd Curry,This is a No Onion No Garlic recipe. A must try recipe with bitter gourd as the main ingredient. The bitterness is balanced with tamarind, chillies and jaggery. A must try recipe and what else to say about its taste!! Yummy!!! Though the preparation and procedure seems to be lengthy, but an easy recipe. You won't regret for trying this recipe 🙂
There are different types of Bitter gourd. And my husband's choice is the baby bitter gourds known as Mithi Pavakkai in my mother tongue Tamil. Mithi Pavakkai are available during Summer Season as they are grown as intermediate crop in around Trichy. They are all time favorite for my husband's family. They do grow this baby bitter gourd in a part of their fields for home use only. And cucumber, the another vegetable cultivated in this season. Black gram and Sesame seeds are the rotational crops cultivated immediately after the reaping paddy in January. After my marriage I learnt a lot about agriculture and the varieties of Rice, rotational crops, etc… I was much excited to see the greenery at such a close which I had seen through the windows of trains and buses. When I was staying at my inlaws home during harvest season I had to wear mask, I am dust allergic.. Still the paddy sends off its scent to the entire area. Well that was off the track. Its about bitter gourd and took a detour from the main subject. Yes, back to the point… When compared to lengthy ones the small and stout mithi pavakkai has less bitterness and can be cooked only with chili, turmeric powder seasoned with salt and oil for cooking.
Serving : 3
Time : 40 Minutes
Ingredients
1½ cup cut bitter gourd
A lemon size tamarind
½ tsp Turmeric powder
1½ tsp Sesame seeds
1½ tsp of Sesame Oil
1tsp Melted ghee
A small piece of Jaggery
Masala powder Ingredients
1½ tsp coriander seeds
1½ tsp Bengal gram
1½ tsp Urad dhal/Black gram
1tsp Fenugreek
12 Red Whole Chillies

Tempering
½ tsp Mustard Seeds
½ tsp Urad dhal
Curry leaves
Method
1. Soak and Extract tamarind pulp to make 2 cups. Mix bittergourd pieces in salt and turmeric powder and leave it for 10 minutes and wash to remove the bitterness.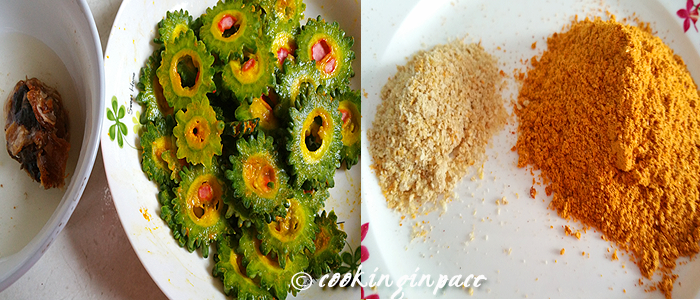 2. In a pan add oil, to it add mustard seeds, urad dhal after the mustard splutters, add curry leaves and tamarind extract.
3. Add turmeric powder and half quantity of salt required to the dish along with the bitter gourd pieces. Allow it to cook on a medium flame. It takes around 4 minutes to cook.
4. Meanwhile dry roast coriander seeds, Bengal gram, urad dhal, fenugreek and chillies in a pan. After it cools down to room temperature, grind to powder.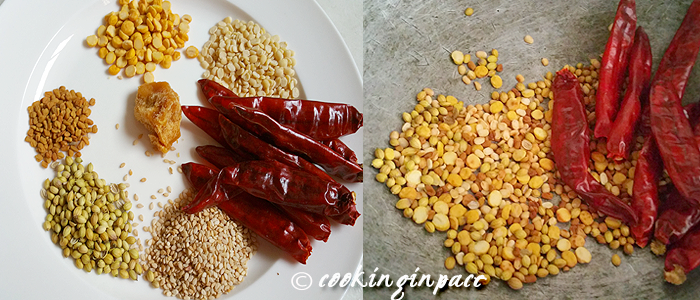 5. Dry roast sesame seeds, grind to a powder and keep it separately.
6. When the bitter gourd gets cooked add the masala powder, remaining amount of salt and let it boil for 3 mins and now add jaggery. Adjust the consistency of the gravy by adding boiling water.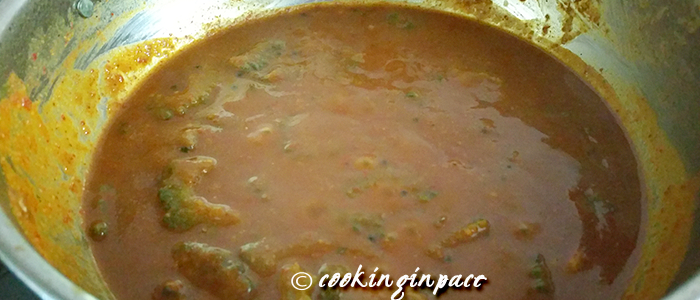 7. Now remove from heat and add the sesame powder and ghee.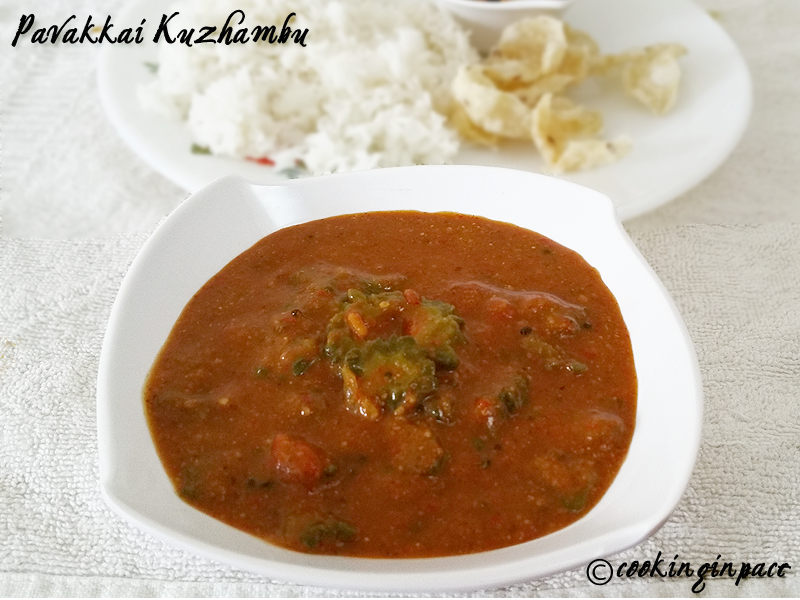 Jotting
A thick consistency gravy which goes well rice and chappathi. Bitter, sour, sweet and piquant in one dish.