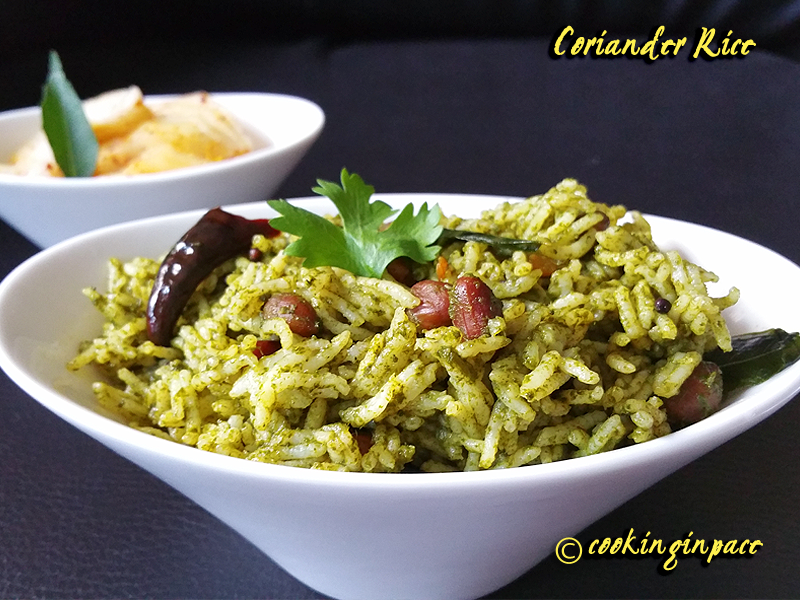 No Onion No Garlic recipe. This rice can be prepared on Vridh days and a lunch box recipe too 🙂 . An easy and healthy recipe which can be done in a jiffy.
Coriander Rice can be prepared with addition of spices, onions, ginger for a heavy and flavoured main course. But this is especially for Vridh days where onions and garlic aren't allowed to be consumed for spiritual reasons.
As per Ayurvedha the foods are classified into three types , sattvic, rajasic and tamasic. Sattvic is the food which induces goodness within human body. Fruits, greens and other vegetables get into the sattvic category and termed to be fit to consume.
While Rajasic induces passion and paves a way to all the sins in this unsustainable world, making to carry the karma to the next birth or other world. Its said in Ayurvedha that Rajasic foods can challenge the celibacy life of a yogic and in turn it induces a person to move away from spritual life. That's the reason why rajasic foods aren't into a yogic meal chart.
Tamasic is connected to arrogance, which rules a man when he is out of his conscious. The arrogance has many adverse effect in this world which ultimately leads to destruction.
Onions and garlic are termed as Rajasic and tamasic as per Ayurvedha, that's the reason it isn't added to the offering made to deities in the Hindu Religion.
As per the modern world's science it hasn't been proved yet that onion and garlic do have any adverse effect after consuming. In early 50's there was a saying that garlic reduces the reflex of the brain to two to three times the ordinary state of the brain's reaction time. Yet, it doesn't have any proof to till date.
In Chinese medicine, they do have discrepancies about the use of garlic, early historians do have a record about the adverse effect of garlic but no such rule has been imposed into their culinary history. Now there has been a study of garlic stating that it has good effects and avoids some terminal diseases. Well, it is still on debate.
Serving : 2
Time : 20 Minutes
Ingredients
1 cup Rice
2 handfuls of Coriander leaves
¼ tsp Turmeric powder
Tempering
¼ tsp Mustard seeds
¼ tsp Urad dhal
¼ tsp Cumin seeds
4 tbsp Peanuts
¼ tst Asafoetida
4 Red whole Chillies split into two
1 tsp Oil
Curry leaves
1tsp Melted ghee


Method
1. Cook Rice with 2 cups of water in pressure cooker till 3 whistles time and allow it cool down.
2. Grind coriander leaves to a smooth paste by adding water.
3. In a kadai, add oil, mustard seeds, after spluttering add peanuts urad dhal, cumin seeds, Red whole chillies, asoafetida and curry leaves.

4. Now add ground coriander paste, turmeric powder and required salt.
5. Let the mixture boil for 4 mins till the raw smell of the coriander leaves from the mixture.
6. Now Add cooked rice and mix it well and finally swirl the melted ghee.
7. Serve with cucumber raitha.
Jotting
If unroasted peanuts are used, first roast it in oil before adding mustard seeds, if roasted then add before serving. You can replace peanuts for cashew nuts roasted in ghee and add before serving.