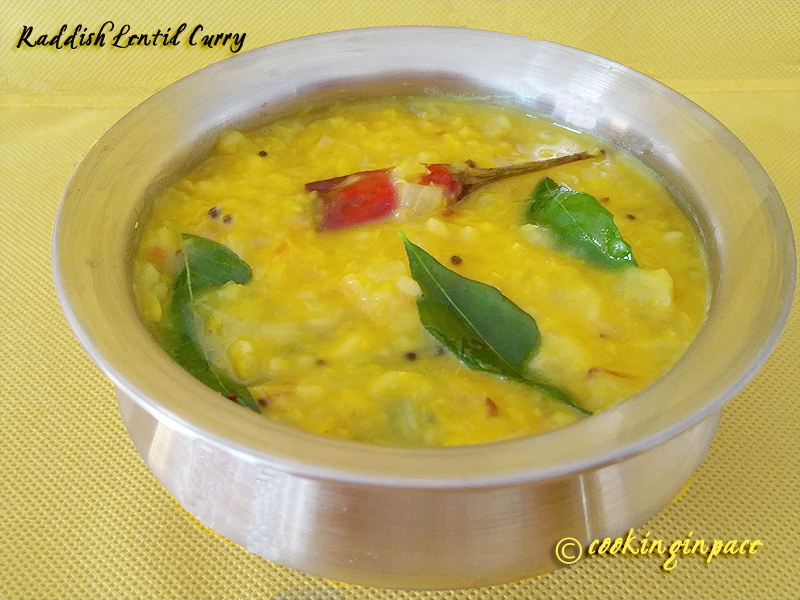 Radish Lentil Curry
An Easy and yummy recipe which hardly takes 15 mins to cook inclusive of preparation time. This is my friend's recipe which she learnt from her Mother-in-law, an expert in making kootu in a jiffy. Normally radish are cooked as sambar or poriyal, but kootu was new to me as I seldom use radish in cooking except for sambar. If my husband insists me to add radish in cooking, then it makes it way to the kitchen 🙂 And its the sambar which invites to the plate 🙂
This hardly takes 5 minutes for preparation and another 5 minutes to cook in cooker and rest for tempering and taste testing 🙂
In my younger days, I had an impression that radish was cultivated only in hilly and chilly regions. And it was Ooty in the list. Usually carrots, radish, beetroot are into the Tamilnady market from Ooty and its surrounding areas. So I assumed it so 🙂 But later got to know that it is cultivated in all regions of Tamilnadu. Now a days its being cutlivated in Thanjavur area too.This is a fast growing vegetable where harvesting is done between 50 to 70 days. This crop is cultivated as an inter crop, ie grown inbetween other vegetables, this is called as Oodu payir in Tamil. The plants are grown on ridges separating from other vegetables. Ridge cultivation is used in around Trichy for Plantain vegetation.
Radish's leaves, flowers, pods and seeds are edible and can be consumed without undergoing cooking process.
This vegetable has many beneficial factors in it. It has the the pungent smell in it and thus the reason it isn't consumed in raw state and not added to the salads.Still it is recommended in the diet chart. It's known for its medicinal aspects as it good for treating jaundice. The radish, specifically black radish is good in treating jaundice. It promotes the addition of oxygen to the blood thus preventing the destruction of red blood cells. Radish is detoxifier, by means it purifies the blood and excretes the toxins off the body.
This vegetable can be included into weight management diet chart. Radish has good fibre content, low in calories, good filling to the tummy, low on glycemic index and high water content making the body to detoxify and improve bowel movements, thus leading to weight loss.
To all the above, organically grown radish and moderate intake of this vegetable recommended.
Mullangi Kootu
Time :15 Minutes
Serving : 2
Ingredients
1 cup grated Radish
1/3 cup split dehusked Green gram/ Split Yellow Mung beans
1 Medium Sized Onion
2 Green Chillies
½ Tomato
¼ tsp Turmeric powder
1 tsp of Melted Ghee
Tempering
¼ tsp Mustard Seeds
¼ tsp Urad dhal
¼ tsp Cumin seeds
¼ Asafoetida
Curry leaves
1½ tsp oil
1 Red Whole Chilly
Method


1. In a pressure cooker, add , split dehusked green gram, grated raddish, diced onion, tomato, green chilies, turmeric powder, salt along with ½ tsp of oil and ¾ cup of water and remove from heat after 2 whistles.


2. In a kadai, add oil for tempering, next goes mustard seeds, urad dhal, asafoetida and curry leaves .
3. Add cooked radish and mix well and swirl ghee for the final touch.
Serve with Rice or Chappathi