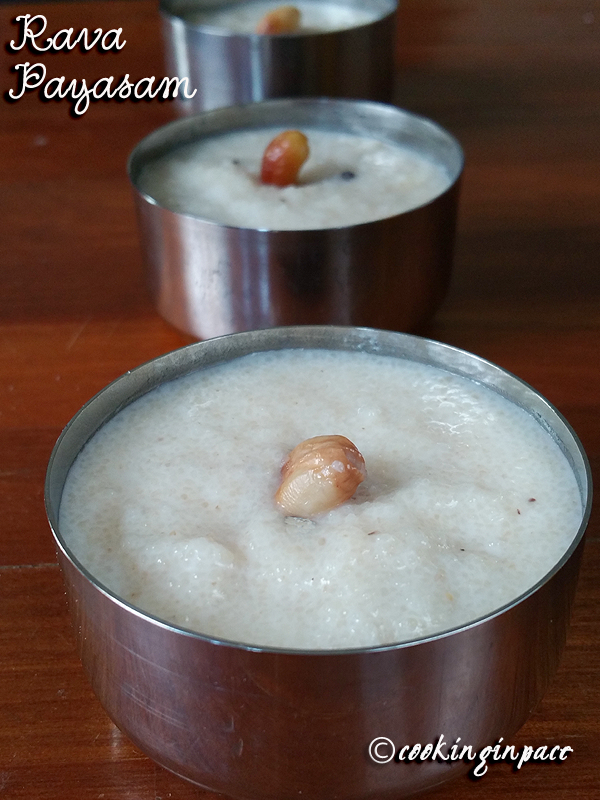 Rava payasam or sooji payasam. A common payasam/Kheer in Indian homes. The recipe name differs, but the basic ingredients remains the same. My mother hasn't prepared Rava Payasam much as Paruppu Payasam remains our family's favourite and we opt for it against any other payasam.
There is a reason behind this recipe. I had Sooji kheer at a friend's home and few times served by the cabin crew. The payasam was served chilled and tasted delicious. The pearl looking granules in the kheer charmed me though I am not an ardent fan of sooji and I have an aversion to consume Payasam in chilled condition. But to my surprise the sooji in the chilled payasam got in between the molars defined a new taste to my taste buds. The idea of preparing this dish was to refine the rava's texture so that I get to have the the pearly non-sticky sooji. Sooji gets to mushy consistency when added to lots of water. I tried to restrict its interaction with the water. The rava shouldn't to be overcooked to explain in simple words It should be cooked but not 🙂 That's tricky, Isn't it?
I have used condensed milk in this recipe maybe I was served sooji kheer prepared with condensed milk. But can be replaced with milk and sugar as we do for a normal payasam. This payasam has a thick consistency and can be served hot or cold.
I don't understand why rava isn't much liked by everyone, maybe because of the word coined with upma 😀 I guess 90% of South Indians give a weird reaction to the word Upma. Upma always remains at the rock bottom of the menu list. Though Kesari – a sweet prepared with Rava tops the list during the festive season. It finds a predominant place in the menu especially on auspicious days. Hopefully to add my version of Upma soon in the breakfast section.
Here comes the recipe for the Rava Payasam
Servings :3
Time: 30 Minutes
Ingredients
¼ cup Rava/Sooji
¼ cup Condensed Milk
5 Cardamons
10 Cashews
1 Tbsp of Ghee- Clarified butter
Method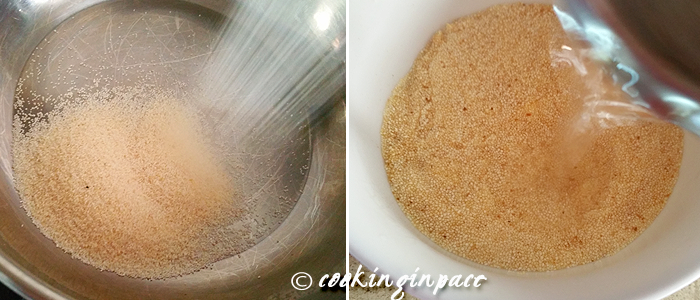 1. In a Kadai, dry roast the rava till it changes its colour to slight brownish tint. By now you should sense the smell the of roasted rava. While roasting maintain the flame to medium and keep stirring so that the rava doesn't get burned.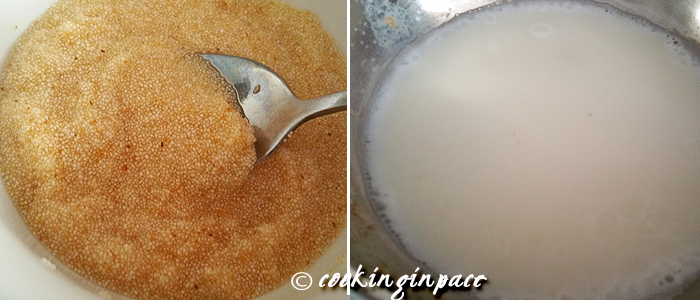 2. Transfer the rava to a bowl as seen in the picture. Now add ½ cup of boiling water to rava and keep stirring so that no lumps are formed. Now close the bowl and keep aside for 10 minutes.
3. After 10 minutes waiting time, the rava should have absorbed the water and though they remain united, there aren't sticky.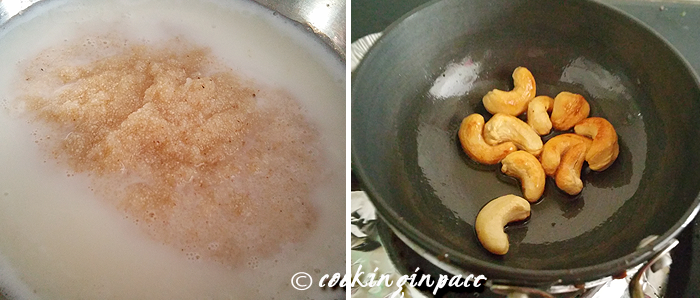 4. In a pan quarter cup condensed milk with half cup of water and bring to boil. Now add the rava to the pan and keep stirring, no worries about lumps, they don't form.
5. Allow it to simmer on a medium flame for 3 to 5 minutes as per the consistency you need. The rava got roasted, then soaked in boiling water, so altogether the rava got cooked more or less to 90%. So you can remove from heat as per the consistency required.
6. Add crushed cardamons.
7. In a tempering pan ghee and roast cashew nuts and add to the payasam.
Serve hot or chilled.