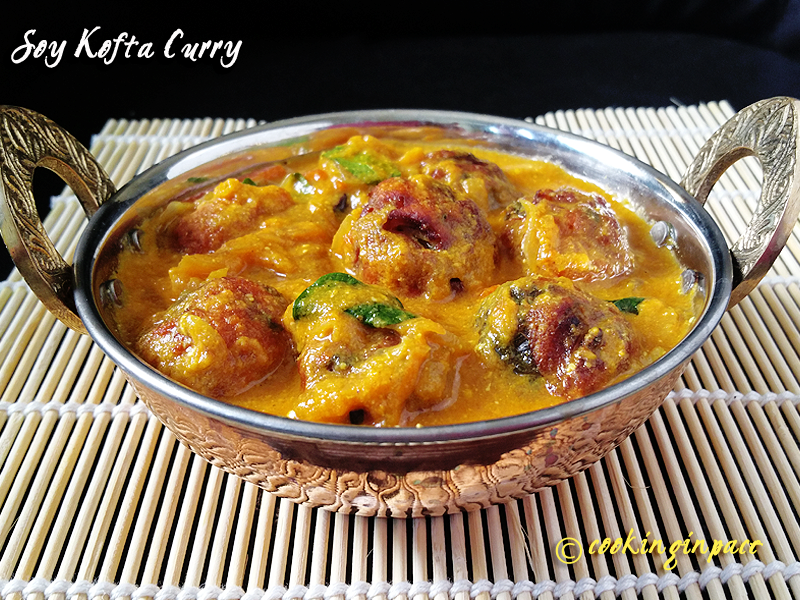 Koftas are usually preapred with potatoes as the base ingredient. Soya bean koftas – Koftas aren't done with soyabeans or soyabean flour.
Soyabeans, a well known beans for its healthy reasons and also good for people allergic to lactose. So anyone can consume soyabean in moderate measures.
In South India we do koftas with lentils. Lentils are cooked and ground to coarse paste along with spices. Addition of onions, green chilles, ginger, fennel powder and curry leaves to the coarse paste. Then these paste is rolled into small balls and steamed for 5 minutes. By the end of the steaming process the balls get into a solid and firm state, ofcourse cooked. I don't deep fry these balls in oil, as this dish doesn't call in for frying. This is a healthy dish with minumal oil used for tempering. Once the balls are cooked, next the curry. The curry has two versions, with and without tamarind. The curry prepared with tamarind is prepared just like Puli/Kara Kuzhambu, the other like Kurma. Pulikuzhambu version differs from kitchen to kitchen. Some don't add coconut to the curry. For both type of curries I add coconut, which is ground to thick wet paste and added at the last.
My mother in law prepares the curry in kurma style having the cinnamon, cardamon, cloves garlic in the tempering part. I follow her recipe and happens to be my favourite recipe too 🙂
After the curry gets ready, the steamed paruppu balls gets into the curry and that's it, the popular south Indian healthy lentils kofta curry.
Soyabean Kofta Curry
For Kofta
Ingredients
½ cup Soyabean flour
1 Big Onion
¼ tsp fennel powder
1" finely chopped Ginger
½ tsp Chilli powder
7 Chopped Curry leaves
Oil to Fry
For Curry
2 Onions
1 Tomato
1tbsp Ginger Garlic paste
1 ½ tsp Poppy seeds
1 ½ tsp Chilli powder
¼ tsp Turmeric Powder
¼ tsp Garam masala
2" Cinnamon stick
Method
1. To prepare kofta, in a bowl mix all the ingredients, soybean flour, chilli powder, chopped ginger, chopped onion, chopped curry leaves and required salt. Add little amount of water to make a dough.
2. Divide the dough into equal portions and roll into balls. Steam the balls for 5 mins. Let it cool down to room temperature.
3. Deep fry the soybean balls. You can BAKE the balls instead of frying for a healthy dish. (Will give the baking procedure later)
4. Dry roast the poppy seeds and grind with half onion to a fine paste.
5. Make tomato puree.
6. For curry, In a kadai add 1 tsp of oil, to it add cinnamon stick, then sliced onion. Saute the onions till they turn translucent and add ginger garlic paste.
7. When the raw smell of ginger garlic paste leaves, add tomato puree, ground poppy seeds paste.
8. Give a stir for couple of minutes and add turmeric powder, chilli powder, garam masala and required salt with 2 cups of water.
9. On a medium flame let the curry boil for 7 mins. At this stage adjust the consistency of the curry by adding boiling water or simmer for some more mins if consistency is thin.
10. Add kofta balls. Optional, swirl/yoghut cream on the top before serving.