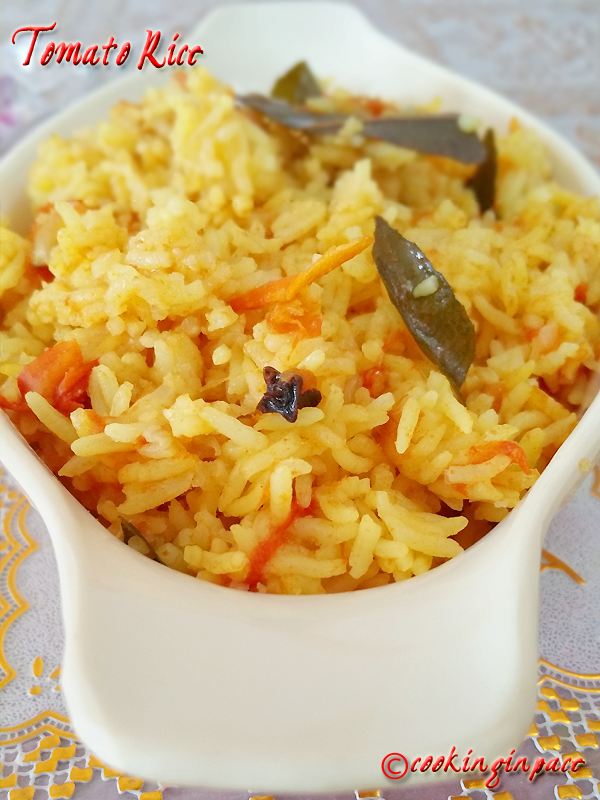 Tomato Rice has various versions and the preparation method also branches out to open pot or pressure cooker.
If you are using open pot method, the water rice ratio differs.
I have done using a pressure cooker and the method is given below. Usually, I opt for this version when I have a time constraint for cooking. An easy method and can be done in a jiffy.
While I was working, I had a menu list in order to avoid chaos 🙂 Tomato rice was in the lsit. Monday starts with Tomato rice, Tuesday Sambar, Wednesday Cocunut rice, Thursday Pulikuzhambu and Yogurt rice as the show stopper of the week's menu. The variety rice do get swapped, replaced either with lemon rice or carrot rice… Vegetables for accompaniment don't follow any rigid routine. I bought seasonal vegetables, greens and included them in the menu. If I had time I do prepared Vazhaipoo- Plaintain flower. Cooking had to be planned before hand as my day started at 5.30am and ended at 10pm. I cut the vegetables and store them in fridge the previous day and make sure that the ingredients are handy. I needed an organiser chart for the kitchen 😀 I do follow to till date 🙂
Ingredients
Rice – 1cup
Ripe tomatoes – 3
Onion – 1
Ginger and garlic paste -1/4 tsp
Chilli powder – ¾ tsp
Turmeric powder – 1/8 tsp
For Tempering
Cinnamon – ¼ " stick
Bay leaf , Star Anise , clove – each 1
Oil-1tsp
Melted Ghee – ½ tsp
Curry leaves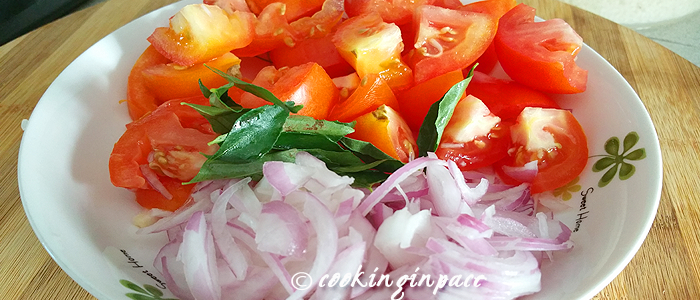 Method 
1. Wash and soak rice in 2 cups of water.
2. In a pressure cooker, add oil , cinnamon, clove, bay leaf, star anise, later add onions, stir fry for 3 mins.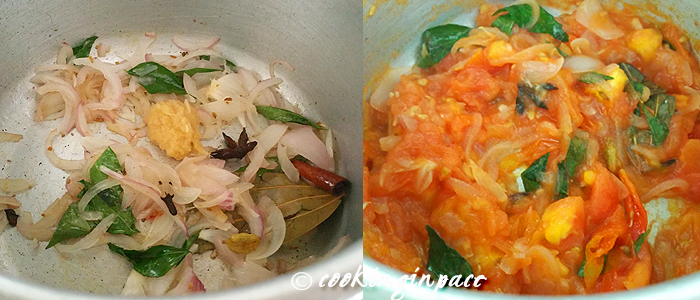 3. Then add ginger garlic paste, then tomatoes sauté for 4 mins till the tomatoes gets soft.
4. Add turmeric powder, chilli powder, salt to taste and stir on for another 3 mins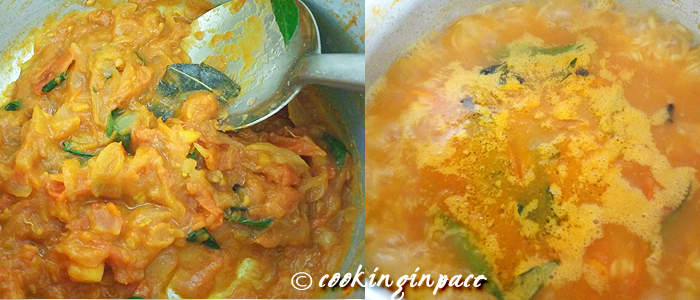 5. Add the water in which rice is soaked, bring to boil, now add rice and curry leaves, ghee and close the lid with weight to cook for 3 whistles and 3 mins on low fire.
Jotting
Serve with raitha . If ginger garlic paste isn't available, pound/grate 4 cloves of garlic and 1/4inch of ginger piece with a cheese grater.
If you using Basmathy rice decrease the water quantity, rice and water in the ratio 1:1.5 . If you are using parboiled rice then adjust the rice and water ratio accordingly. For this recipe I have used parboiled rice which needs 2 cups of water for 1 cup of rice.
Soak rice before cooking, If not, after 3 whistles, lower the flame and cook for 5 mins.
Cooking tomato rice in pressure cooker is bit tricky. If you rely on the whistles as it is done for cooking plain rice, then that is a pitfall. You need to give extra time on low heat so that its on "Dum" – the steam is condensed inside the vessel and not released.
Soyabeans chunks can be added to this recipe. It gels and tastes good with the rice.
If you adding soyabean chunks, first it should be prepared by soaking in boiling water for 3 mins and wash twice it by squeezing the water within it. Add after masalas are mushy..