Elephant Foot Yam, Senai kizhangu as it is know in Tamil are usually fried and served as an accompaniment to the main course Or Karakulambu is done. My mother shallow fries the yam after boiling and dipping in a masala mix. That tastes yummy.
This recipe is belongs to a friend of mine, who generously shared her Mother-in-law's procedure with me 🙂 My mother does kootu but not with yam. I tried her recipe and I enjoyed the delicious curry.
Yam is usually shallow fried, that's the well known dish done by my mother. I like the way she coats the masala and light tone of the fried masala after it had been on the hot griddle for a while. At times she adds sooji as a coat and fries it. My like to have the fried yam with vethu sambar, roughtly translates to nothing, no vegetables, masala powders are added to that sambar only tempering with whole red chillies, tomatoes with onions get into the thin consistency sambar.
Ingredients
Senai Kizhangu/ Elephant Yam – 200 gms
Thuvaram Paruppu/Thuvar Dhaal – ¾ cup
Kadalai Paruppu/Bengal Gram – 2tbsp
Turmeric powder – ½ tsp
Onion – 1 medium size
Melted Ghee -1tsp
Oil – 2 tsp
For tempering
Mustard seeds and urad dhal – ½ tsp each
Asafoetida – ¼ tsp
To grind
Black pepper – 1tsp
Grated coconut – 2 tsp
Kadalai Paruppu/Bengal Gram – 2tsp
Dry red chillies – 3
Method
1. Wash and pressure Cook Thuvar dhal and Bengal gram.
2. Dice Senai kizhangu into small pieces and cook with turmeric powder and salt till it softens. Strain the water.


3. Add ½ tsp of oil in a tava and dry roast   bengal gram black pepper and dry chilies. Then add grated coconut on a small flame. Remove before it changes colour. Allow it cool down to room temperature. In a blender add the roasted ingredients and grind to a fine paste by adding required water.


4. Now the tempering part, Add oil and mustard seeds, urad dhal, after mustard splutters, add asafoetida, curry leaves, onion and give a stir for 3 mins, Now add cooked Elephant Yam, cooked dhal and allow it boil for 3 mins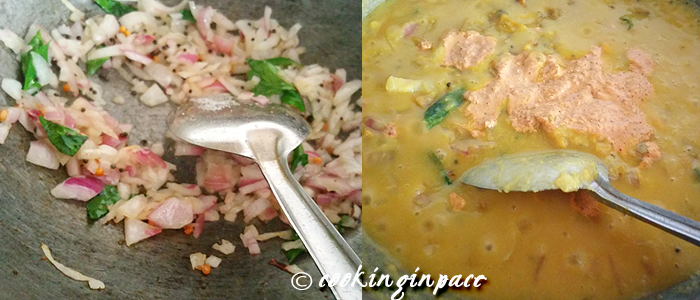 5. Now add the grounded paste and let it boil for another 2 mins Remove from heat and add ghee.Serve with Rice.

Jotting
The ground ingredients are roasted so no need to cook for a longer duration.
Take care while cutting elephant yam as it may cause itchiness, to avoid either store the yam for a week after buying or apply oil/wear gloves while cutting.
Preparation of Yam
Don't use immediately after purchase of yam. If it is fresh, cook after couple of days. My mother says the itchiness decreases when it is stored for a while before using.
If it is fresh the outer layer will have a pinkish tint and soft. After couple days the outer layer gets dried up and gets a black tint. Cut the thick firm black colour skin and cut into pieces and place it in a bowl of water.
If you are using a fresh yam, add tamarind extract to the yam while cooking. Usually Yam is cooked prior to addition to the dish. After cooking strain the water and add to the curry.