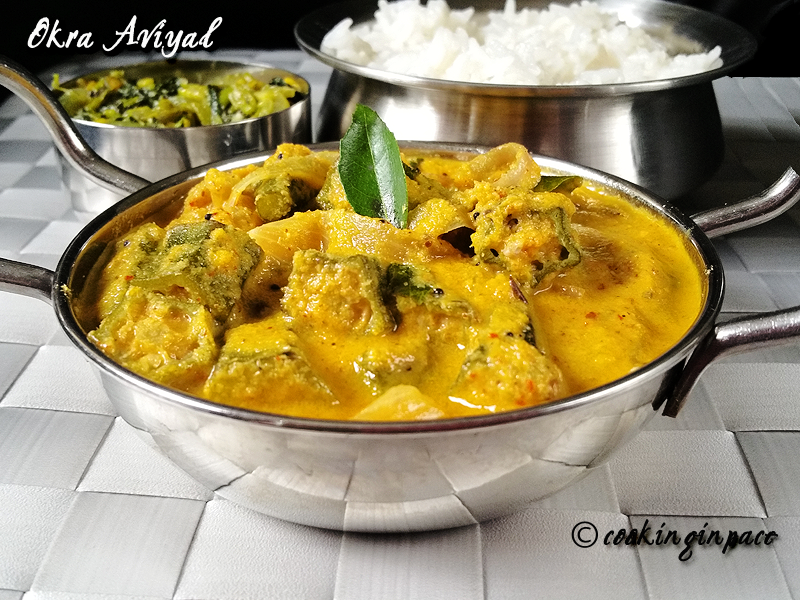 Vendaikai/Okra Aviyal
A Curry done in aviyal syle without adding yoghurt, still has the taste and flavor of the authentically made Aviyal. Okra cooked in a spicy mixture along with coconut creating a smooth creamy gravy making a perfect pair for Rice and chapatti. Usually okra isn't everyone's favourite because of its sticky nature. Some like to have okra fries deep fried along with flour. But My grandma advises to cook and consume okra in a semi cooked stage as the nutrients will be intact at that stage. I don't like deep fried okras, nor fry with loads of oil.
This dish took its shape when I didn't have time to cook in an elaborate manner, All I needed to cook in a jiffy. I had Okra, the only vegetable for side dish. So without any much preparations, I did the cutting part. Infact the onions, okra had gone into the pan after the tempering. And I didn't want to do the same poriyal style still wanted to add coconut and make it in a gravy consistency. Usually I add Cumin seeds along with coconut while grinding to a paste. I got new stock of Poppy seeds so they were peeping in all my recipes even the recipes doesn't call for them 🙂 The same happened here. So to a twist, I dry roasted them and added to grated coconut, I wanted to have all in one mixture, so added chilies to it.. Usually I don't extract tamarind for rasam, I grind them along with cumin and pepper. So as the time was ticking away, added tamarind and grounded to a fine paste.
I tasted the curry before serving to my family, really it was awesome, the creamy texture of coconut and sour of tamarind had blended well along with red chillies. If you want to an extra taste, add a teaspoon of ghee.. Though I haven't added.
Servings : 4
Time 20 Minutes
Ingredients
250 gms Vendaikai/Okra
½ cup Scrapped Coconut
1 Onion
1 ½ tbsp Poppy Seeds
6 Whole Red Chilies
¼ tsp Cumin Seeds
¼ tsp Turmeric Powder
Tamarind – Gently press tamarind in a tsp measuring spoon
For Tempering
1 tsp Oil
¼ tsp Mustard seeds
¼ tsp Urad dhal
¼ tsp Asafoetida
1 Sprig Curry Leaves
1. Wash, Wipe and cut okra into 2" pieces.
2. Slice Onion in lengthwise.
3. In a Pan, add oil and mustard seeds for tempering, after mustard seeds splutters, add urad dhal, asafoetida and curry leaves
4. Now add Sliced Onions and sauté for a minute, then add cut okra and sauté for couple of minutes.
5. Dry roast cumin seeds, red chilies and poppy seeds.
6. Now Grinding part. In a blender container add Scrapped coconut, red chillies, cumin seeds, tamarind, Poppy seeds, turmeric powder and grind to a smooth paste by adding required water.
7. Now add the ground paste to the pan and with required salt and water allow the okra to cook for 7 mins.
8. After adding coconut keep stirring the mixture till it starts to boil to avoid curdling of coconut.
9. You can serve as a gravy or side dish depending upon the consistency of the curry.